Roy Moore's Wife, Kayla, Says Trump Should Thank Alabama Candidate for Taking Attention Off Russia Investigation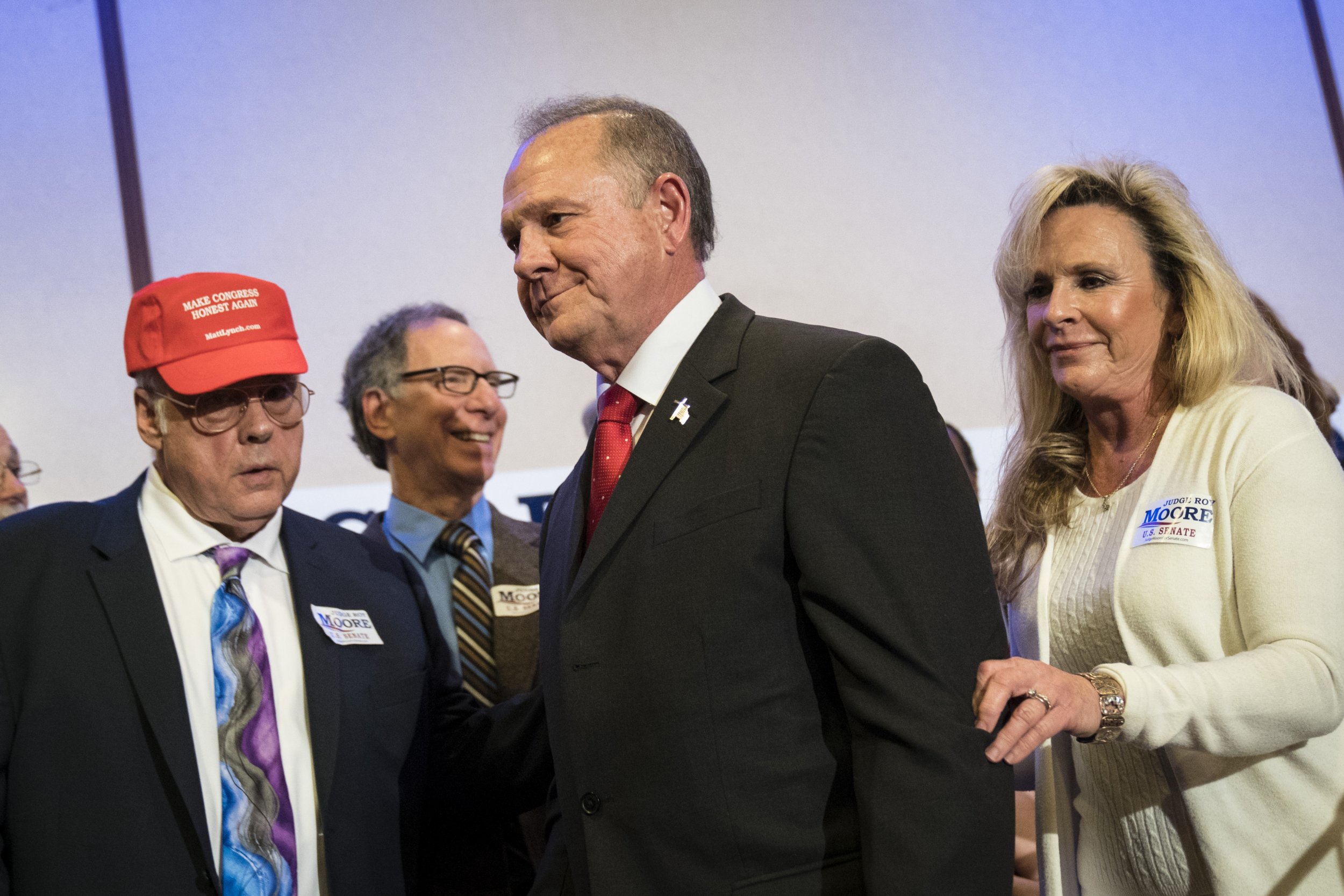 The firestorm of media attention surrounding Roy Moore has been so intense that his wife, Kayla, said Friday that President Donald Trump owes the Alabama U.S. Senate candidate a thank you for taking attention away from the ongoing Russia investigation. Kayla Moore made the comment during an impromptu rally featuring a host of women defending her husband, a former judge, against a series of allegations that he sexually assaulted teenagers.
Related: What is Trump's reaction to Roy Moore? Not a word, because he's also an accused sexual assaulter
"I personally think he owes us a thank you," she said outside the Alabama capitol. "Have you noticed you're not hearing too much about Russia? To the president, I would say: now is a good time to get some things done in Congress."
Moments earlier, Moore's wife had claimed that the same forces that had been attacking Trump were behind what her husband and his campaign have painted as a smear campaign to destroy his chances in next month's election against Democrat Doug Jones.
"The liberal press, The Washington Post, who endorsed Hillary Clinton, who also endorsed our opponent, gets involved in this race, along with the human rights campaign, the DNC and the Washington establishment—all of the very same people who were attacking President Trump are attacking us," she said.
It was The Washington Post that last week published allegations made by an Alabama woman that in 1979, when she was 14 years old and Moore was 32, Moore engaged in a sexual encounter with her. The report also featured accounts from three other women who said that, at around the same time, Moore pursued them even though they were teenagers.
Since then, more accusers have come forward. At a press conference this week, a woman said Moore tried to rape her when she was 16. Multiple other women have accused Moore of regularly hanging around a local mall and making unwanted sexual advances on them when they were teenagers.
Republican leaders in Washington have called on Moore to step aside, but Kayla Moore insisted that he will not be heeding their message.
"Even after all the attacks against me, against my family, against the foundation and now against my husband, he will not step down," she said. "He will not stop fighting for the people of Alabama. In his words, and I quote, 'I will not stop until they lay me in that box in the ground.'"
While Senate Majority Leader Mitch McConnell has said that Moore should step aside and that write-in candidates to replace the current nominee are being considered, Trump has remained silent on the issue. At a press briefing Thursday, White House Press Secretary Sarah Huckabee Sanders said it would be left to the people of Alabama to decide.
Once a clear favorite to claim the Senate seat vacated by Jeff Sessions, who is now the attorney general, Moore is trailing Jones in the latest polls.
Roy Moore's Wife, Kayla, Says Trump Should Thank Alabama Candidate for Taking Attention Off Russia Investigation | U.S.