Trump's Pre-Election Run of Better Approval Rating Polls Has Ended
President Donald Trump's average approval rating boost has trailed off over the past few weeks with less than 40 days to go until election day, new polling data has revealed.
According to FiveThirtyEight's presidential approval rating tracker, Trump's average approval rating has stagnated at around 43 percent since the start of this month after a brief pre-election climb.
The commander-in-chief's average approval rating hit an election cycle nadir in July as it hovered at little more than 40 percent. But by early September, Trump had lifted his approval rating to 43.5 percent.
At the time of writing, the president's approval rating stands at 43.1 percent—putting it roughly in-line with his average popularity rating through much of 2019.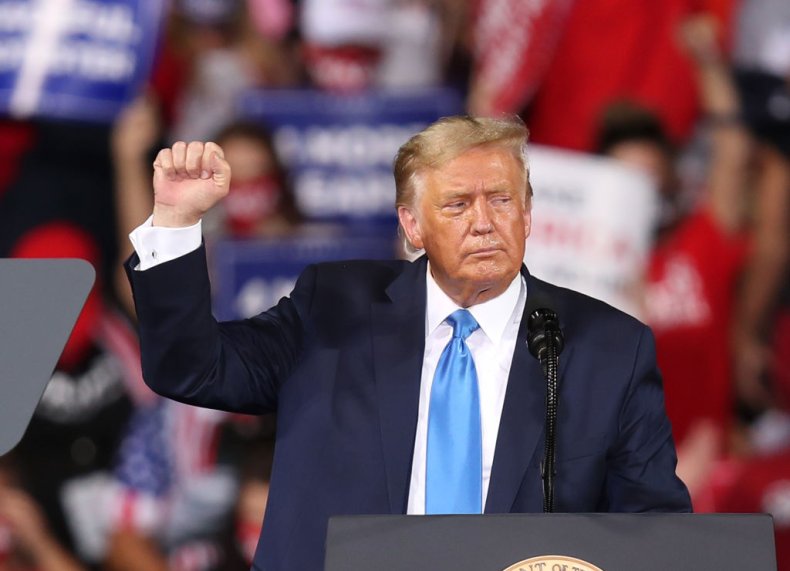 By comparison, 53 percent of voters disapprove of the president's record in office on average, down from a ranking of 56.4 percent on June 30, according to the FiveThirtyEight tracker.
One poll of 1,000 likely voters conducted by Emerson College between September 22 and September 23 found a slim 4-point gap between Trump's approval and disapproval ratings, with 50 percent unhappy with his record in office and 46 percent approving.
Another survey released by YouGov on Thursday said the president's net disapproval rating was slightly larger. Forty-five percent of voters told the pollster they either "strongly" or "somewhat" approved of Trump's handling of the presidency, while 51 percent said they disapproved.
The president's average approval rating flattened as COVID-19 cases continued to rise and civil unrest over policing and racial injustice remained unabated in several major U.S. cities with less than 40 days to go until the presidential election.
A rolling election forecast published by The Economist estimates that Trump has a roughly one in seven chance of winning the electoral college on November 3, but less than one in 20 odds of bagging the popular vote.
Another forecast model from FiveThirtyEight says that Democratic nominee Joe Biden is "favored" to win the 2020 election. Its 40,000 simulations of polling day heavily favor the challenger, but a sample of 100 outcomes still shows Trump winning almost a quarter (22 percent) of the races.
There is still potential for the president's poll ratings to improve or slump further ahead of election night, with three head-to-head debates with Biden likely to have some impact on swing voters.
The first presidential debate, moderated by Chris Wallace of Fox News, is slated to get underway next Tuesday, and will be followed by a vice presidential debate on October 7. The second presidential debate, hosted by C-Span, will take place on October 15, a week before the last debate hosted by NBC News goes live on October 22.
Trump's Pre-Election Run of Better Approval Rating Polls Has Ended | U.S.