How Much Has Trump-Russia Investigation Cost? Kellyanne Conway Says 'Millions' of Dollars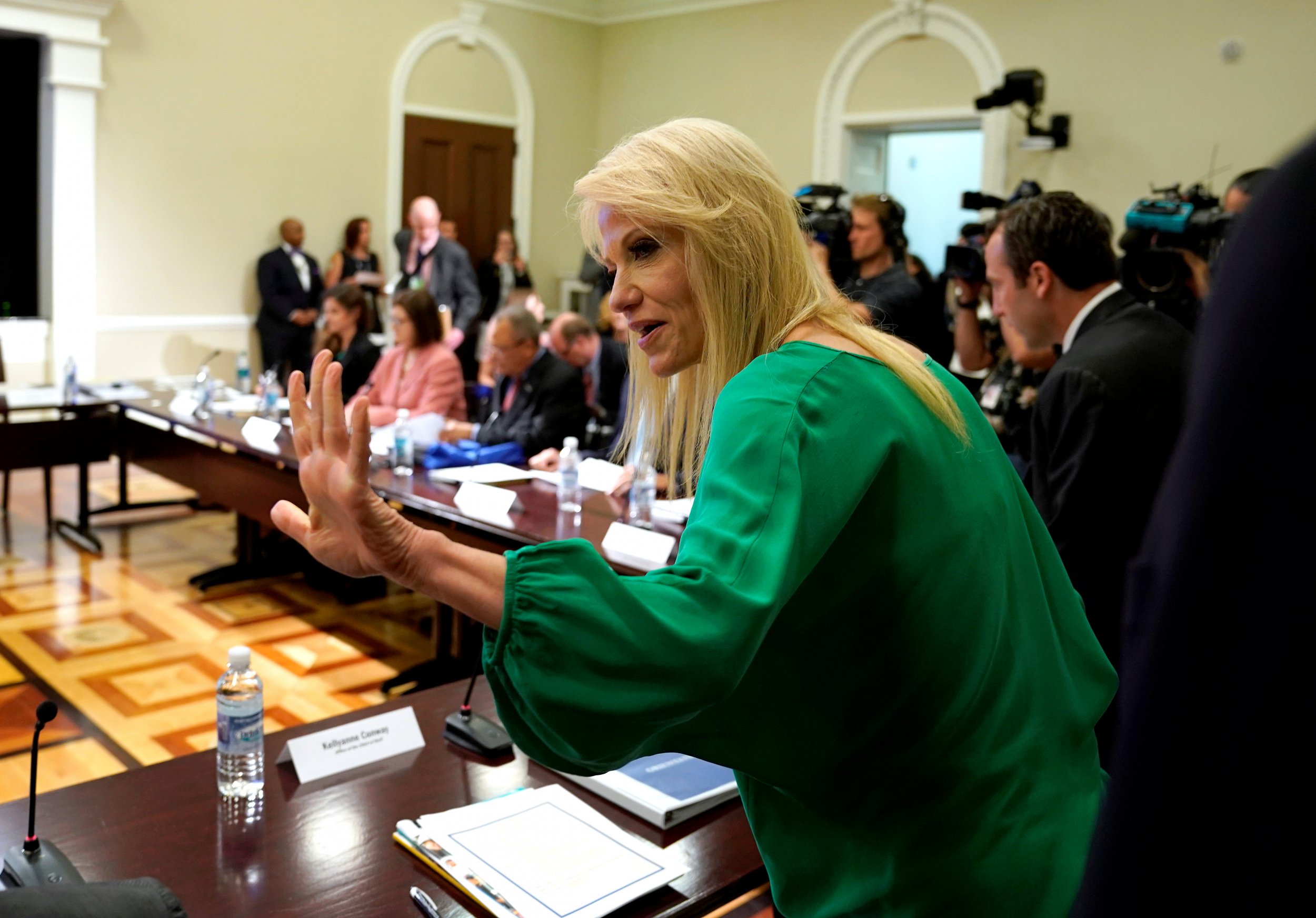 In an attempt to pivot negative attention away from President Donald Trump, White House Counselor Kellyanne Conway said Monday morning that the numerous investigations into possible connections between the president's campaign and Russia have thus far proved fruitless and they are costing taxpayers "millions" of dollars.
Conway, appearing on Fox & Friends, reiterated the administration's stance regarding the probes into last year's campaign, as well as into Trump himself, but also seemed to downplay even the president's assertion that he is under investigation. Trump tweeted that revelation on Friday as he was seemingly chastising one of the top investigators, Deputy Attorney General Rod Rosenstein.
"[Trump's] made very clear that we've had months and months and months of investigation," Conway said. "On top of the FBI, several House and Senate committees are investigating the same thing and you've gotten people even that have not always been sympathetic towards President Trump…openly questioning where this will lead us.
"And I want to say something else. We're starting to waste tens of millions of dollars of taxpayer money on this endeavor. And if there's something there, let's hear about it," Conway added. "The president said let the investigation go forward. And Jim Comey testified that the president was not under investigation. The president said that Comey had told him that three times in the letter he put forward when he removed Mr. Comey from his job.
"So what are we talking about here really when the president is trying to move on with the policies and the solutions of the day. I think it is part of the resistance and the obstruction."
To date, how much Congress has actually spent on the Trump-Russia probes remains unclear, as does the budget for the special counsel overseeing one of the investigations, former FBI director Robert Mueller. Appointed on May 17, Mueller has spent the last month building a team of investigators and lawyers while compiling a budget for the far-reaching inquiry. He has yet to submit that budget, which would go to a Justice Department assistant attorney general, Lee Lofthus, who told CBS News last month that there isn't a set limit to what Mueller can spend and that he would get what he deems "necessary."
Mueller's budget would still have to receive final approval from Rosenstein.
When it comes to political investigations, partisanship is always a factor, especially when citing cost to taxpayers. When Trump's Democratic opponent in the presidential election, Hillary Clinton, was investigated in the wake of the 2012 attack on the U.S. embassy in Benghazi, Libya, Republicans and Democrats spent $6.77 million between 2014 and 2016, according to The Washington Post.
The House Select Committee on Benghazi stated in its final report in June 2016 that it had found no wrongdoing on Clinton's part while she was secretary of state.