Trump-Russia Dossier Author Breaks Silence, Slams President's 'Distorted' and 'One-Sided' Administration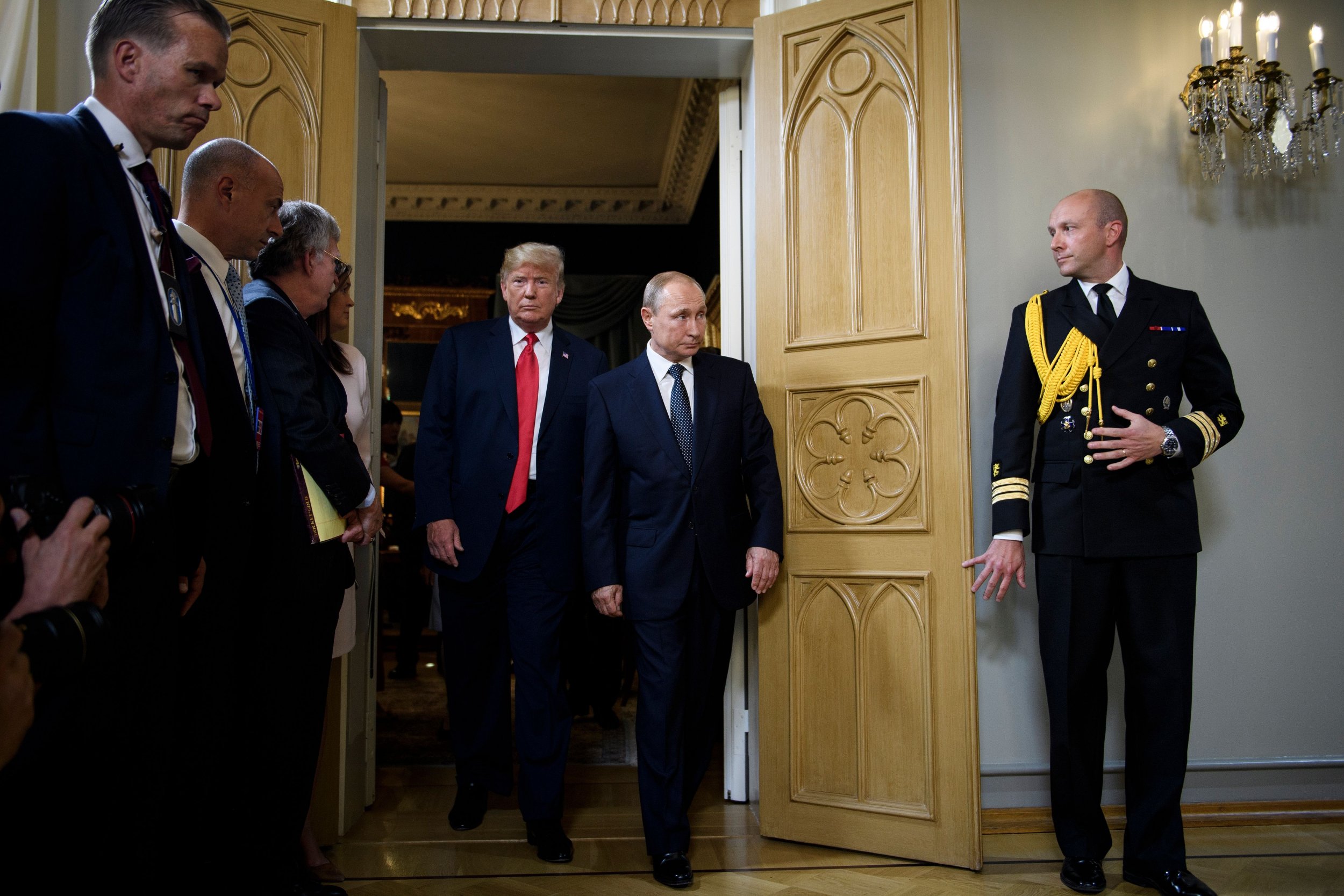 The author of the controversial Trump-Russia dossier that alleged collusion between the Trump campaign and the Russian government leading up to the 2016 election has spoken out for the first time in 18 months.
Offering his take on the current state of the U.S. government as "distorted and one-sided," Christopher Steele said he believed the media "has a key role to play in holding it accountable," according to text from an email that was written by Steele to the editor of Vanity Fair and seen on Sky News.
Coming in at number 38 on Vanity Fair's 2018 New Establishment list of the 100 most influential people in business, politics, technology, entertainment and the media, Steele said he was "surprised and honored, particularly as a Brit," to be included. He added that "in more normal times," he would have "welcomed the opportunity" to attend the magazine's summit in Los Angeles this week.
"Sadly," Steele said, "in the present legal and political situation I am unable to do so, but I sincerely hope and trust that these circumstances will change soon."
Steele added: "In these strange and troubling times, it is hard to speak unpalatable truths to power, but I believe we all still have a duty to do so. At a time when governance is so distorted and one-sided, as I believe it currently is in the United States, the media has a key role to play in holding it accountable."
Steele's subtle criticism of the president hits back at Trump's attacks on the media, which the president calls the "enemy of the people," and against Trump's claims that the dossier is fake, orchestrated by Democrats and the Clintons.
The 35-page dossier was first circulated among lawmakers, high-level government officials and journalists in late 2016. The full report was eventually published by BuzzFeed News in January 2017, a move the organization received criticism for because of the report's serious and unverified allegations. The dossier made allegations that Russia had been "cultivating, supporting and assisting Trump for at least five years." It also alleged Trump and his "inner circle have accepted a regular flow of intelligence from the Kremlin" and that his conduct in Moscow has allowed Russia to possibly blackmail him with "perverted sexual acts which have been arranged/monitored by the" FSB, Russia's federal counter-intelligence agency.
The Washington political research firm, Fusion GPS, hired Steele and commissioned their report after the firm was reportedly employed by an unknown GOP client during the primary. Hillary Clinton and the Democratic National Committee later took over the research funding in April 2016 and obtained an unknown amount of information from Steele and the firm, according to a Washington Post report in October 2017.
While much of the report has been scrutinized over its truthfulness, and some parts found to be inaccurate or untrue, other parts have been proven true since its release. Those verified portions of the extensive report include Russia's meddling in the 2016 elections and its having compromising information on Clinton and the DNC (released through WikiLeaks), and Russian President Vladimir Putin's directly ordering foreign interference in U.S. elections to explicitly help Trump and former Trump campaign manager Paul Manafort received payment for Ukraine lobbying efforts.
Also included on Vanity Fair's New Establishment list at No. 99 was the anonymous senior Trump administration official who wrote the recent scathing New York Times op-ed, while Putin was at No. 58 and special counsel Robert Mueller at No.1.
"I salute those on your list, and otherwise, who have had the courage to speak out over the last year, often at great personal cost," Steele told Vanity Fair. "I find myself in the company of many talented and distinguished people, although I personally would not accord such accolades to some of the other foreign nationals included in the list!"