Here's What the 'Golden Shower' Dossier Now Being Investigated by Mueller Claims About Trump and Russia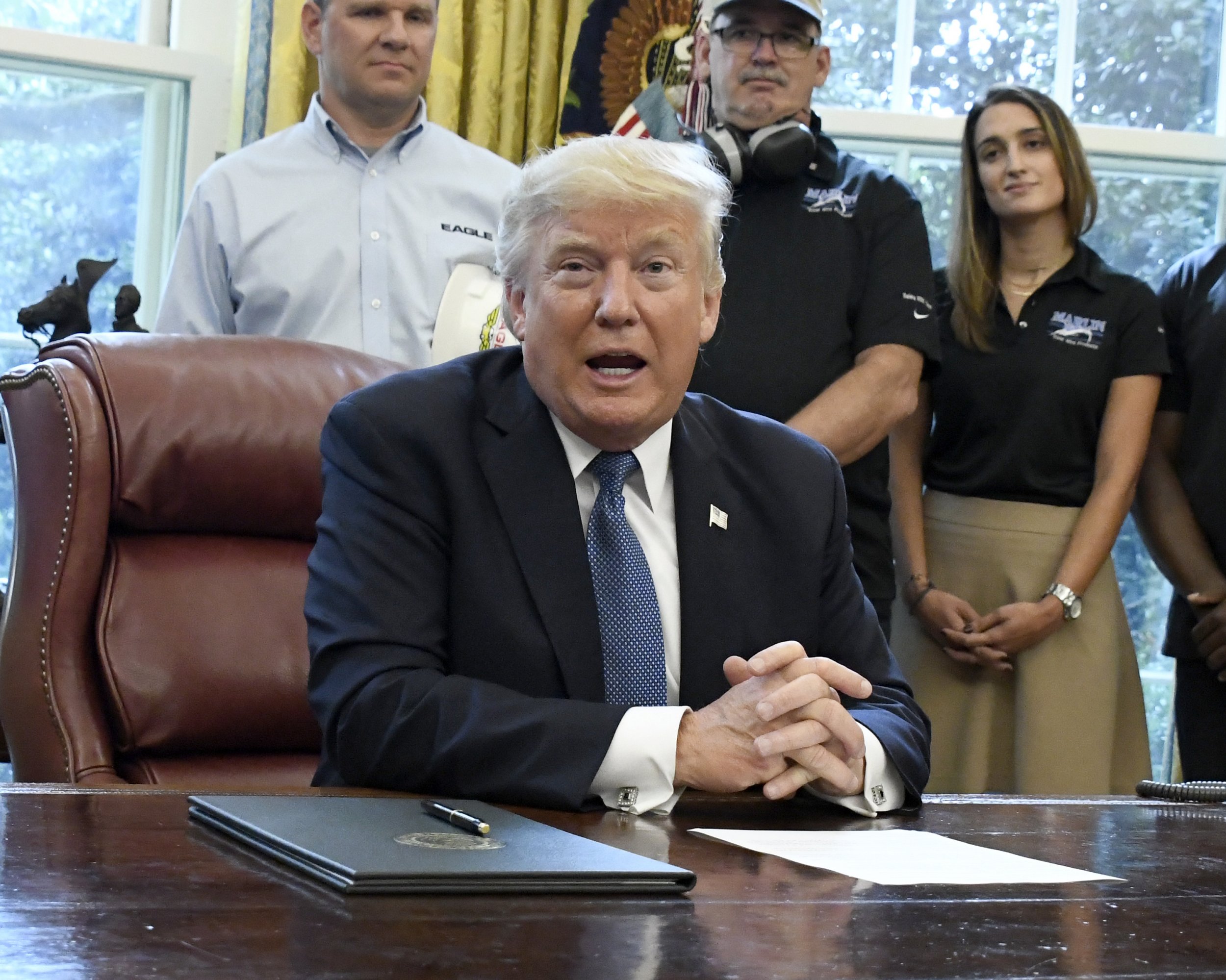 Nine months after the publication of an explosive and salacious dossier detailing allegations of collusion between President Donald Trump and Russia, its claims—though largely unverified and vehemently denied by those involved—are the subject of intense scrutiny. Indeed, the investigation into the document compiled by a former British intelligence operative, Christopher Steele, has only increased in scale.
Related: Trump-Russia 'golden shower' dossier is now being investigated by Special Counsel Robert Mueller
According to reports in recent days, not only has the investigation of the document been turned over to the man leading the Trump-Russia probe, but Special Counsel Robert Mueller's team recently met with Steele. Trump may have called it "totally made-up facts by sleazebag political operatives," but it is clear it is not going anywhere anytime soon, and continue to plays an important role in the wider investigation into allegations concerning Russia's interference in the 2016 election. Here's what you need to know:
How Did it Come About?
Congressional committees have been keen to discover the answer to that very question. Delivering an update on the Senate Intelligence Committee investigation Wednesday, Chairman Richard Burr said the panel "cannot decide the credibility" of the dossier without first knowing its sources and financers. Various reports, however, have been consistent that the dossier was first paid for by anti-Trump Republicans and then Democrats took over its financing as the 2016 election campaign progressed.
Who Compiled it?
The U.S.-based research firm Fusion GPS hired Steele, a former MI6 spy, to compile the dossier. During his stint with the British intelligence agency, Steele spent time working under diplomatic cover in Moscow toward the end of the Cold War. He was said by British news reports to be a Russian expert who worked on the high-profile investigation into the 2006 death of former Russian spy Alexander Litvinenko in London. After leaving MI6 in 2009, Steele founded a London-based private intelligence firm. Intelligence historian Nigel West, who worked with Steele, described him as "James Bond."
What's in the Dossier?
The 35-page dossier is a collection of memos concerning Russia's attempts to interfere in the 2016 election and claims that the country has been supporting Trump for at least five years. While it notes that Trump had rejected several Russian business deals proposed in order to curry favor with the then-presidential candidate, it says his campaign did accept information on his opponents. More specifically, it alleges contact between Russian officials and a member of the Trump campaign, notably that Trump's personal lawyer Michael Cohen helped facilitate the arrangements.
What caught most people's eyes when the dossier was published by Buzzfeed News in January, though, were the more salacious allegations. Although Steele's findings assert that Russia attempted to collect compromising material on both Trump and his 2016 opponent Hillary Clinton, the Kremlin is said to have been far more successful in its attempts regarding the Republican candidate. Indeed, the dossier claims that the Russian FSB spy agency possesses a video of Trump successfully requesting prostitutes to urinate on a bed while staying in a Moscow hotel room once occupied by the former president and first lady, Barack and Michelle Obama.
Is it True?
There have certainly been plenty of vehement denials. Trump has on multiple occasions ridiculed both the dossier's findings and its author, who the president called a "failed spy." Cohen sent a letter to Congress in August strongly denying the allegations made against him, although he did not mention the personal claims made against the president. And this week three Russians named in the dossier filed a lawsuit in Washington claiming their reputations had been ruined by the claims.
But there is growing evidence that investigators are taking the dossier far more seriously than was initially believed. Although the particular claim that saw the report nicknamed the "golden shower," or "pee tape," dossier has not been verified, the intelligence community has corroborated the broad assertion about Russia's attempts to interfere in the election, CNN has reported. Officials have also agreed that the communication between non-Americans contained in the report did in fact take place. What Trump has called "fake news" would appear to be, at least in part, far more real.