Devin Nunes Claims 'No Official Intelligence' Used to Start Trump-Russia Investigation
Republican chairman of the House Intelligence Committee Devin Nunes has claimed that "no official intelligence" was used to launch the investigation into possible collusion between Donald Trump's campaign and Russia. In making his assertion, which he said was based on a review of "electronic communication" from the FBI and the Justice Department, Nunes is returning to a theme that prompted the release of a controversial memo in February.
While the memo, the release of which was authorized by President Trump much to the dismay of Democrats, was trumpeted by Nunes and other pro-Trump Republicans, it undercut their assertion that a controversial dossier by Christopher Steele was the basis for the investigation. Instead, the memo detailed that it was overtures made by Russian operatives toward Trump campaign aide George Papadopoulos that sparked the investigation.
Now, though, Nunes is questioning the use of that information, and, in particular, the role played by Sidney Blumenthal, a longtime ally of Hillary Clinton, who has been accused by Republicans of funneling information to the State Department.
"We now know that there was no official intelligence that was used to start this investigation," he told Fox News on Sunday. "We know that Sidney Blumenthal and others were pushing information into the State Department. So we're trying to piece all that together and that's why we continue to look at the State Department."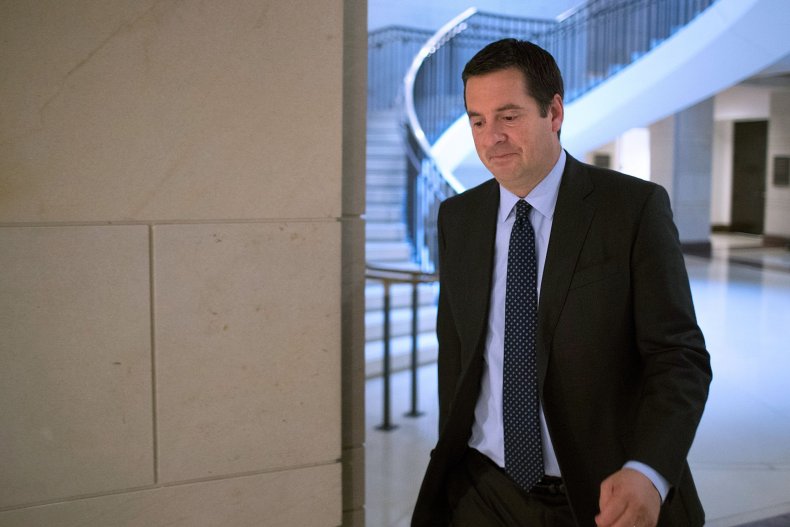 Nunes added that he was now investigating the State Department due to what he described as "major irregularities." But the Republican congressman couldn't state that Clinton was behind the passing on of information.
And Democrat Adam Schiff, the ranking member of the House Intelligence Committee, hit back at Nunes's assertions, calling the information about Papadopoulos "well-founded," and painting Nunes's comments as just another attempt to distract from the ongoing investigation led by Special Counsel Robert Mueller.
"The majority seems to believe that if it can discredit the initiation of the investigation by attacking the FBI, Justice Department and State Department, it can get the public to ignore the growing body of evidence of illicit contacts between the Trump campaign and the Russians," Schiff told Fox News in a statement. "This approach is as disingenuous as it is destructive to our institutions."