Trump's Russia-ISIS Slip Unprecedented in U.S. Presidential History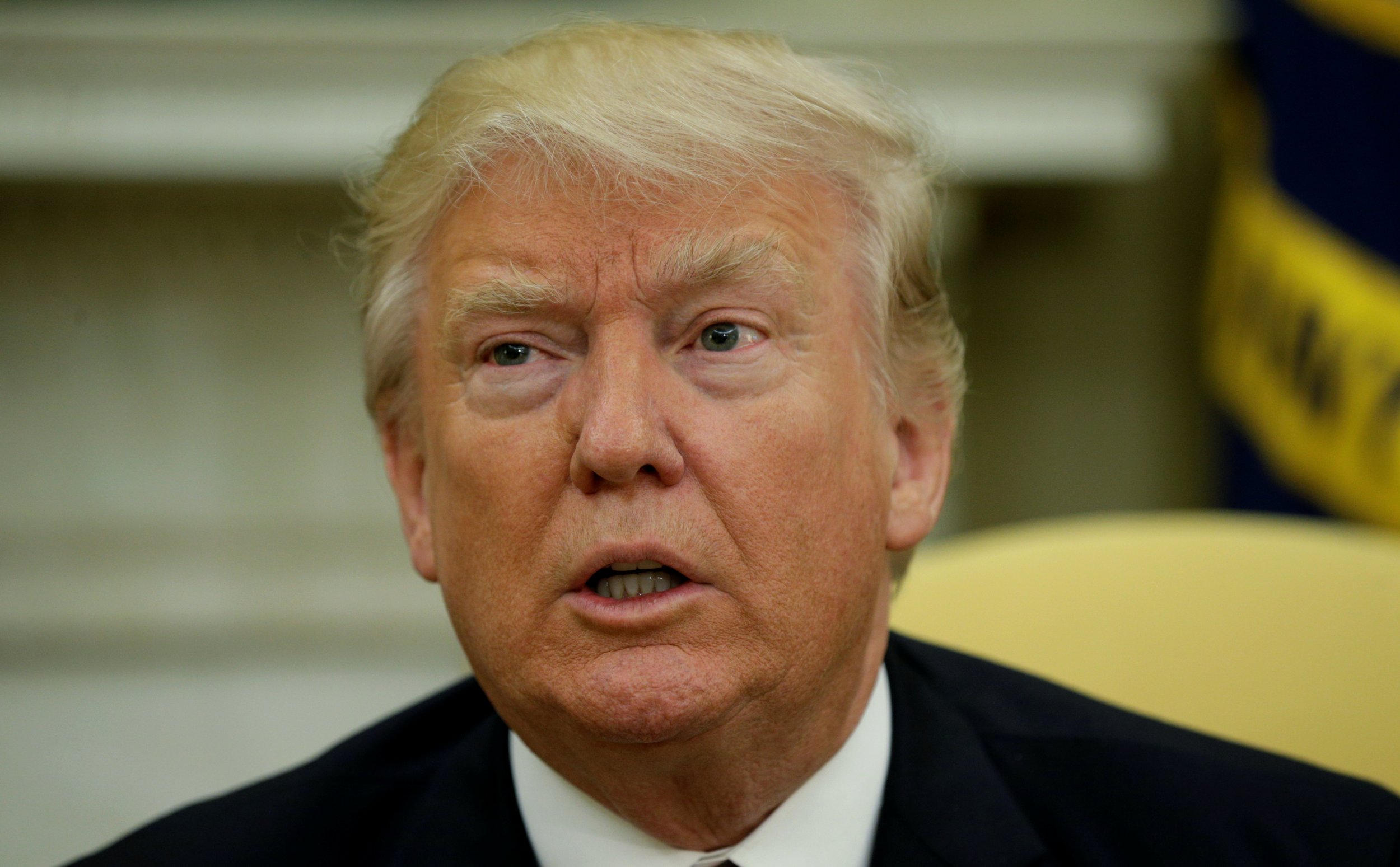 Former spies and intelligence historians were scrambling Tuesday to recall any instance of an American president intentionally revealing top-secret information to a nuclear-armed adversary.
They came up blank.
"Lots of policymakers over the years have talked too much and jeopardized sources, or pissed off partners who shared sensitive information," John Sipher, a 28-year senior CIA veteran who served as a top agency official in Russia, tells Newsweek. "That said, you don't expect it from the president—especially with the Russians!"
Related: Trump-ISIS slip could end U.S.-Israeli intel sharing
Revelations that President Donald Trump had shared highly compartmented "code-word" details about an alleged Islamic State group (ISIS) bomb plot with two top Russian officials in the Oval Office last week shook Washington and alarmed both America's closest allies and the president's supporters on Capitol Hill.
It would "be nice to have a drama-free week," Republican Senator Jeff Flake of Arizona told reporters Tuesday, a day after another pivotal party member, Bob Corker of Tennessee, chairman of the Foreign Relations Committee, described the Trump White House as in a "downward spiral."
Officials in Israel, which reportedly supplied U.S. intelligence with the sensitive information about the ISIS plot to attack airliners with laptop bombs, were said to be "boiling mad and demanding answers" about Trump's disclosure, according to various accounts. Even before Trump took office, Israeli officials were "losing sleep" about Russia-friendly figures in the president-elect's retinue sharing information with Moscow, which would in turn pass it along to Iran, according to a January report by a veteran Israeli intelligence reporter, Ronen Bergman. Now, an intelligence officer told BuzzFeed News, Israel's "worst fears" have been "confirmed."
Loch Johnson, the eminent intelligence historian at the University of Georgia, says he can't remember anything remotely like Trump's disclosure. President Lyndon Johnson once made an off-hand reference at a White House conference about the ability of U.S. "surveillance satellites" to count the Soviet Union's nuclear-armed missiles, he recalls, which sent aides scrambling to contain the flap. But "the Trump episode is far more serious, of course," adds Johnson, author or editor of 30 books, mostly recently National Security Intelligence.
"It is of course even worse that it is the Russians, because they have a worldwide collection effort and can take a few facts and put it together," says Sipher, a former member of the CIA's Senior Intelligence Service. "They can task their sources, or their allies Syria and Iran" to dig deeper on how the Israelis came up with the information."
H.R. McMaster, the White House national security adviser, tried to downplay the importance of what Trump revealed to the two Russian officials, Foreign Minister Sergei Lavrov and Ambassador Sergey Kislyak, during their Oval Office meeting. McMaster told reporters that "the president wasn't even aware of where this information came from" and had not been briefed on the exact source.
Intelligence officials do obscure the identities of their human spies and technical sources of intelligence (spy satellites, cyber intrusions and the like) with cryptonyms or code words. But it's unlikely the president's critics will be satisfied about the limits of what Trump revealed before seeing a transcript of the meeting, as many are now demanding. Even the partial disclosure of such sensitive information, national security officials point out, can be extremely useful to an adversary, especially one as skilled as Russian intelligence.
"You can compromise sources and methods without directly exposing sources and methods," Ali Soufan, a former senior FBI counterterrorism official, tells Newsweek. With just a sliver of knowledge about Trump's disclosure, "ISIS would know that someone has been compromised"—recruited by a foreign intelligence agency. "We can only hope they don't catch the right spies," he says. Innocent people, meanwhile, "may well be executed," along with valuable secret agents working for the U.S. or its allies.
The West and its Arab friends may benefit from chaos in the ranks of ISIS sowed by the leak of Trump's indiscretion, allows Soufan, author of Anatomy of Terror: From the Death of Bin Laden to the Rise of the Islamic State. But it's "the Russians who are benefitting the most from this," he says.
Besides possibly gaining valuable information from Trump's leak, the flap over it has fueled another round of domestic political discord, distrust of the president, dismay among allies and friction with its closest friend in the Middle East, Israel.
"I get great intel. I have people brief me on great intel every day," the president said, according to The Washington Post, which cited "an official with knowledge of the exchange."
Trump's alleged boast wouldn't come as a much of a surprise to the Kremlin: Four years ago this month, former CIA and National Security Agency contractor Edward Snowden, who resides in Moscow, fled to Hong Kong and gave the world a blueprint of the capabilities of U.S. electronic intercept programs around the world. In March of this year, WikiLeaks published nearly 9,000 documents on the CIA's most secret hacking tools. In April, the so-called Shadow Brokers hacking group revealed a password to files previously stolen from the NSA.
As far back as 1967, when President Johnson's careless remark inadvertently revealed how the U.S. could count Soviet missiles, the Kremlin wouldn't have been surprised either, because it had "a complete copy of the satellite's technical manual," according to intelligence historian James Bamford. "It was sold to them in February 1978, for $3,000, by William P. Kampiles, a former CIA employee."
"I cannot imagine that [Trump's slip] is anywhere close to the kind of damage from Snowden," Sipher says. "It is ugly, but it probably [says more] more about Trump than the actual source."