Trump Russia: Jimmy Kimmel 'Grills Kellyanne Conway' About Donald Jr.'s Meeting with Russian Lawyer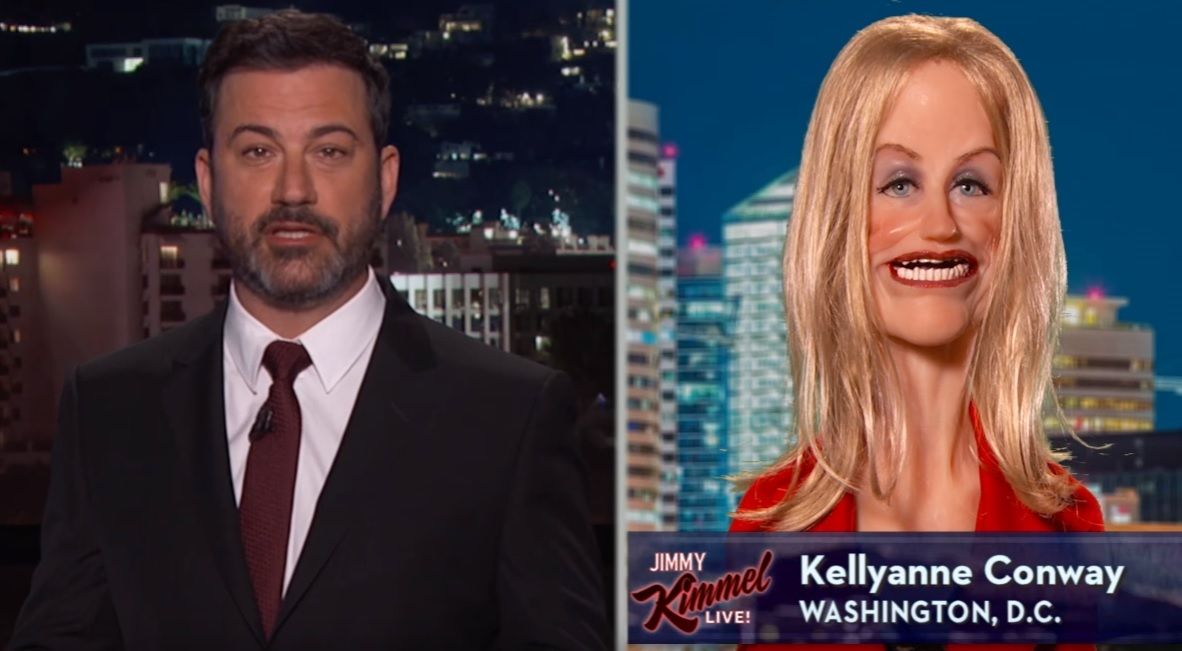 Did Donald Trump Jr. meet with a Russian lawyer with ties to the Kremlin to gain damaging information about Hillary Clinton during last year's presidential campaign? Well, one way not to find out is by asking Kellyanne Conway.
White House counselor Conway appeared on various morning talk shows Monday and was grilled about the changing story of Trump Jr.'s meeting at Trump Tower in June 2016. The president's son initially said they met to discuss a law banning U.S. citizens from adopting Russian children, only later admitting that part of the conversation was about Clinton. Trump's presidential campaign manager Paul Manafort and his son-in-law Jared Kushner, now a senior adviser in his administration, were also in attendance.
On Monday night's Jimmy Kimmel Live, the comedian mocked Conway's passive-aggressive deflection earlier that day, showing a clip of her breaking down what happened "bit by bit," as if leading a kindergarten class.
"The White House, doing what they do," Kimmel said, "released the Kraken."
Kimmel laughed off Conway telling CNN that "there was no information given, no action taken and no follow up."
He determined, "In other words, Donald Trump Jr. recruited his brother-in-law and chairman of his father's campaign to meet with a complete stranger because he thought he'd get damaging information about Hillary Clinton. He didn't get that information. He says instead he got information about Russian adoptions. That makes sense."
"That's like telling a judge, 'Yeah, I tried to rob the bank, but I forgot they weren't open on Sundays, so I didn't rob the bank.'"
So, getting no clear answers from Conway's earlier appearances, Kimmel took matters into his own hand—welcoming Trump's counselor onto his show "live via satellite" to take his own stab at getting to the truth.
"Why did Donald Trump Jr. and the highest level of the campaign staff have a meeting with a Russian in the first place?" Kimmel asked a dummy of Conway.
Conway antagonized: "First of all, define meeting? What's a meeting?"
The fake Conway then went on to ask, "Jimmy, do you eat meat? Is that a meeting?"
And then doing her best to divert attention away from the White House, Conway added: "We should be talking about Hillary Clinton and the shemales she's been hiding."
Er, I think you mean emails. Or maybe not. You never know with this White House.