Trump And Russia Are Even Using the Same Words to Attack the Media Over Secret Putin Meeting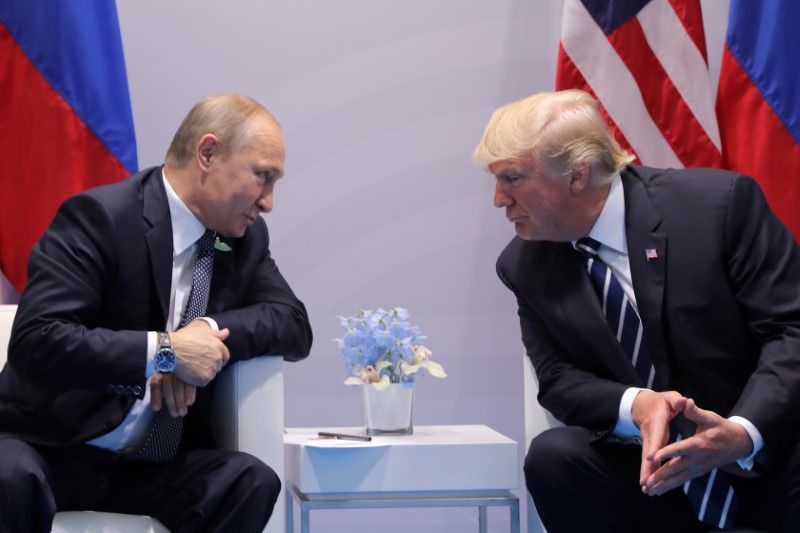 Investigations are ongoing into possible collusion between Donald Trump's presidential campaign and Russia, but what can be said for certain is that the two parties share an affinity for the same language—at least when it comes to attacking the media.
Related: Putin-Trump meeting 'unusual': G-20 leaders bemused by president's private chat with Russian leader
Following revelations Tuesday night that Trump had held an undisclosed meeting with Russian President Vladimir Putin at a G-20 dinner earlier this month, the Republican launched into a familiar Twitter tirade.
"Fake News story of secret dinner with Putin is 'sick,'" Trump said. "All G 20 leaders, and spouses, were invited by the Chancellor of Germany. Press knew!"
Just a few hours later, a leading Russian lawmaker gave a similar defense of the meeting. The chairman of the committee on information policy in the upper house of Russia's parliament, Alexei Pushkov, hit the U.S. media for sensationalizing "a secret conversation that didn't happen." He then parroted Trump's words, saying, "They're sick."
It is not the first time that Trump and a high-ranking Russian official have struck out at coverage of their relationship with the same words.
After Attorney General Jeff Sessions came under fire in March for failing to disclose that he had spoken twice with Russian ambassador Sergey Kislyak during the campaign, Trump derided it as a "witch hunt." Soon after, Russian Foreign Minister Sergey Lavrov said the pressure on Sessions "strongly resembles a witch hunt of the times of McCarthyism."
While it remains to be seen exactly how much else Trump and the Russians share, a disdain for the media is certainly a unifying bond. Before their more than two-hour-long official meeting at the G-20 summit, Putin gestured to journalists in the room and quipped to Trump, "These are the ones hurting you?" Trump confirmed the suggestion: "These are the ones. You're right about that."
Mirroring the Russian government's treatment of journalists is far from a laughing matter, however. A number of journalists, political opponents and other dissidents have been killed during Putin's time in office.
And a report from Human Rights Watch released Tuesday slammed Russia's recent stepping up of its crackdown on freedom of expression.
"Russia's authorities are leading an assault on free expression," Yulia Gorbunova, Russia researcher at Human Rights Watch, said. "These laws aren't just about introducing tough policies but also about blatant violation of human rights."