Trump 'Committed to Improving This Relationship' With Russia, Pompeo Tells Russian Foreign Minister
Secretary of State Mike Pompeo told his Russian counterpart on Tuesday that President Donald Trump is "committed to improving" ties with Moscow, as the two leaders met face to face in Sochi, Russia.
"I'm here today because President Trump is committed to improving this relationship," Pompeo told Russian Foreign Minister Sergey Lavrov. "As I think you said, we have differences. We, each country, will protect its own interests, look out for its own interests of its people," he continued.
Prior to Pompeo's comments, Lavrov welcomed the Trump administration official to the talks. "I believe an important prerequisite for success of our dialogue is to rebuild trust at all levels of our dialogue," the Russian official said through a translator. "Considering that we have met over the past two weeks for two times, that's a reason for some optimism," he added. "Let's try and see what happens."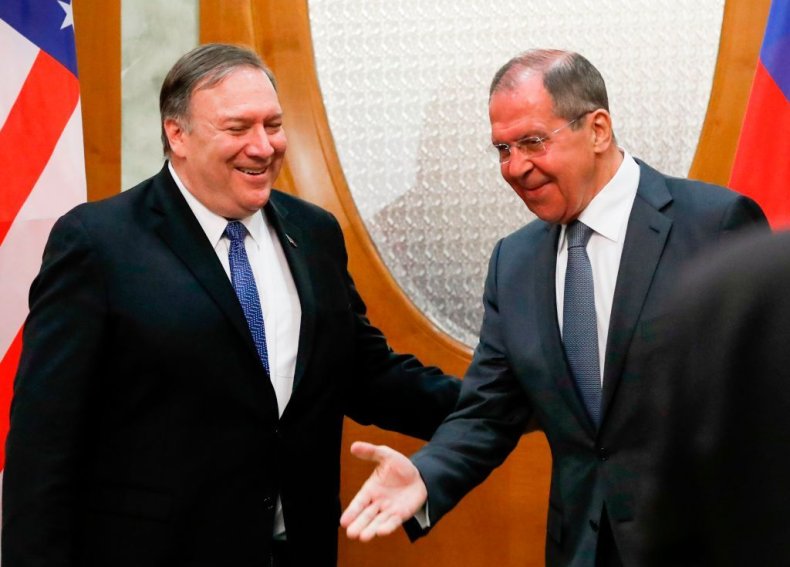 Pompeo is also scheduled to meet with Russian President Vladimir Putin during his current trip. The visit, as Lavrov noted, marked the second time the secretary of state has met with Russian officials in the past month. Pompeo and Russian officials plan to discuss issues of tension, including a way forward to address Iran and the possibility of renewed nuclear treaties.
Some have speculated that Putin's decision to inspect military equipment and a flight testing center ahead of his talks with Pompeo was an aggressive signal directed toward Washington. But the Russian leader's official spokesperson Dmitry Peskov dismissed this suggestion as "a conspiracy theory."
"The president deals with military and industrial complex issues twice a year and the goal is to develop the military and industrial complex, rather than to send any signals," Peskov said, according to Russia's Tass news agency. "No conspiracy theories should be concocted here."
Trump has long called for improved ties with Putin and Russia, but has faced significant backlash as a result. U.S. intelligence agencies and special counsel Robert Mueller concluded that Russia interfered in the 2016 presidential election to disparage former Secretary of State Hillary Clinton and promote Trump's candidacy. Although Mueller's final report did not establish that Trump or his campaign associates had conspired with Russia in these efforts, the reality of Russia's preference for Trump has cast a long shadow of scandal over the president's time in office.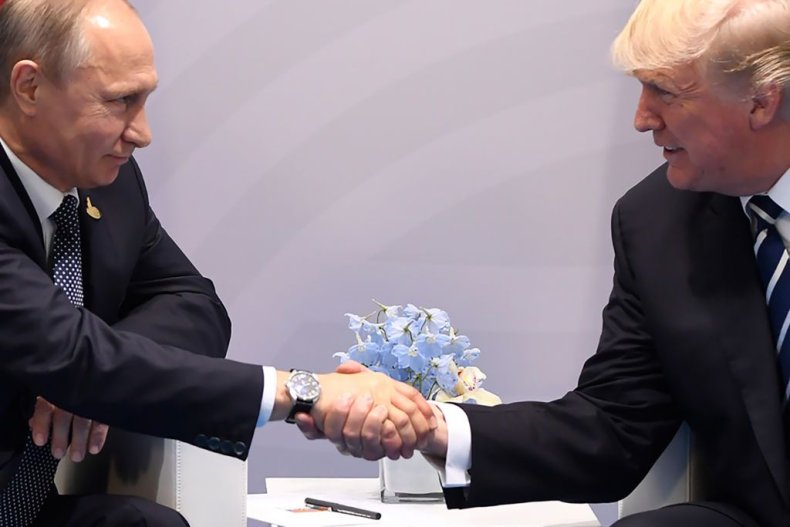 The White House has attempted to dismiss this criticism, arguing that Trump has been tougher on Russia than any of his predecessors. While the president has implemented new sanctions targeting Moscow, he has often appeared reluctant to do so. Trump's administration also armed Ukraine's army against Russian-backed separatist militants, but the president has suggested that disputed Ukrainian territory could be ceded to Putin's control. Additionally, the president has repeatedly appeared to give merit to Putin's assertions that Russia did not interfere in the 2016 election, despite the conclusions of U.S. intelligence agencies and Mueller's team.
Jeremy Bash, a former CIA and Department of Defense official, warned last week on MSNBC that Trump's foreign policy regularly appears to favor Russian interests. Pointing to Trump's positions toward Syria, NATO and the G7, as well as his dismissal of election interference, Bash said, "That's a pretty coherent worldview" in favor of Russia.
"It's totally at odds with what the U.S. intelligence community believes," he pointed out.