Trump Fails To Sanction Russia Over Election Meddling and Defies Congress With Three-Week Delay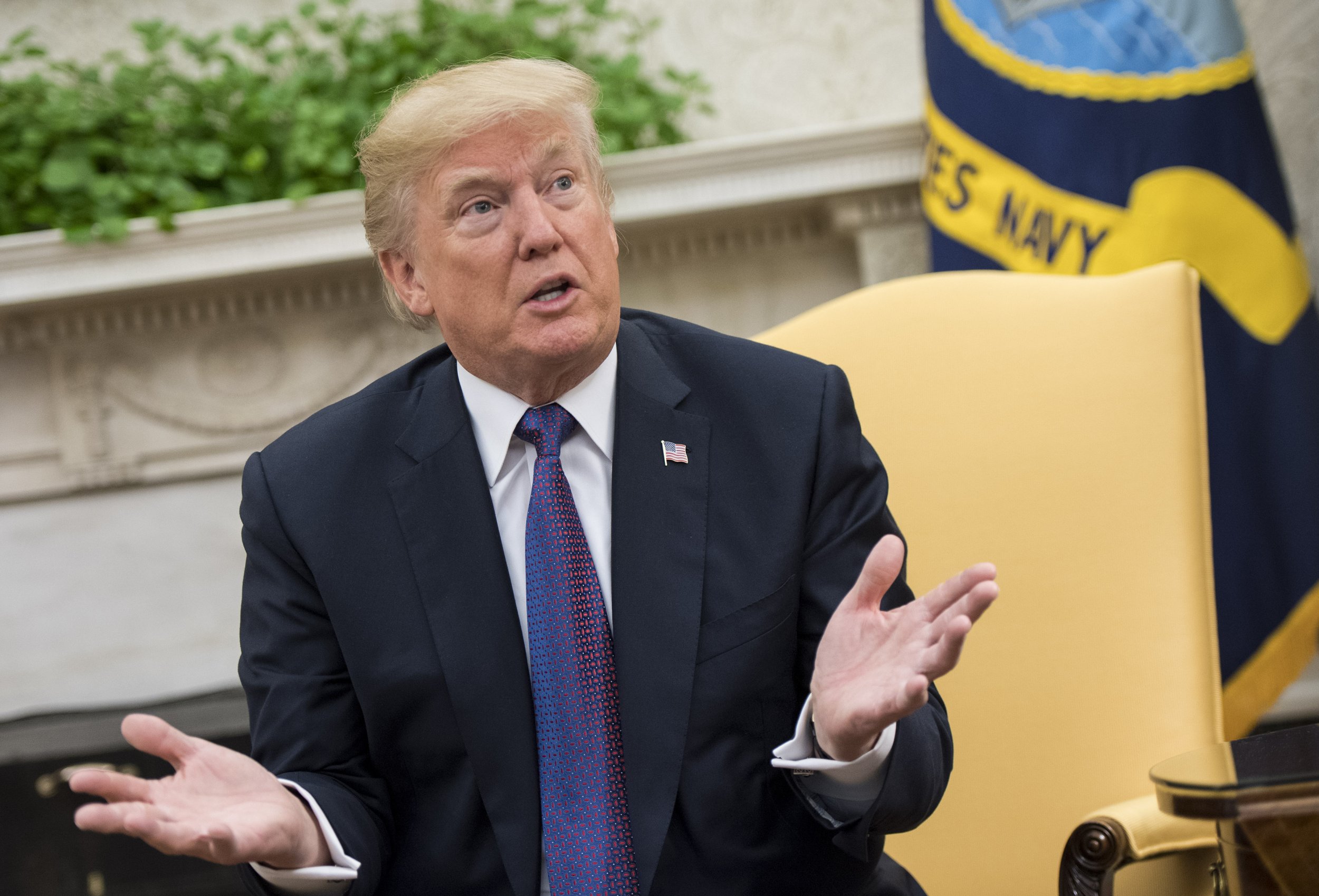 The Trump administration has failed to place new sanctions on Russia, further deepening allegations the president is soft on Russia.
New sanctions resoundingly flew through both chambers of Congress in July, President Donald Trump signed the "Countering America's Adversaries Through Sanctions Act" on August 2. The bill called for fresh sanctions not only on Russia but Iran and North Korea as well.
But the administration missed the October 1 deadline to "issue regulations or other guidance" to indicate who from Russia's defense and intelligence sectors—like its powerful Federal Security Service—would be targeted by the new sanctions.
The bill did give Trump until early next year to actually impose new sanctions on specific parts of Russia's economy like finance and energy, according to LawFare.
The White House and Treasury Department did not immediately respond to Newsweek's requests for comment.
The bill was a direct result of Russia's meddling in last year's election, though Trump has not completely accepted Russia and President Vladimir Putin's efforts or even agreed with the U.S. intelligence community's assessment that the Russians intentionally interfered in order to help Trump claim the White House over Democrat Hillary Clinton.
At the time of the bill's signing, Trump did not have media or photographers present, unlike many of his other signings, and he lamented the bill's challenge to his power as head of the executive branch. The measure included a clause that allowed Congress to review any lifting of sanctions should Trump try do so.
On the campaign trail, Trump spoke about improving relations with Russia and to date has failed to criticize Putin. During the Group of 20 summit in Hamburg, Germany, in July, Trump met with Putin for the first time and said he asked him twice if Russia had meddled in the election. Putin supposedly denied any Russian involvement, and Trump later said he believed him.
Since signing the bill, Trump has delegated some sanctioning authority, authorizing Treasury Secretary Steve Mnuchin to handle some financial sanctions and for Secretary of State Rex Tillerson to administer visa sanctions.
Senator Lindsey Graham (R-S.C.) was asked Sunday on NBC's Meet The Press why the president had yet to issue sanctions on Russia. Graham admitted the Trump administration had a "blindspot on Russian I still can't figure out," and directly called on Trump to take action while showing support, according to Mediaite.
"Mr. President, go after Russia because they're coming after us," Graham said, though he added, "I think he's beginning to understand the threats we face better and better each day."
The administration has taken action against North Korea since the bill's passing. Trump signed an executive order expanding sanctions September 22, homing in on its finances and other countries that do business with Kim Jong Un's regime.
Four days later the Treasury Department put eight North Korean banks and 26 people working in four different countries linked to the Pyongyang's financial networks on its sanctions blacklist, specifically citing the authoritarian government's continued nuclear and missile defense programs.
Trump has also called out Kim both on social media and in major speeches. The president first dubbed Kim "rocket man" on Twitter and repeated the nickname during his first visit and speech before the United Nations General Assembly last month.
Trump has also railed against Iran. The president and administration claimed the Middle Eastern power was in violation of the Joint Comprehensive Plan of Action, the multilateral deal struck during President Barack Obama's tenure that hindered Tehran's development of nuclear weapons in exchange of a loosening of sanctions.
On October 13, the administration tasked Congress with putting new requirements into the deal and if Iran bucks more sanctions would be placed on Tehran. Otherwise, Trump could completely pull the U.S. out of the deal, according to The Washington Post.