Trump Said His Suggestion About Disinfectant Injections As Coronavirus Treatment Was 'Sarcastic'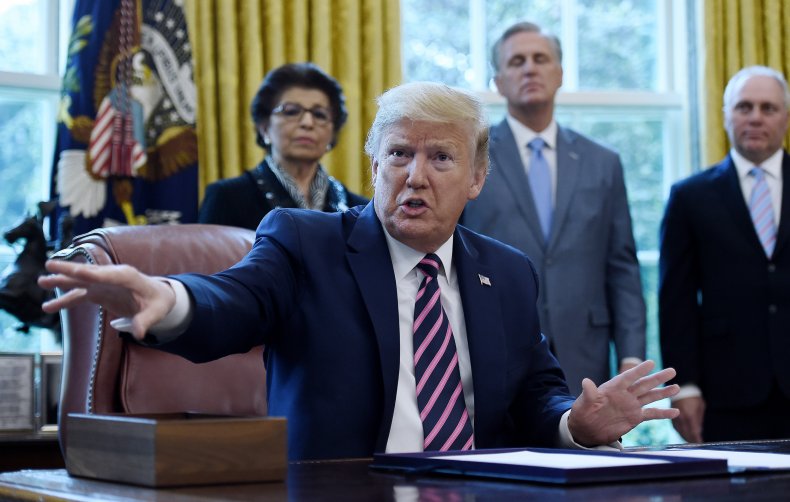 President Trump said that he was merely being sarcastic when he suggested that chemical disinfectants or ultraviolet light could be used to treat the novel coronavirus during Thursday's White House Coronavirus Task Force press briefing.
"I was asking a question sarcastically to reporters just like you to see what would happen," Trump told reporters Friday after they asked him about raising the question of whether disinfectants could cure Covid-19 when injected into the human body. Pressed on whether he was encouraging their use as a coronavirus treatment, Trump replied: "Of course not."
The president made the claim that he hadn't been serious at a Friday signing ceremony for Covid-19 relief legislation, a few hours after White House Press Secretary Kayleigh McEnany told Newsweek in a statement that the president's remarks had been "irresponsibly" taken out of context by reporters for the purpose of creating "negative headlines."
During Thursday's briefing, Department of Homeland Security Office of Science and Technology head Bill Bryan recounted the effect UV light and disinfectants can have on the virus. The President then turned to him and asked him to "speak to the medical doctors to see if there's any way that you can apply light and heat to cure [Covid-19].
"So, supposing we hit the body with a tremendous—whether it's ultraviolet or just very powerful light—and I think you said that that hasn't been checked, but you're going to test it. And then I said, supposing you brought the light inside the body, which you can do either through the skin or in some other way, and I think you said you're going to test that too. It sounds interesting," Trump said. Bryan replied that he would "get to the right folks who could" find out.
A moment later, Trump suggested that injecting disinfectants into the body could eliminate the virus.
"And then I see the disinfectant, where it knocks it out in a minute. One minute. And is there a way we can do something like that, by injection inside or almost a cleaning. Because you see it gets in the lungs and it does a tremendous number on the lungs. So it would be interesting to check that," he said, with the caveat that "medical doctors" would have to do the checking.
Isopropyl alcohol is a form of methanol, which is poisonous and causes blindness when ingested. According to the National Capital Poison Control Center, ingestion can cause "dehydration, low blood pressure, shock, and coma."
In a statement, Lysol manufacturer Reckitt Benckiser Group responded to Trump's suggestion by making clear that "under no circumstance should our disinfectant products be administered into the human body (through injection, ingestion or any other route)."