Trump Said Inauguration Crowd Numbers Were 'Bullshit' Says Reince Priebus in New Book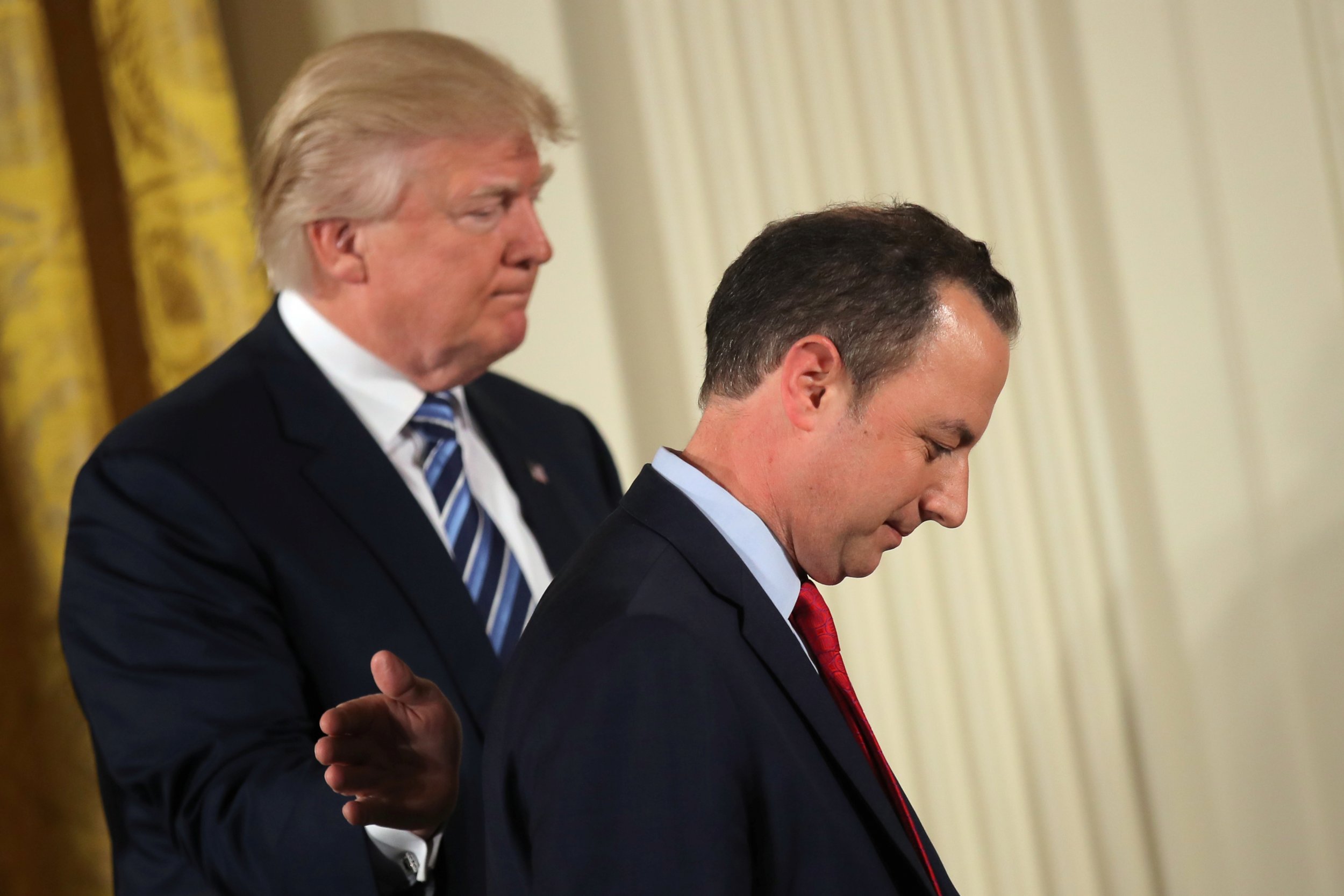 President Donald Trump flew into a rage about reporting on the size of the crowd at his inauguration and screamed at White House chief of staff Reince Priebus to fix the story early on the first full day of his presidency, according to an interview with Priebus for a new book.
"This story is bullshit," a furious Trump is reported as saying during an early morning call to Priebus. The morning after his inauguration on January 21 Trump had seen the crowd numbers published in The Washington Post and became indignant. He called Priebus screaming.
"There's more people there. There are people who couldn't get in the gates....There's all kind of things that were going on that made it impossible for these people to get there'" the president said, Priebus recalled.
Priebus spoke to writer Chris Whipple for a forthcoming book titled The Gatekeepers: How the White House Chiefs of Staff Define Every Presidency, adapted in Vanity Fair.
Trump reportedly then ordered Priebus to contact Ryan Zinke, secretary of the interior, so that he could find out from the Park Service what the numbers were. "Tell him to get a picture and do some research right away," Trump said, according to Priebus.
The president's former chief of staff said he tried to calm Trump down, but couldn't.
"Is this something that I really want to go to battle over on day one? Who needs a controversy over the inauguration?" Priebus told Whipple. Priebus said he faced a decision to either "go to war over this with the president of the United States" or try to punch back against the story.
Read more: Trump said he was wrong on inauguration crowd size, new book says
Later that day, White House press secretary Sean Spicer attacked the reporting during his first press conference, arguing it was "the largest audience ever to witness an inauguration, period, both in person and around the globe."
Trump had ordered Spicer to go out and attack the press, according to another recent book by Fox News host Howard Kurtz. The fact was that the crowd size was smaller on the Washington's National Mall than it was at President Barack Obama's inauguration.
Kurtz's book claims counselor to the president Kellyanne Conway had also tried to calm the president down but was unable. "She invoked a line that she often employed when Trump was exercised over some slight," Kurtz wrote. "'You're really big,' she said. 'That's really small.'"
Priebus told Whipple the strategy Spicer came up with was "to say that actually, if you combine online and television, radio, and in-person, it was the most watched inauguration." That was difficult to prove and didn't undermine the reporting about the crowd size in Washington.
Trump later regretted ordering Spicer to dispute the numbers, according to Kurtz, telling aides: "I shouldn't have done that" and, "You were right."
Priebus was ousted from the White House less then eight months later, and current White House chief of staff John Kelly replaced him last August.