Trump Said Wednesday Was 'A Sad Day For Democrats' After Gillibrand Dropped Out of Race: 'She Was the One I Was Really Afraid Of'
Not long after Kirsten Gillibrand announced she was withdrawing her name as a Democratic presidential candidate for 2020, President Donald Trump took a jab at her party.
He called it "a sad day for Democrats" because, well, secretly he was most "afraid" of her in a general election next November.
"A sad day for the Democrats, Kirsten Gillibrand has dropped out of the Presidential Primary. I'm glad they never found out that she was the one I was really afraid of!" the president tweeted.
Gillibrand, a senator from New York, did not show well in most polls, nor she did meet criteria to be on the stage for the next debate, according to The Hill.
Gillibrand announced her withdrawal through Twitter on Wednesday.
"Today, I am ending my campaign for president," she wrote. "I am so proud of this team and all we've accomplished. But I think it's important to know how you can best serve."
She then asked her followers to "go beat Donald Trump and win back the Senate."
It's probably no surprise that Trump went after Gillibrand and the Democrats in a tweet Wednesday, especially since Gillibrand called the president "weak" and "a coward" at a town hall in April.
"I'm the right candidate to take on President Trump because I can bring people together," Gillibrand said in April. "I have, and I can win red, purple, and blue districts. We need a president who will fix what's broken in this country — that's why I'm running."
At the town hall, broadcast by CNN, Gillibrand called President Trump a racist and anti-Semitic, and said he "divided the country" by "tearing apart our soul as a nation."
"You need someone who's going to be brave enough to bring this country together," Gillibrand said. "Brave enough to take on all the challenges that divide us."
She didn't stop there. She continued calling out Trump by saying he was one of the "most cowardly, demeaning presidents that we've ever had."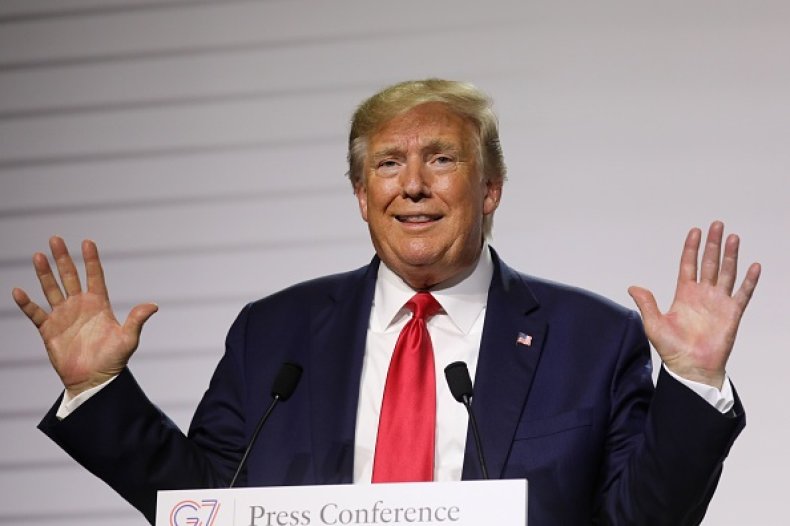 Gillibrand's platform centered around policies that would directly benefit women. However, she never won clout in the polls like her fellow candidates Joe Biden, Bernie Sanders, Elizabeth Warren and Kamala Harris. Gillibrand rarely got above 1 percent favorability in the national polls.
Biden, Sanders and Warren are the three candidates who have consistently topped Trump in head-to-head matchups in 2020.