A CNN presenter and contributor have both accused President Donald Trump of sexism for suggesting that his wife could make salads for a visiting football team.
NCAA champions the Clemson Tigers from South Carolina were visiting the White House after their victory on January 7 against the University of Alabama's Crimson Tide.
Read more: Donald Trump is a clear and present danger to national security, former DOJ chief says
Trump told the players that they would still be fed despite the partial government shutdown.
"So I had a choice. Do we have no food for you? Because we have a shutdown? Or do we give you some little quick salads that the first lady will make, along with the second lady. They'll make some salads.
"And I said, You guys aren't into salads. Or do I go out…and send out for about 1,000 hamburgers? Big Macs. So we actually did that."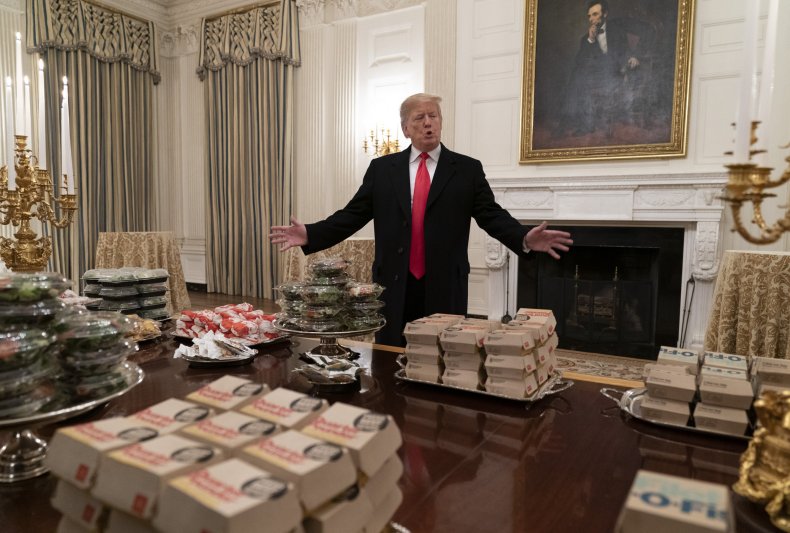 Trump's comments sparked a debate on CNN about sexism, with the network's Joan Walsh calling them "appalling," Mediaite reported.
"It seems to me like the president will not be happy until there is not one single female Republican voter in the country. It's incredibly sexist…. We are not all here to make salads for men. It's disgusting," Walsh said.
Host Erin Burnett added: "Sometimes what people say when they're being funny exposes exactly who they are and what they think. Not that there was any question, but this is pretty clear."
Conservative commentator Scott Jennings, who served in the George W. Bush administration, disagreed, saying. "I certainly didn't take his comments to be sexist. I think that if somebody took them that way, you know, that's fine. Probably they want to take everything that Donald Trump says as being evil."
Burnett then told Jennings: "How in the world can you not perceive that as sexist, to make the assumption that his wife will go make salads for a bunch of football players? What is she, like, the cook?"
Jennings said that he made salads nearly every night, adding: "I didn't hear it that way…. I make salad, and my wife makes salad…. It didn't strike me that way. I think he was trying to make a joke about feeding hamburgers to football players. I think that you might be overreading this one."
Burnett responded: "I'm not overreading it. He made a joke that was sexist about women. I guess maybe what we're disagreeing with is whether it's funny and whether humor is something that's serious."
Walsh interpreted Jennings's comments as "disagreeing whether it was sexist, which is what he is entitled to do," according to Mediaite.
White House press secretary Sarah Huckabee Sanders said the president was "personally paying for the event to be catered with some of everyone's favorite fast foods," The Washington Post reported.
The image of a spread of food from McDonald's, Wendy's and Domino's Pizza in an ornate room in the White House was jarring for some social media users.
Next to an image of a staff member lighting the candelabra while surrounded by burger boxes, Matthew Cherry tweeted, "Describe 2019 with a picture."
Judd Legum tweeted, "This is an incredible self-own for someone who claims to be worth $10 billion."
Jonathan Osman wrote: "DC has AMAZING restaurants that are struggling during the shutdown. They could have been called in to cater for these kids. Trump feeding the Clemson Tigers a bunch of cold fast food is so…Trump."
Related: Trump sends racially charged tweet about Elizabeth Warren