Trump Saw an Opportunity to Appeal to Black Voters, Then He Tweeted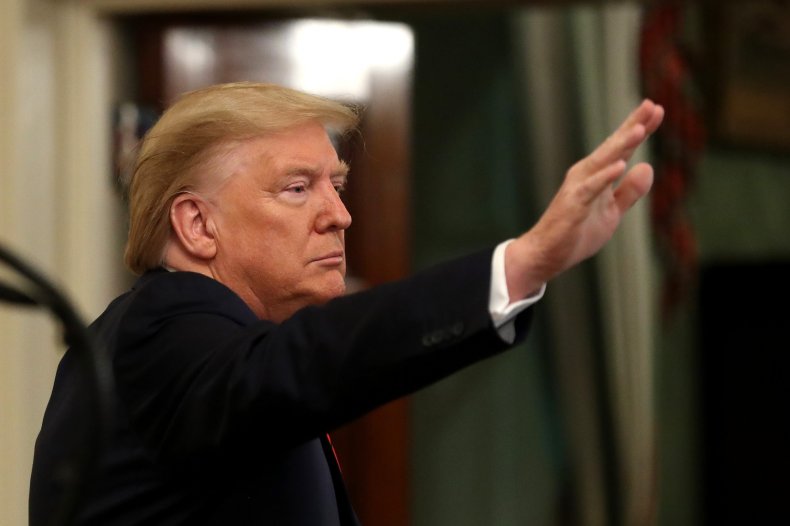 Seeing an opportunity to chip away at a crucial voting bloc for Democrats, President Donald Trump's campaign pounced on a remark his rival Joe Biden made last week about black voters.
"If you have a problem figuring out whether you're for me or Trump, then you ain't black," Biden quipped near the end of an interview with Charlamagne tha God in an episode of The Breakfast Club, a popular nationally-syndicated radio show.
So Team Trump launched a website—YouAintBlack.com—with a video of Biden making the remark, adding a "racist" label across his forehead. The campaign began selling #YouAintBlack t-shirts for $30 apiece. And some of Trump's top black campaign surrogates, including U.S. Senator Tim Scott of South Carolina, made the rounds on national television to condemn Biden's remarks while praising Trump for efforts like criminal justice reform, African American employment growth and support for Historically Black Colleges and Universities.
"Race-baiting in the 21st century is an ineffective tool to attract one of the most intelligent voting blocs in the nation," Scott told reporters on a call organized by the Trump campaign last week.
That remark opened a window into a base that Trump has struggled to attract as the 2020 election looms.
But then Trump made a controversial remark of his own that raised concerns in the campaign, one source connected to the campaign told Newsweek who was not named because they are not authorized to speak publicly on the matter.
On Thursday, Trump fired off a racially charged tweet about the demonstrations taking place after a black man was killed during an arrest, sparking a swift backlash.
"These THUGS are dishonoring the memory of George Floyd, and I won't let that happen ... Any difficulty and we will assume control but, when the looting starts, the shooting starts," he wrote, invoking a phrase used demeaningly against black people during the 1960s Civil Rights movement.
Twitter slapped a disclaimer on the tweet noting that it violated rules "about glorifying violence" and blocked users from being able to reply directly to the tweet or retweet it.
Without naming Trump, Biden remarked it was "no time for incendiary tweets, no time to incite violence" during a live broadcast from his home in Delaware Friday, and several other prominent Democrats blasted Trump's comments.
The backlash sent the president and his campaign into defense mode through Friday afternoon, starting with a pair of carefully worded follow-up tweets from Trump.
"I don't want this to happen, and that's what the expression put out last night means. It was spoken as a fact, not as a statement. It's very simple, nobody should have any problem with this other than the haters, and those looking to cause trouble on social media. Honor the memory of George Floyd!" he wrote Friday, shortly before a news conference on new China policies.
Trump didn't mention Floyd's death and the demonstrations or respond to shouted questions from reporters following the news conference.
Around the same time, Trump's campaign released a blistering statement that took aim at Democrats and the media for how Trump's initial "looting" tweet was received.
"The facts show that the President expressed horror over the killing of George Floyd in Minneapolis and ordered the Department of Justice to get involved," campaign manager Brad Parscale said in the statement. "When riots erupted in that city and elsewhere, he warned on Twitter that looting could quickly turn into violence. The media, Joe Biden and the Democrats pounced, purposefully misrepresenting what the President had said, and showing once again that they are incapable of resisting their base impulse of dividing Americans, solely for the purpose of political gain, ratings and cable news profit."
Biden's campaign didn't respond to Newsweek's request for comment on Parscale's assertion.
About an hour after the campaign statement was sent Friday afternoon, Trump opened a meeting with business leaders on efforts to rebuild the economy from the devastating impact of the coronavirus pandemic with remarks to reporters that struck a different tone from his initial tweets. He said that he offered "our nation's deepest condolences and most heartfelt sympathies to the family of George Floyd."
Trump told reporters he had spoken to Floyd's family but didn't reveal when the call took place.
"That was a horrible thing to witness and to watch and it would certainly look like there was no excuse for it," he said.
And he said demonstrators shouldn't be judged as a whole.
"Certainly there were a lot of different people. There were good people too," he said. "They were protesting for the right reason in honor of a man, George Floyd, where something happened that shouldn't have happened."
"He was in tremendous pain obviously and couldn't breathe," he added.
But Trump, who has repeatedly criticized NFL players who have kneeled during the National Anthem in protest of police violence against black people, didn't directly answer a question about whether Floyd's death has prompted him to rethink his support for that kind of peaceful protest.
"I think in memory it should be peaceful. It's terrible," Trump said, soon cutting off questions.