Trump Says 20 Percent of Mail-In Ballots Are Lost by Post Office
President Donald Trump said Saturday that the United States Postal Service lost 20 percent of mail-in ballots, describing universal mail-in voting as "catastrophic."
Speaking at a press conference, Trump repeatedly condemned mail-in voting while praising absentee voting.
"Again, absentee voting is great—I'm an absentee voter, because I requested, I got and then I sent in my vote. So that works out very well. That's what we've had. But now they want to send in millions and millions of ballots. And you see what's happening; they're being lost, they're being discarded, they're finding them in piles. It's going to be a catastrophe," Trump said.
"If you look at what happened in New York and Virginia and various other places, it's a catastrophe. They're losing 20 percent of the votes, nobody knows what's happened. So we're gonna see what happens, but I do say this: universal mail-in voting is going to be catastrophic. It's going to make our country a laughing stock all over the world. You can't send out millions of ballots. Look at all the tests. Look, you've seen them, and there are many. Just look at New York, look at New Jersey. Look at the catastrophe in New Jersey. And New Jersey had more than just Paterson. Look at what's going on in Virginia, look at what's happening with this mail-in voting. It's a disgrace," he continued.
"Absentee is good. Mail-in, universal, is very, very bad. There's no way they're gonna get it accurately, they're off by 20 and 30 percent," Trump added.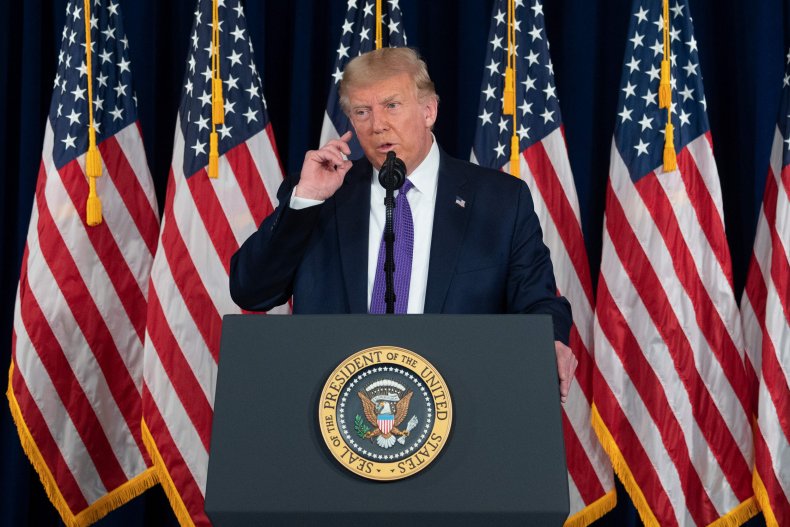 A special election in May in Paterson, New Jersey was the subject of fraud allegations after a number of bundled ballots were discovered by the U.S. Postal Inspection Service in a Paterson mailbox and in other nearby cities, according to NPR. Though the Passaic County Board of Elections did throw out about 19 percent of submitted ballots, it's unknown how many of those ballots were fraudulent.
While it's not uncommon for election boards across the country to throw out mail-in ballots, generally, the reason is that they were received after the deadline, or the signature didn't match election records. For example, in the 2020 presidential primaries, 5.63 percent of ballots, or about 3,800 out of a total 67,565 ballots, were thrown out in Virginia—the highest proportion of discarded ballots out of 17 states, as tabulated by NPR.
Though an April 24 article published by RealClearPolitics claimed that 28 million mail-in ballots went missing, that number included ballots mailed to people who did not vote at all. Paul Gronke, director of the Early Voting Information Center at Reed College, told ProPublica: "Election officials 'know' what happened to those ballots. They were received by eligible citizens and not filled out. Where are they now? Most likely, in landfills."
Trump has also alleged that mail-in voting leads to voter fraud, however, many studies of voter fraud report that a very, very small percentage—0.00001 percent, according to the Brennan Center for Justice—of ballots have been documented as proven fraud.
"While mail ballots are more susceptible to fraud than in-person voting, it is still more likely for an American to be struck by lightning than to commit mail voting fraud," the center said on its website.
Newsweek reached out to the Postal Service for comment, but did not receive a response in time for publication.
Correction (8/16/2020, 3:15 p.m.): The Brennan Center's percentage has been adjusted. It previously stated the percentage was 0.0000001 percent; that has been updated to 0.00001 percent.