Trump Says Airline Industry is in 'Good Shape' Despite 98% Drop in Bookings
President Donald Trump has claimed that the U.S. airline industry is in "good shape" amid the COVID-19 pandemic, despite the industry sustaining massive financial losses and receiving 98 percent fewer bookings than last year.
Trump made the remarks when concluding a meeting with Colorado Governor Jared Polis and North Dakota Governor Doug Burgum on Wednesday. The president suggested the industry was doing well when asked how Americans who may be reluctant to fly due to risks posed by the virus could increase their confidence to take to the skies.
"They have great confidence," Trump insisted. "They have great confidence in us, and they have great confidence in the airlines. We've saved the airlines with 25 billion dollars and another 25 billion dollars and we have airlines that are now in good shape."
"I mean, obviously they're going to pick up with the fares and with the seats," added Trump. "But the airline industry is in good shape. We've been able to save the airline industry... so they're in good shape."
Industry analysts are likely to disagree with the president's assessment. Stocks have plummeted due to the pandemic. Many experts have said that a number of airlines could be forced to go out of business and the industry might require years to recover from damages brought on by the health crisis.
Statistics also do not support the president's assertion. Airline bookings have plummeted 94 percent from last year, with a 100 percent reduction in revenue, trade group Airlines for America told Newsweek. The group also says that the major U.S. airlines are collectively burning through $6-7 billion per month.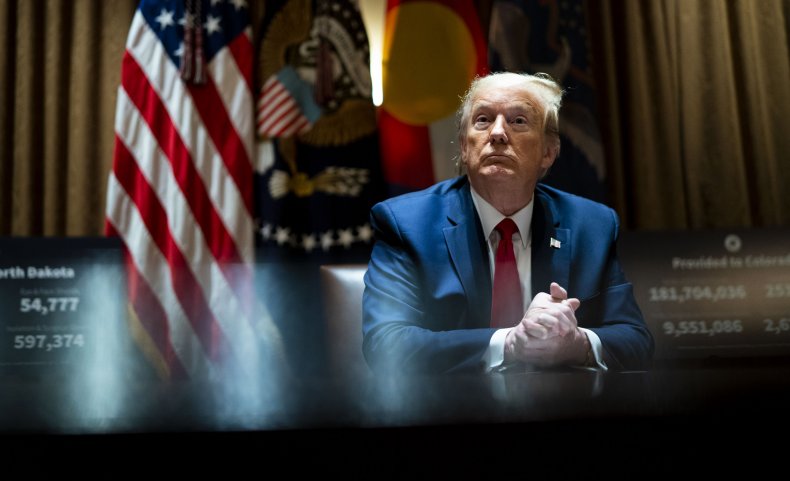 The industry has been given billions in grants and low-interest loans, but experts say the money is not nearly sufficient to compensate for historic losses. Many thousands of airline workers are likely to become unemployed when legal protections against them being laid off during the pandemic expire on October 1.
Trump has experience in the airline industry, having run a short-lived regional airline called Trump Shuttle between 1989 and 1992. The airline collapsed after a series of missteps including costly upgrades that saw planes being fitted with gold-plated fixtures and fake marble, along with outside factors such as a rise in fuel costs due to the 1991 Gulf War.
After one Trump Shuttle airplane crash landed at Boston's Logan Airport in 1989 due to a malfunctioning landing gear, the future president insisted that the incident had been a success.
"It was the most beautiful landing you've ever seen," Trump said, according to The Washington Post. "By the time it landed at the end, the front just touched very softly. Everybody got off. Nobody was injured. They were shaken up. But they were fine."
"The COVID-19 crisis hit a previously robust airline industry at lightning speed and recovery will not be nearly as swift," Airlines for America Communications Director Katherine Estep told Newsweek in a statement. "We are deeply appreciative to the Administration and Congress for their work on the CARES Act, which included Direct Payroll Assistance to allow airlines' 750,000 hardworking employees to stay on airline payrolls though Sept. 30, 2020 and out of the unemployment lines."
"This continues to be a rapidly evolving situation and U.S. carriers will remain in close contact with Congress, the Administration, federal agencies and public health experts," Estep added. "And, as travel restrictions and stay-at-home orders are lifted, we look forward to once again connecting friends, families and colleagues and leading the way toward economic recovery."
Update 5/15, 4:33 p.m.: This article has been updated to include statistics and a statement from Airlines for America.