Trump Says 'American Patriots' Won't Be 'Disrespected' in First Tweet After Video Concession
In his first text tweet since officially conceding to President-elect Joe Biden, President Donald Trump doubled down on his support for his followers days after pro-Trump protesters stormed the Capitol.
Trump finally conceded the election to Biden early Thursday morning, shortly after Vice President Mike Pence officially announced the final Electoral College tallies via a statement released by White House deputy chief of staff Dan Scavino. The president has been criticized for not conceding sooner and for using a Wednesday morning rally in Washington, D.C., to fuel the violence that erupted at the Capitol later that day.
On Friday morning, in his second tweet since Twitter lifted the ban on his account, Trump said that the 76 million "great American patriots" who voted for him will have a "giant voice long into the future."
"They will not be disrespected or treated unfairly in any way, shape or form!!!" Trump wrote.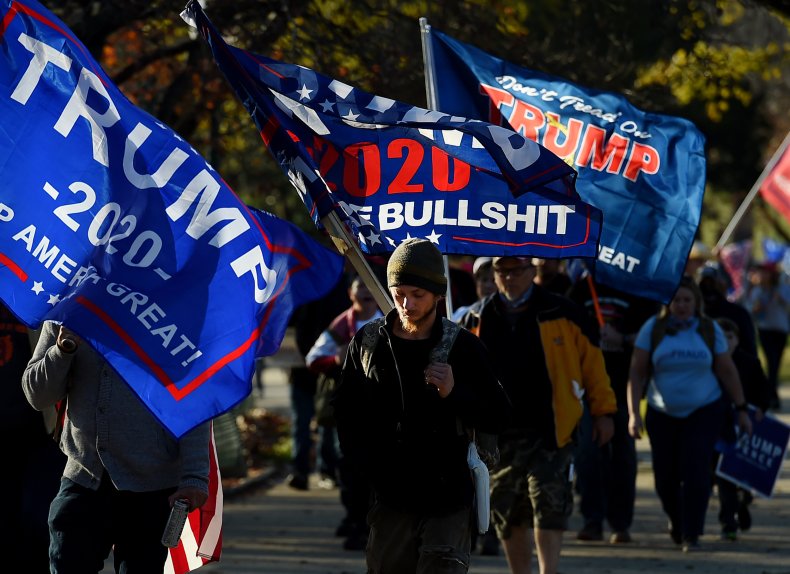 While accepting that he would be leaving the White House, Trump said in a statement that he "totally disagreed" with the election's outcome. He later posted a video to Twitter, after the ban on his account was lifted, reiterating that he would be leaving the White House and called for tempers to be "cooled."
"We must get on with the business of America," Trump said in the video. "A new administration will be inaugurated on January 20th. My focus now turns to ensuring a smooth, orderly and seamless transition of power. This moment calls for healing and reconciliation."
Trump's acceptance is likely to be too little, too late for many people, who have strongly criticized the president for firing up thousands of his supporters on Wednesday morning with unsubstantiated claims that the election was stolen. After he spoke to the crowd at the rally, many of them made their way to the Capitol and overwhelmed security forces before entering the building.
Members of Congress were in mid-debate over Arizona's electoral votes when the security breach occurred, prompting a sudden recess in the House and the Senate and the evacuation of the legislators. As the rioters were entering the Capitol, Trump tweeted that they should "remain peaceful," a comment that did little to contain the mob.
Even members of the president's own party, including Senator Lindsey Graham, criticized Trump for allowing the breach to happen.
"It breaks my heart that my friend, a president of consequence, would allow yesterday to happen, and it will be a major part of his presidency. It was a self-inflicted wound. It was going too far," Graham said on Thursday.
World leaders, including Trump, enjoy more freedom on Twitter than the average person because of the nature of their position. However, on Wednesday the social media company said its patience with the president was wearing thin.
Twitter locked Trump's account on Wednesday and required him to remove three tweets. That ban was lifted 12 hours later, but the company warned it could become permanent if the president, an active user, continues to violate its rules.