Trump Says Arming Teachers Who Have Military Experience Would Be 'Great Deterrent'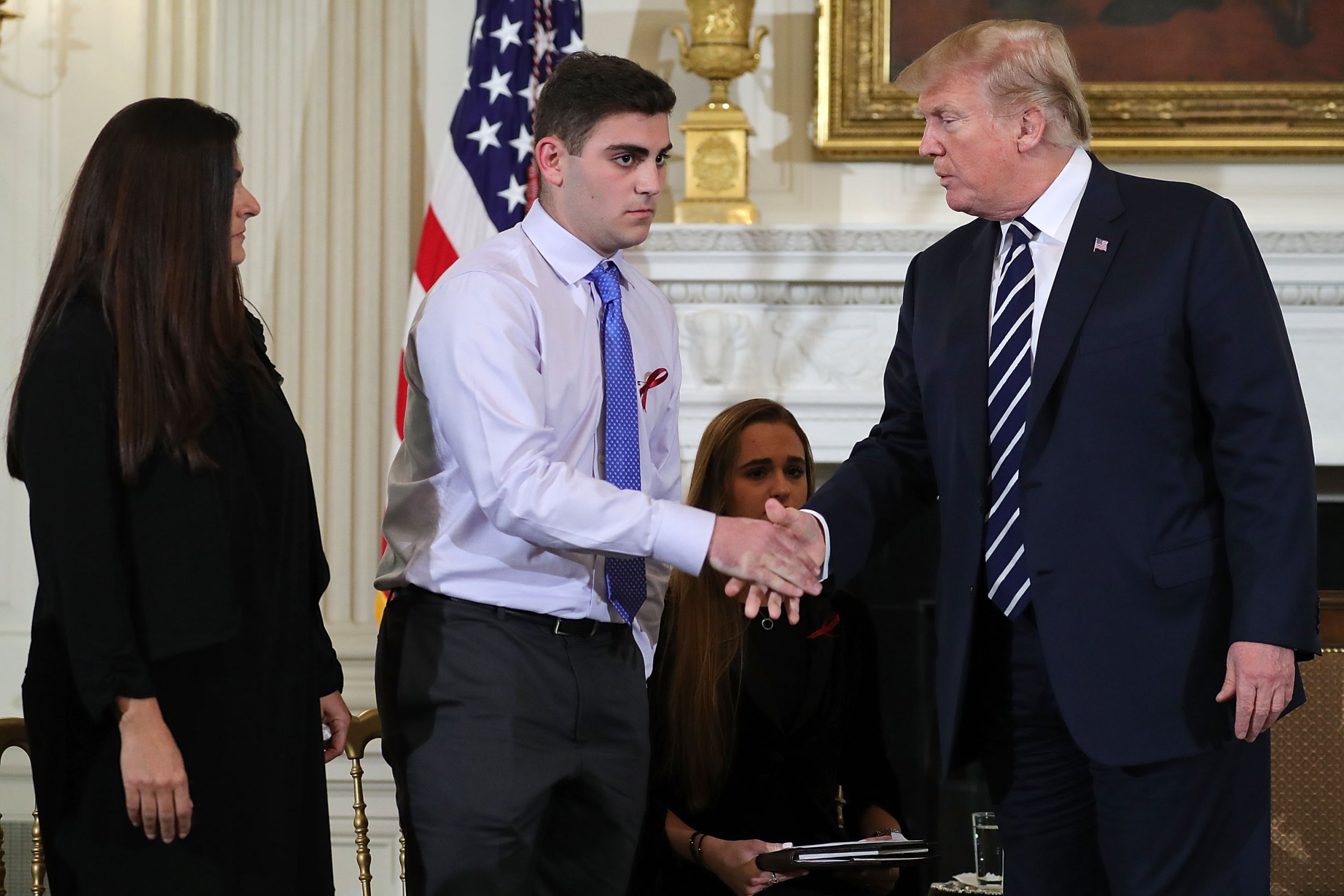 President Donald Trump said he supports arming teachers who have "military or special training experience" to keep campuses safe in the event of a school shooting like the one in Parkland, Florida last week, which left 17 teachers and students dead.
Trump wrote a series of tweets Thursday morning apparently aimed at clarifying his beliefs on the most efficient way to combat school shooters.
"I never said 'give teachers guns' like was stated on Fake News CNN and NBC," Trump began. "What I said was to look at the possibility of giving 'concealed guns to gun-adept teachers with military or special training experience."
He appeared to suggest that only the "best 20 percent of teachers" should be able to bear arms on campus.
Get your unlimited Newsweek trial >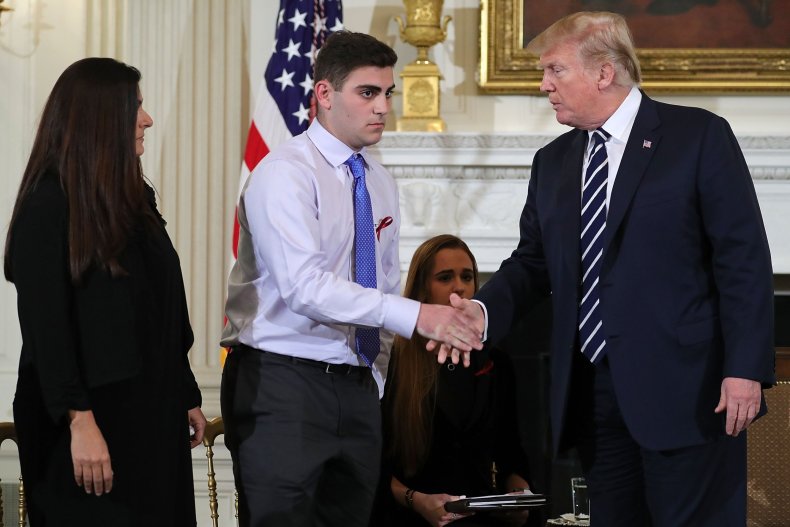 Trump expanded on comments he made during a "listening session" with survivors of the Florida shooting at the White House on Wednesday, during which he said: "If you had a teacher...who was adept at firearms, they could very well end the attack very quickly."
At the time, the president acknowledged that the proposal was controversial and while some of the participants at the meeting showed support for the idea, others were staunchly opposed.
Get your unlimited Newsweek trial >
In his tweets early Thursday morning, Trump said armed teachers would be able to "immediately fire back if a savage sicko came to a school with bad intentions."
He wrote: "Highly trained teachers would also serve as a deterrent to the cowards that do this. Far more assets at much less cost than guards. A 'gun free' school is a magnet for bad people. ATTACKS WOULD END!"
The president said that "history shows that a school shooting lasts, on average, 3 minutes. It takes police and first responders approximately 5 to 8 minutes to get to site of crime."
He said "highly-trained, gun-adept, teachers/coaches would solve the problem instantly, before police arrive."
The attack at Marjory Stoneman Douglas High School, one of the nation's deadliest school shootings, lasted for approximately three minutes, police told the Associated Press.
Nikolas Cruz, the teenager accused of using an AR-15 rifle semi-automatic rifle to carry out the attack, told investigators that he shot students in the hallways and on the grounds of the school within that time period.
Trump said arming teachers would be a "great deterrent" because if a "potential sick shooter" knows a school has a large number of armed teachers "who will be instantly shooting, the sicko will NEVER attack the school."
"Cowards won't go there... Problem solved," the president said, adding that the U.S. must take an "offensive approach" because "defense alone won't work."
The president also said he will be "strongly pushing" for comprehensive background checks, with an emphasis on mental health. He also reiterated his support for raising age limits for gun sales to 21 and ending the sale of bump stocks, adding: "Congress is in a mood to finally do something on this issue–I hope!"
The gun control debate has returned to the fore in the wake of the February 14 shooting in Parkland, Florida. Survivors of the deadly attack have emerged as strong advocates for gun control, demanding lawmakers take action to prevent another shooting like the one that claimed the lives of their classmates and teachers.
Trump Says Arming Teachers Who Have Military Experience Would Be 'Great Deterrent' | U.S.