Trump Says Biden Should Have Bombed Afghanistan Bases to 'Smithereens'
Former President Donald Trump continued his criticism of President Joe Biden's withdrawal of troops from Afghanistan on Thursday, saying military members leaving should have been last on the list of actions taken.
The chaotic aftermath of the United States leaving Afghanistan and the Taliban's rise to power prompted bipartisan criticism of Biden. The president has defended his decision to end the 20-year war, blaming it on an agreement Trump reached while still president, but Trump has repeatedly said the situation would have been entirely different if he were still in office.
In a Thursday statement, Trump insisted that Biden should have evacuated all American citizens in Afghanistan, and then evacuated military equipment. After that, he said, America should have bombed "the bases into smithereens," and evacuated military members last.
"You don't do it in reverse order like Biden and our woke Generals did," Trump said. "No chaos, no death—they wouldn't even know we left!"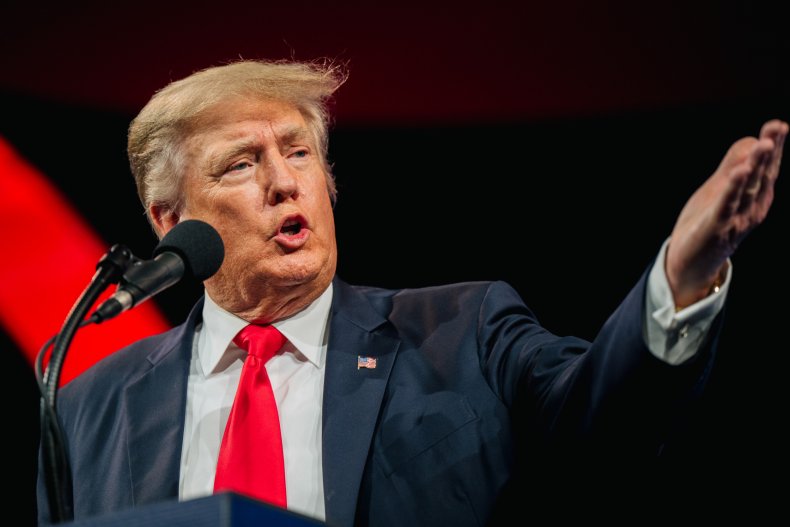 The Taliban swiftly retook control of Afghanistan as the United States pulled its troops out of the country. It sent women scrambling to stores to purchase burqas in line with Taliban requirements and people flooded the airport in Kabul in an attempt to escape the country. The scene ran contrary to Biden's previous comments that a pullout would be done responsibly and it was "highly unlikely" that the Taliban would take over the country.
On Wednesday, ABC News's George Stephanopoulos asked Biden if that belief was based on faulty intelligence or a desire to downplay the possibility. Biden once again blamed the Afghan troops for failing to fight for their country, saying, "I don't think anybody anticipated that."
The Taliban faced little resistance as they entered Kabul and Afghan President Ashraf Ghani fled the country. Ghani said his decision to leave was based on a desire to prevent bloodshed.
Biden has also blamed Trump for leaving him with little choice in the matter. Biden negotiated an extension on Trump's May 1 deadline to leave Afghanistan and he said failing to follow through on that agreement would have put U.S. troops at risk because the Taliban agreed to not attack troops based on the withdrawal timeline.
However, even without that agreement, Biden told Stephanopoulos that he would have pulled troops out of Afghanistan. He said there is "no good time" to leave and that he didn't believe staying in the country for another year or even five would have changed the outcome.
Biden also denied that there was a way to leave Afghanistan "without chaos ensuing."