Trump Says Biden Is 'Voice of Desperation and Despair' Vows 'America Will Be Great Again'
Former President Donald Trump on Friday continued bashing President Joe Biden and weighed in on the Capitol attack and COVID, among other topics.
"Joe Biden's voice is now the voice of desperation and despair," Trump said in a two-page statement. "His handlers gave him that speech to read yesterday because they know the unprecedented failures of his presidency and the left-wing extremism of the Pelosi-Schumer Congress have destroyed the Democrat Party."
Trump also called out Biden's speech which was delivered on Thursday in the wake of the first anniversary of the Capitol riot. The former president described the speech as the "last gasps of a corrupt and discredited left-wing political and media establishment."
"Part of their [Democrats] panic is motivated by the realization that, just like the Russia Collusion Hoax, they cannot sustain the preposterous fabrications about January 6 much longer. The truth is coming out," Trump said.
He further accused Democrats, or as he referred to them as "radical leftists in Washington," of not caring about American democracy and instead seeking control over the public which he thinks that "they are failing" at because "no one believes them anymore and the day is quickly coming when they will be overwhelmingly voted out of power."
In his statement, Trump also criticized the comparison of the September 11 terrorist attack to January 6 which he called "a Pelosi-led security failure at the Capitol," referring to House Speaker Nancy Pelosi.
"The people see right through that sham. They see a cynical politician who ran for office promising unity who is now doing the most divisive thing possible—slandering his political opponents as domestic terrorists, just like insecure dictators do in communist countries," Trump further said of Biden.
The former president also accused Democrats of using the Capitol attack to "justify" what he called "outrageous attacks" on free speech and imposing "widespread censorship."
Trump also took a target at COVID-related restrictions and said that opponents of COVID lockdowns and mandates have been labeled as "national security threats."
"Remember, I am not the one trying to undermine American Democracy—I am the one trying to SAVE American Democracy," he said.
He also vowed in the statement that "America WILL be Great Again" and that Americans "are going to speak up, take action, and VOTE in massive numbers, and we are going to TAKE BACK OUR COUNTRY."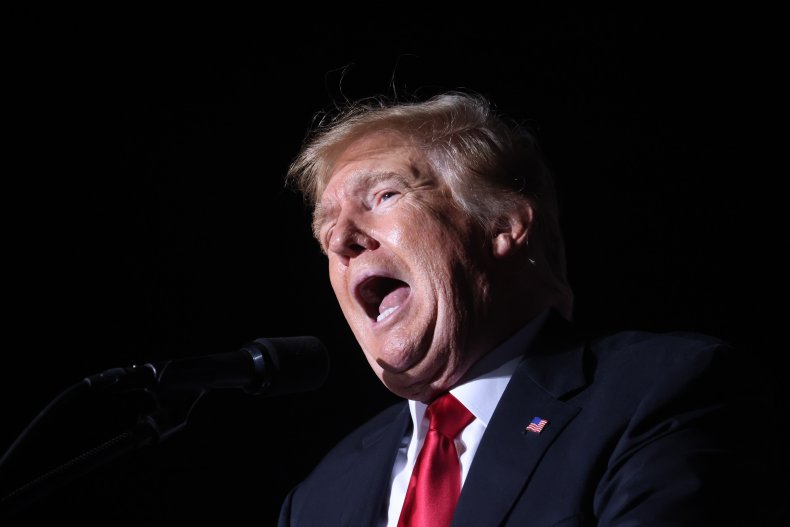 Trump's remarks come after Biden only referred to him as "former president" during his Thursday speech. Biden slammed Capitol rioters and called out Trump's lies including baseless claims of voter fraud.
"Here's the truth: A former President of the United States of America has created and spread a web of lies about the 2020 election," Biden said in his speech.
"He's done so because he values power over principle. Because he sees his own interest as more important than his country's interest, and America's interest. And because his bruised ego matters more to him than our democracy or our Constitution," the president added.
Trump posted four statements on the first January 6 anniversary and none of them mentioned the actual Capitol attack. His statements, which were posted on his personal website, namely criticized Biden and repeated his baseless claims that the 2020 elections were "rigged."
In one of his statements, Trump accused Biden of "destroying our Nation with insane policies" such as "unconstitutional mandates."
"This political theater is all just a distraction for the fact Biden has completely and totally failed," he said.