Trump Says Biden Will End Guns, Religion, Energy and Oil in America
President Donald Trump on Thursday evening said that if America elected Democratic presidential candidate Joe Biden, he would take away the country's energy independence and some of their civil rights.
During a campaign rally in Mosinee, Wisconsin, Trump accused Biden of softening on some promises he had made earlier in his campaign. The president also claimed that Democrats who lean further to the left now regret giving Biden the nomination.
Trump then encouraged those in attendance at the event not to forget the former vice president's original political positions.
"Remember this in politics—it's always the thing that they say first. That's what they're going to do," said Trump. "No guns, no religion, no energy, no oil. Remember that. Remember."
Newsweek reached out to the Biden campaign for comment.
In March, Biden announced that he would place former Texas representative Beto O'Rourke in charge of gun control laws. O'Rourke, who also ran for president in this election cycle, said during a December Democratic debate, "Hell, yes, we're going to take your AR-15, your AK-47."
Biden "put Beto in charge of guns," Trump said Thursday. "That didn't work out too good."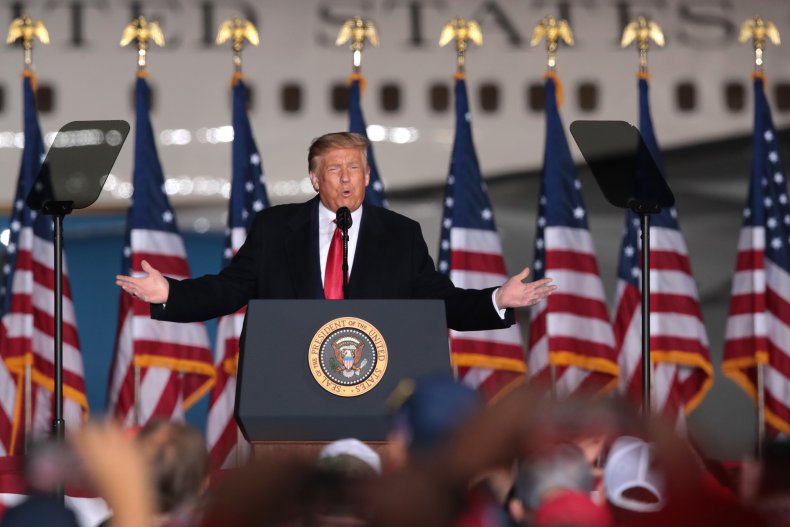 According to Biden's gun control plan, the candidate does support banning the manufacture and sale of assault weapons and magazines with high capacity. Other weapons already in the hands of gun owners would be registered with the U.S. Bureau of Alcohol, Tobacco and Firearms. Biden also endorses background checks on every individual who purchases a firearm.
In August, President Trump said that Biden would "hurt the Bible. Hurt God. He's against God."
Biden, who is a practicing Catholic, often talks about relying on his faith during tragic events in his own life. In August, the Democrat said that his belief system "teaches me to welcome the stranger, while President Trump tears families apart."
Trump's allegation that Biden is against fracking—a potentially hazardous method of extracting gas and oil from the earth—appears to be based on an exchange between the Democrat and Vermont Senator Bernie Sanders during a March debate.
After Sanders said his energy plan involved ending fracking with "no ifs, buts and maybes about it," Biden said he was also in support of that idea. Biden quickly clarified his position: "No more... no new fracking."
Biden's campaign later claimed that he misspoke. In an interview in May with CNBC, Biden said he would "not stop fracking."
"I'd gradually move away from fracking. I would just not do more fracking on federal lands," he added.
Biden's plan in terms of energy is to move away from fossil fuels. He hopes to eventually achieve "a 100 percent clean energy economy" that would reach "net-zero emissions no later than 2050."
Biden clarified his position during a Pittsburgh speech in September. "I am not banning fracking," he said. "No matter how many times Donald Trump lies about me."