Trump Says Bolton's Authorship of Tell-All Book 'Highly Inappropriate'
President Donald Trump said Monday during a roundtable meeting at the White House that the fact former National Security adviser John Bolton wrote a book about his time in the White House was "highly inappropriate."
Bolton's book, The Room Where It Happened, is expected to include information about the telephone call between Trump and Ukraine President Volodymyr Zelenskiy in which Trump allegedly asked for an investigation into the dealings of both Joe and Hunter Biden. Trump's administration has been critical of the book's impending release, saying it contains classified information. Originally slated for release in March, the book is now expected to be released in June.
"Maybe [Bolton]'s not telling the truth," Trump told reporters. "He's been known not to tell the truth, a lot."
"I will consider every conversation with me as president highly classified," Trump said. "So that would mean if [Bolton] wrote a book and if the book gets out, he's broken the law. I would think he would have criminal problems."
Attorney General William Barr said during the meeting that Bolton, as a former White House official, "hasn't completed the process" set forth by the White House for publishing his book. Bolton's lawyer, Charles Cooper, has said that Bolton went through an expansive editing process in order to meet the White House's standards.
Cooper said attempts by the Trump administration to censor the book were a violation of Bolton's "constitutional right to speak on matters of the utmost public import" in an op-ed piece published Wednesday by The Wall Street Journal.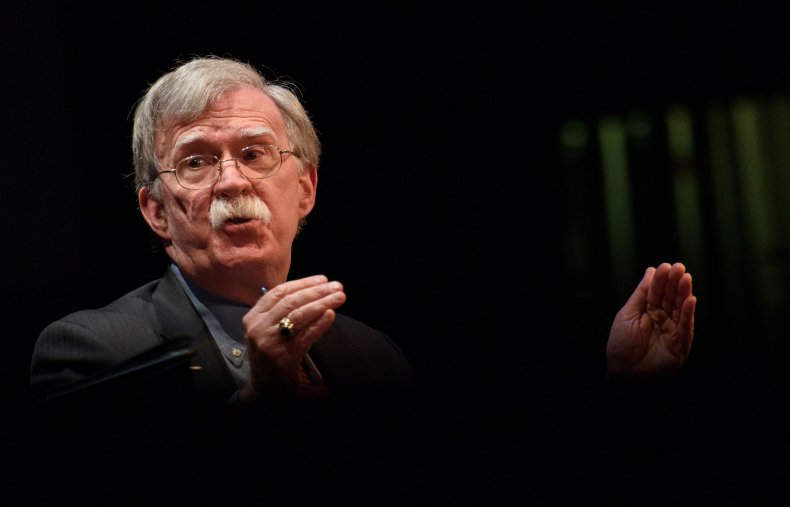 Newsweek reached out to the White House and Bolton's publisher, Simon & Schuster, for comment. This story will be updated with any response.
According to the description on the Simon & Schuster website, Bolton's book describes Trump as "a President for whom getting reelected was the only thing that mattered, even if it meant endangering or weakening the nation."
Trump said in January that information in Bolton's book could be harmful to national security. "He knows what I think about leaders," Trump said at a news conference in Switzerland. "What happens if he reveals what I think about a certain leader and it's not very positive? It's going to make the job very hard."
Bolton was fired by Trump in September 2019 via tweet. Trump wrote that he "disagreed strongly" with many of Bolton's suggestions, "as did others in the Administration."
In the book, Bolton allegedly claims that Ukraine's receipt of military aid from the U.S. was contingent upon their announcement of the investigations into the Bidens. Hunter Biden was a member of the board at Burisma Holdings, a Ukrainian energy company, while his father, Joe Biden, was serving as vice-president during the Obama Administration.
Bolton refused to testify before the House Intelligence Committee during the investigation phase of impeachment proceedings against Trump but did offer to testify during the trial if subpoenaed. However, Bolton was not asked to testify before Congress. Trump was acquitted of two articles of impeachment—abuse of power and obstruction of justice—by the Senate in February.