Trump Says California Recall 'No Different' From 2020 Election 'Scam'
Former President Donald Trump on Monday speculated about the integrity of this week's gubernatorial recall election in California, for which election officials have sent mail-in ballots to all registered voters in the state.
In a statement released by Trump's Save America political action committee, Trump compared the recall election to the election he lost to President Joe Biden last fall, which also saw widespread use of mail-in ballots.
"Does anybody really believe the California Recall Election isn't rigged?" Trump's statement began. "Millions and millions of Mail-In Ballots will make this just another giant Election Scam, no different, but less blatant, than the 2020 Presidential Election Scam!"
Despite the allegations of widespread voter fraud Trump made in the wake of the 2020 presidential race, election security officials have said the election was "the most secure in American history." Allegations of voter fraud ahead of Tuesday's gubernatorial recall election in California have also been widely discounted.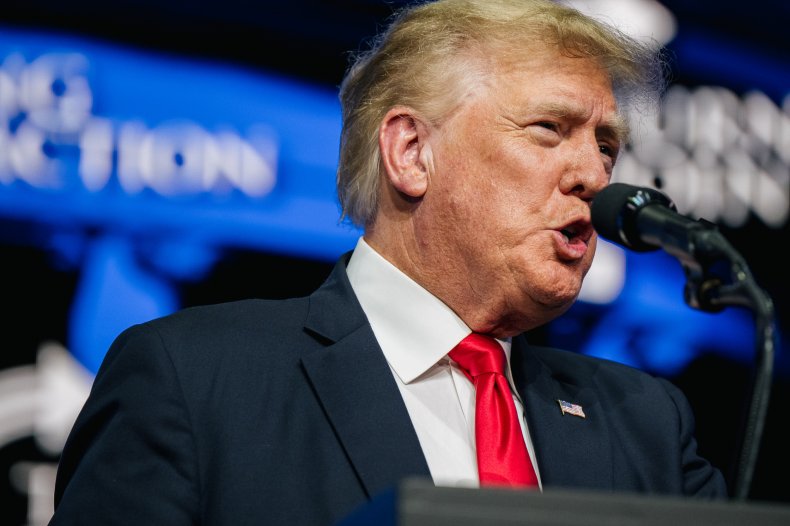 Reached for comment, California Secretary of State Shirley Weber's office called Trump's claims "baseless."
"The California secretary of state is comprised of hardworking Californians who have dedicated their lives to the important work of protecting our elections," Weber's office told Newsweek. "California leads the way in election security and work to infuse transparency into every step of the process by making our election processes open to the public, every step of the way."
Weber's office continued, "To counter baseless claims like these, our office and county elections officials work day in and day out to provide accessible, accurate information to the public to protect voters from misinformation and unsubstantiated allegations of 'fraud' that might lead them to believe their vote doesn't matter—when it does."
Although Trump has not spoken much about California's recall election over the past few months, he did address it last week while speaking with Newsmax's Rob Schmitt. During that interview, Trump said California's recall election was "probably rigged" and suggested that "nobody's going to win except these Democrats" while citing the state's use of mail-in ballots.
Larry Elder, a conservative radio host who became the Republican front-runner of the recall candidate field after launching his gubernatorial campaign in July, has also speculated about alleged voter fraud ahead of this week's election. Elder told reporters last week "there might very well be shenanigans" in the recall election and said his campaign was prepared to file lawsuits "in a timely fashion," according to CNN.
Elder's campaign website features a "report election incident" tab that provides forms voters can fill out if they encounter "irregularities, interference, or intimidation while voting." The California Republican Party also has an election integrity hub on its website that offers avenues through which voters can file incident reports and sign up to become "election integrity volunteers."
Governor Gavin Newsom, the Democrat who is defending his seat in California's September 14 recall election, decided last year to send mail-in ballots to all registered voters in California ahead of the 2020 general election due to the coronavirus pandemic. Newsom signed an executive order earlier this year extending that decision to encompass elections held through the end of 2021.
After Newsom signed that executive order, a recall petition that launched last year qualified for a ballot, and the state's lieutenant governor set a date for the recall election.
Registered Democrats outnumber registered Republicans nearly 2 to 1 in California, a state that has more than 22 million registered voters. The state's voter registration data last updated at the end of August showed 46.5 percent of registered California voters were Democrats while 24 percent were registered Republicans. An additional 23.2 percent of voters are registered as having no party preference.
According to early ballot return data provided by the California secretary of state's office and most recently updated on September 9, more than 7.2 million of the more than 22 million ballots distributed to California voters for the recall election have already been returned to election officials throughout the state. Voters are expected to continue returning their mail-in ballots or vote in person until polls close at 8 p.m. local time on Tuesday.
Updated (9/14/2021, 4:19 p.m. ET): This story has been updated to include comments from the California secretary of state's office.
Updated (9/13/2021, 2:34 p.m. ET): This story has been updated to include additional information and background.