Trump Says California Wildfires Caused by Environmental Laws
President Donald Trump has blamed enviornmental laws for the California wildfires raging through the state.
In a tweet on Sunday, the president said the laws were not allowing water to be properly used—suggesting that was the reason behind the devastating fires that have scorched more than 290,000 acres (117,300 hectares) of land and left at least seven people dead.
"California wildfires are being magnified & made so much worse by the bad environmental laws which aren't allowing massive amount of readily available water to be properly utilized. It is being diverted into the Pacific Ocean. Must also tree clear to stop fire spreading!" Trump wrote, prompting a number of comments about his tweet being inappropriate following the devastation and questions over what laws exactly he was referring to.
California has suffered from a number of wildfires in recent years, with state governor Jerry Brown commenting on Saturday that the fires were "part of a trend, the new normal, that we've got to deal with."
Among the causes for the fires raging in the state are several years of drought combined with high temperatures, windy conditions and vegetation build up—with that vegetation dried out through lack of rain.
Brown added that the White House approved a disaster declaration for Shasta County, which has been hit by fire, while the state also put in a request for a Presidential Major Disaster Declaration.
"Battling these relentless fires requires a Herculean effort," Brown said in a statement.
"Jurisdictions are drawing on any and all available resources to contain all of the fires statewide and to quickly attack and attempt to extinguish the myriad of new fire starts that arise across all regions of the state every day," the statement added.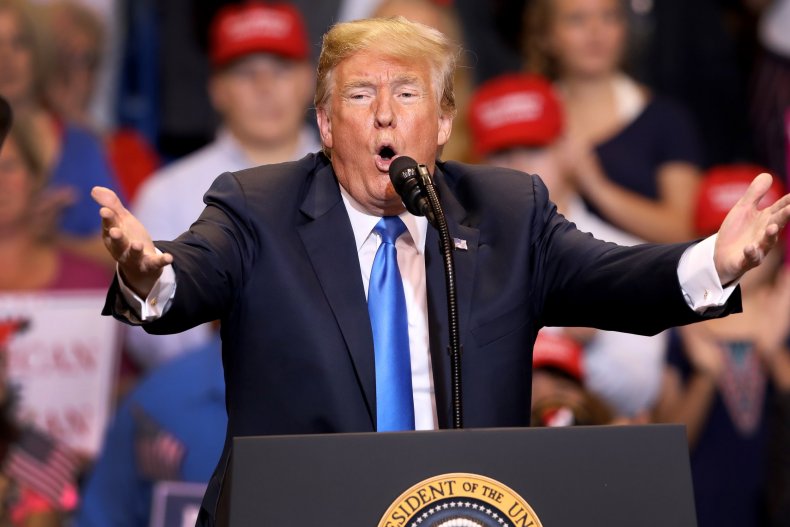 Over the weekend, one of the blazes in California became the state's fourth largest in history, CNN reported. The Mendocino Complex fire, which comprises two separate fires, grew by 70 percent over the weekend—accounting for 266,982 acres of land.
More than 14,000 firefighters are working across the state to tackle the numerous fires, which have claimed seven lives and left structures destroyed. International help is also being sent to the state, with firefighters reportedly coming all the way from Australia to help.