Trump Says CNN Only Covers COVID, Calls Them 'Dumb Bastards'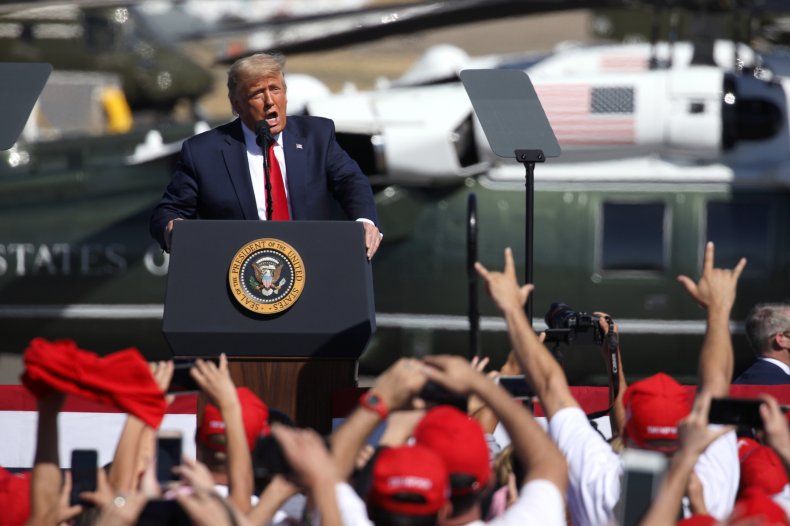 President Donald Trump has called CNN "dumb bastards" for focusing news coverage on the COVID-19 pandemic.
Trump made the remarks during a campaign rally in Prescott, Arizona on Monday. The president's supporters cheered when he said that the public was tiring of the pandemic, while insulting the news network and claiming it is attempting to dissuade voters from participating in the election.
"Pandemic, they're getting tired of the pandemic, aren't they?" Trump said. "You turn on CNN, that's all they cover. 'Covid, covid, pandemic. Covid, covid, covid.' You know why? They're trying to talk everybody out of voting. People aren't buying it, CNN, you dumb bastards. They aren't buying it. It's all they talk about."
The president has long targeted CNN at his rallies and elsewhere, calling it "fake news" for including unfavorable coverage of him. In a particularly colorful July 2017 tweet sharing a doctored video of his 2007 WWE professional wrestling appearance, Trump appeared to be physically tackling and attacking a man with the CNN logo superimposed onto his head.
Trump's latest attack on the network comes as he attempts to shift the focus of the presidential election amid polling that continues to show him trailing Democratic presidential nominee Joe Biden with just over two weeks before election day. Surveys suggest that COVID-19 is one of the public's top issues in the election and that a majority of voters do not approve of the president's handling of the pandemic.
Regardless of how tired the American public may be feeling about the pandemic, it remains an ongoing public health crisis. The U.S. is leading the world with 8,189,710 infections and 219,950 deaths related to the virus as of Monday, according to Johns Hopkins University.
Public health officials and experts have warned that the situation could become even more severe with the arrival of winter, especially if preventative measures like wearing face masks and maintaining social distancing are not widely followed.
Trump has not advocated for the public to increase their adherence to preventative measures, despite contracting COVID-19 himself, along with members of his family and his administration. In addition to rarely wearing a mask himself, attendees to his rallies are often seen without masks and standing closely together with little regard for physical distancing.
The president also explicitly bashed medical experts for offering informed public health advice on Monday, including White House coronavirus task force member Dr. Anthony Fauci. During a call with campaign staff which also featured the president complaining that the public was "tired" of the virus, Trump called Fauci a "disaster" and the experts in general "idiots."
His remarks were seized upon by Biden, who issued a statement condemning Trump for insulting the experts, while suggesting that the president's handling of the pandemic was the source of any fatigue the public may be feeling.
"Mr. President, you're right about one thing: the American people are tired," Biden said. "They're tired of your lies about this virus. They're tired of watching more Americans die and more people lose their jobs because you refuse to take this pandemic seriously."