Trump Says Cohen Tape Is 'So Sad' and Claims He Was 'Presumably Saying Positive Things' When Audio Cut Out
President Donald Trump has described his former lawyer Michael Cohen as "so sad" following the release of audio that featured the pair discussing payment to a Playboy model who claimed to have had an affair with Trump.
In a tweet Wednesday, after CNN shared the audio on Tuesday night, the president said it was bad form for a lawyer to tape his client and said the tape had been cut "while I was presumably saying positive things."
"What kind of a lawyer would tape a client?" Trump wrote. "So sad! Is this a first, never heard of it before? Why was the tape so abruptly terminated (cut) while I was presumably saying positive things? I hear there are other clients and many reporters that are taped - can this be so? Too bad! "
Trump lawyer Rudy Giuliani was quick to point out that the audio of Trump and Cohen becomes muffled at one point, making it difficult to hear exactly what the two are saying as they discuss finances and buying the rights to Karen McDougal's story from American Media Inc. McDougal, the Playboy model, sold her rights to her story about the alleged affair with Trump to AMI, parent company of the National Enquirer, but it was never published.
Trump is heard asking Cohen "What financing?" during the discussion, to which Cohen responds, "We'll have to pay."
Trump replies, "Pay with cash?," although the recording is muffled and it is not clear if Trump is suggesting a cash payment or suggesting they should not pay in cash.
Speaking to Fox News following the release of the tape, Giuliani said Trump had not been suggesting they should make a payment in cash.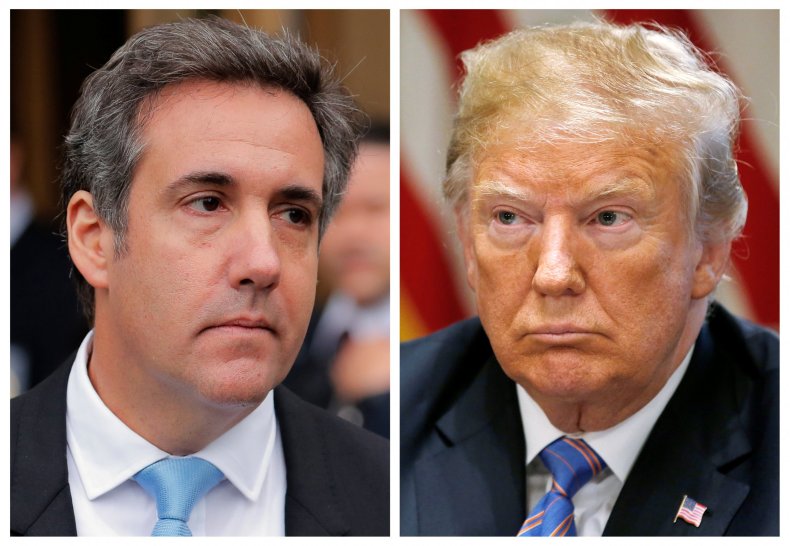 "There's no way the president is going to be talking about setting up a corporation and using cash unless you're a complete idiot, and the president's not an idiot," Giuliani told Fox News. "I agree with you the tape is a little bit hard to hear. But I assure you that we listened to it numerous, numerous times. And the transcript makes it quite clear—the end that President Trump says, "Don't pay with cash."
Giuliani added, "Look, we've been over the tape over the weekend about five times. What I urge people to do is go online and listen to your broadcast. Play the tape. Play it three times. The third time you play it, it will become clear."