Trump Says Confederate General Robert E. Lee 'Would Have Won Except for Gettysburg'
In a campaign speech in Minnesota on Friday, President Donald Trump defended Confederate leaders including General Robert E. Lee while decrying protesters who attempted to damage Confederate monuments.
President Trump has resisted calls by protesters against racism in the U.S. to get rid of vestiges of the Confederacy. He has said that his administration would not allow military installations that bear the names of Confederate leaders to be rechristened. At a July press conference, White House press secretary Kayleigh McEnany said the bases "are not known for the generals they are named after, the bases are known for the heroes that served at them." Trump also signed an executive order which would send protestors who deface historical monuments to jail for ten years.
"Robert E. Lee, whether you like him or not, he won many battles in a row," Trump said Friday. "He would have won except for Gettysburg."
Trump said U.S. protesters "have no idea what they're ripping down. They're ripping down in many cases greatness. They're ripping down our past. They're ripping down our history. That's where these guys begin. They take away your history."
President Trump compared the actions of demonstrators who toppled statues to that of terrorists in the Middle East who have destroyed museums "and they break everything and they rip everything. [U.S. protesters are] not taking away the past of the United States of America."
Newsweek reached out to Democratic presidential candidate Joe Biden's campaign for comment.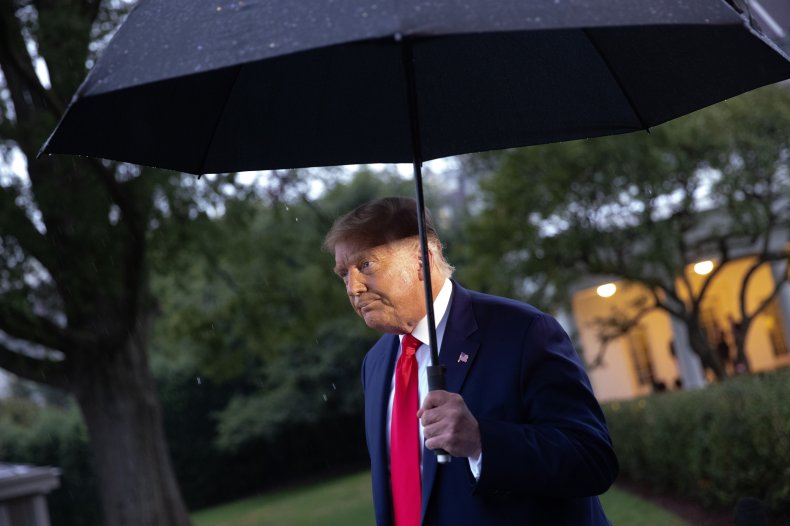 At a June press conference in Wilmington, Delaware, Biden drew a line between Confederate memorials and other historical monuments.
"The idea of bringing down all those Confederate monuments to Confederate soldiers and generals who strongly supported secession and maintaining slavery and going to war to do it, Biden said, "I think those statues belong in museums. They don't belong in public places."
Biden described other monuments, such as the Jefferson Memorial as "different."
"That's a remembrance, it's not dealing with revering somebody who had that view," Biden said. "They had much broader views. They may have had things in their past that were now and then distasteful, but that's a judgment."
President Trump's re-election campaign has attempted to tie Biden to a nationwide movement to defund the police. Advocacy group Black Lives Matter, which has organized a number of demonstrations around the U.S. against racism and police culture, has listed defunding the police as one of its national goals. A campaign advertisement released by the Trump camp proclaimed, "You won't be safe in Joe Biden's America."
Biden said in June that while he was in favor of police reforms, he did not support defunding police departments. "I support conditioning federal aid to police based on whether or not they meet certain basic standards of decency and honorableness," Biden said in an interview with CBS News.