Trump Says Coronavirus Relief Funding for States Could Depend on Ending Sanctuary Cities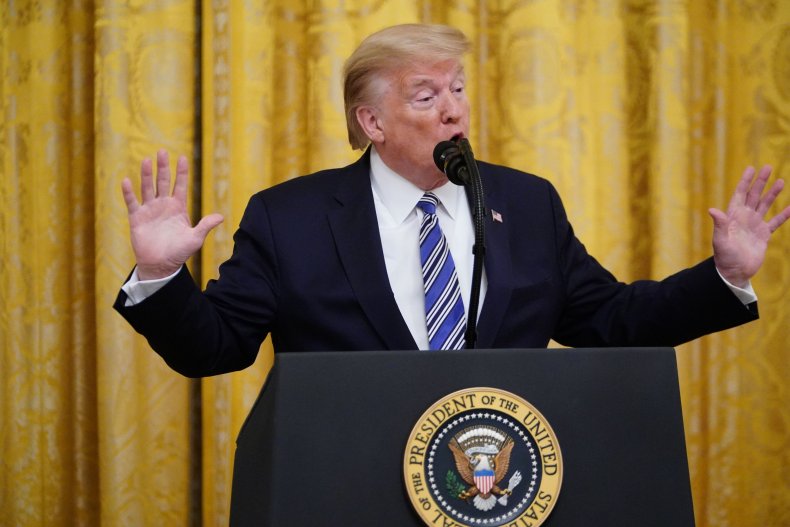 President Donald Trump on Tuesday said his administration would insist that states ban sanctuary cities and make other unspecified concessions as a condition of receiving federal aid in the next coronavirus relief package.
While speaking in the White House East Room at an event to highlight small businesses impacted by the CARES Act Paycheck Protection Program, the president told reporters he had discussed the matter with Treasury Secretary Steven Mnuchin, House Republican Leader Kevin McCarthy and Senate Majority Leader Mitch McConnell, and said that he and congressional Republicans were not "looking to recover 25 years of bad management and to give them the money that they lost" because it would be "unfair to other states," but later conceded: "I guess we can talk about it" if such an aid package was related to the COVID-19 pandemic.
"But we'd want certain things also, including sanctuary city adjustments, because we have so many people in sanctuary cities, which I don't even think are popular, even by radical left folks," Trump continued. "What's happening is people are being protected that shouldn't be protected and a lot of bad things are happening with sanctuary cities."
He added that in addition to concessions on sanctuary cities, his administration would want "something having to do with other different points that we can discuss later on."
Trump and members of his administration have frequently complained that sanctuary cities—cities where local police do not inquire about arrestees' immigration status or cooperate with immigration authorities—have impeded his efforts to arrest and deport people who are in the U.S. illegally.
Law enforcement experts say the practice of having local police detain people based on immigration status or cooperate with immigration enforcement is necessary because people in immigrant communities will often refuse to report crimes against them or cooperate with police investigations for fear of being targeted for deportation.
But Trump, who often railed against the practice during his 2016 presidential campaign, attempted to coerce states and cities to end the practice just days after being sworn in as president. One of his first executive orders targeted such jurisdictions by declaring that any state or local government that declined to cooperate with immigration enforcement was not "eligible to receive federal grants, except as deemed necessary for law enforcement purposes."
A federal judge in Los Angeles imposed a nationwide injunction against enforcement of the order, which he deemed unconstitutional. However, in July 2019 a three-judge panel of the Ninth Circuit Court of Appeals ruled that the Trump administration could award more of the "points" used to determine grant awards in one program to cities which declared immigration enforcement to be a priority or pledged to cooperate with immigration authorities by allowing them access to local jails and giving advance notice of releasing anyone in the country illegally from them.