President Trump Says Countries That Had Success Dealing With Drugs Chose To Be 'Very Harsh'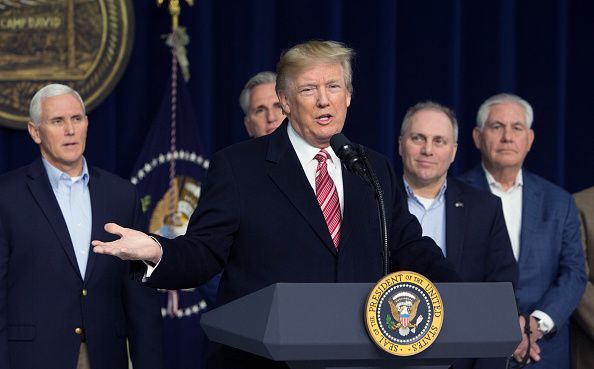 Countries that are "very harsh" on drug epidemics and "take it very seriously" have less difficulty curbing the problem, claimed President Donald Trump in a press conference on Saturday.
Speaking among cabinet members and lawmakers at Camp David, near Thurmont, Maryland, Trump said that the current opioid crisis in the U.S. is among his priorities for a 2018 agenda.
"We are going to do everything we can," said Trump. "It's a very difficult situation, difficult for many countries. Not so difficult for some, believe it or not, they take it very seriously, they're very harsh, those are the ones that have much less difficulty. But we are going to be working on that very, very hard this year, and I think we're going to make a big dent into the drug problem."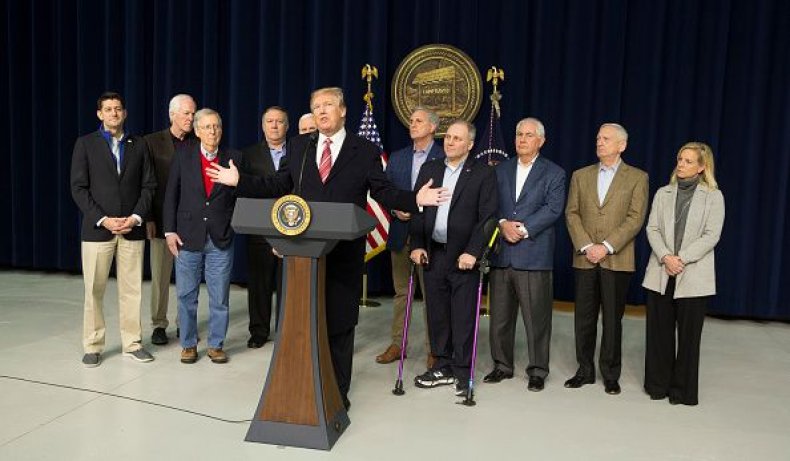 Trump said that he was concerned about the drugs "pouring into this country" and that "we've never had a problem with drugs like we do" right now.
Trump did not specify which countries he believes have been more successful after cracking down on drugs with "very harsh" measures, but he's made the claim before that the current opioid crisis, which he declared a public health emergency in October, is unprecedented. Drug overdoses are currently the leading cause of death in America for people under the age of 50. But not all public health experts agree that the best way to solve the problem is with harsh methods that have abounded in the last decade of the "war on drugs."
For example, in Portugal, all drugs were decriminalized in 2001, and drug use is treated as a disease, not a crime. Drug use and addiction has steadily fallen since then, and drug overdose death rates are among the lowest in the world.
On the flip side, the decade of the "war on drugs," intended to be a hardline approach to rising drug use, increased violence in Mexico, and was linked to a 22 percent increase in homicides in 2016. Similarly, the president of the Philippines, Rodrigo Duterte, said that his strategy of extrajudicial killings to combat the country's drug problem "will not stop...until the last pusher is out of the streets," but the price of drugs has fallen and violence has soared.
Secretary of Housing and Urban Development Ben Carson, speaking at the Manhattan Institute last month, said that the war on drugs has "disproportionately affected minority communities" in the U.S., and criticized Attorney General Jeff Sessions' approach to the problem.
In addition to his claims about how to handle the current deadly opioid epidemic facing the nation, Trump spent his speaking time at Camp David sharply rebuking allegations raised in Michael Wolff's new book Fire and Fury: Inside The Trump White House, calling it "fiction" and complaining about "very weak" libel laws that allow such work to be published without legal danger.