Trump Says COVID-19 Is 'Going Away' as U.S. Records Most Deaths in a Single Day Since May
President Donald Trump insisted the coronavirus was "going away" in an interview Thursday morning, one day after the country reported its single-day record for COVID-19-related deaths since May.
During an appearance on the Fox Business Network with host Maria Bartiromo, Trump said that "nobody blames me" for the pandemic, which has upended the entire world, causing over 166,000 deaths in the U.S. alone.
The president dug into China specifically, alleging that the country deliberately passed on the virus to the U.S. and that it "should've never been allowed to happen."
"But the fact is, this plague came in and I closed it up, saved millions of lives, and now we're reopening," he said, a remark Trump has repeated numerous times.
He went on to tout America's "tremendous" stock market, which he said has bounced back nearly to the place it was at before the pandemic.
"And we're still in the pandemic, which will be going away, as I say. It'll be going away and they scream, 'How can you say that?'" Trump told Bartiromo, referring to his political opponents. "I said, 'Because it's going to be going away.'"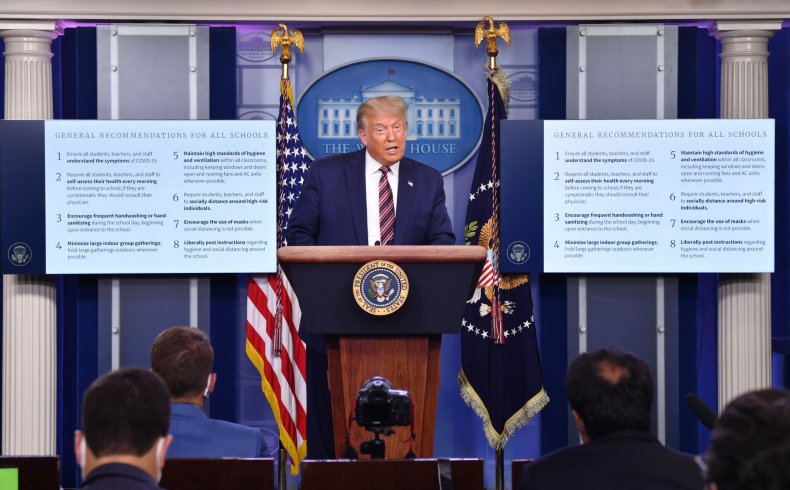 Trump's comments come one day after the country reported a record number of coronavirus-related deaths, which suggests this summer's surge in cases in Sun Belt states is affecting the fatalities count.
Health officials across the U.S. reported 1,468 total deaths on August 12, according to a New York Times database. The death toll is the highest in the country since late May, with the exception of three days in June and July in which deaths from previous, unspecified days were added to the country's total count.
Newsweek contacted the White House for comment but did not hear back in time for publication.
During Thursday's interview, Trump also discussed universal mail-in voting, which congressional Democrats are advocating to allow Americans to vote in November's presidential election from their homes as the pandemic continues.
"There's nothing wrong with getting out and voting. Get out and vote," Trump said. "They voted during World War I and World War II."
As part of their proposed economic relief plan, House Democrats want more than $3.5 billion in election funding, part of which would support universal mail-in voting, which Trump has said would cause "the greatest fraud in history." If approved, the spending package would also give the U.S. Postal Service $25 billion in funding over the next two year.
"[House Democrats] need that money in order to have the Post Office work so it can take all of these millions and millions of ballots. Now, in the meantime, they aren't getting there," Trump said, suggesting Senate Republicans would never approve such a deal. "But if they don't get those two items, that means you can't have universal mail-in voting, because they're not equipped to have it."