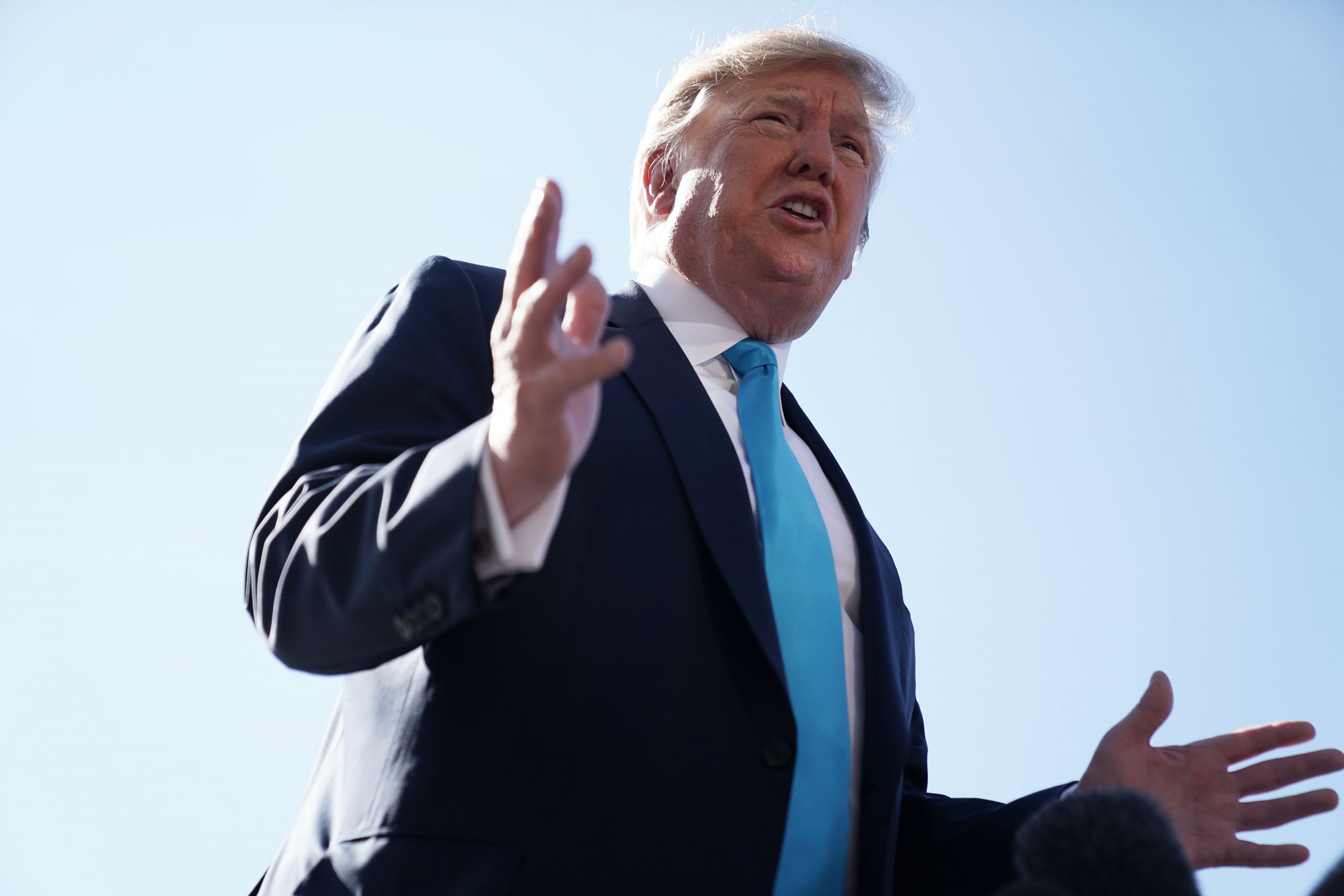 President Donald Trump blasted Democrats on Wednesday, accusing them of having "treasonous... open border" mindsets, also hitting out over laws preventing military troops stationed at the border from being more "rough" with asylum seekers.
"I think what the Democrats are doing with the Border is TREASONOUS," Trump said in a tweet on Wednesday. "Their Open Border mindset is putting our Country at risk. Will not let this happen!"
The president's statement came shortly after he spoke with supporters at a Republican fundraiser in Texas, where he blamed Democrats for maintaining "horrible laws" that prevent the military from behaving "like they would normally act."
"I'm going to have to call up more military," Trump said in Texas. "Our military, don't forget, can't act like a military would act. Because if they got a little rough, everybody would go crazy. So, our military can't act like they would normally act, or, like, let's say, another military from another country would act."
"Then we have all these horrible laws that the Democrats will not change. They won't change them."
The U.S. leader added that he believes his political rivals will "pay a very big price in 2020" for "all of the things, whether it's the fake witch hunt they start out, or whether it's a situation like this."
"I think the border is going to be an incredible issue," the U.S. leader said of the 2020 race.
"They wanna have open borders," Trump said, appears to be referring to Democrats.
"Let's have an open border! They'll flood your houses, they'll shoot you, they'll take over your house," the U.S. leader continued, appearing to turn his attention to asylum seekers. "They'll take your car and they'll probably stay there. Why not. Nice place, right?"
Since launching his presidential campaign, Trump has repeatedly attempted to portray asylum seekers as dangerous and violent, with the U.S. leader referring to migrants as "animals," as well as "rapists" and "criminals."
In recent weeks, the president has ramped up his rhetoric against asylum seekers amid a surge of predominantly Central American asylum seekers, including many families, arriving at the U.S.-Mexico border.
In addition to overseeing a shake-up at the Department of Homeland Security in a bid to get "tougher" on immigration, Trump has also vowed to move forward with cutting aid to Central American countries. He has also repeatedly threatened to shut down the border entirely to deter asylum seekers from coming to the U.S.