Trump Says Democrats Have 'Death Wish' Over Calls to Abolish ICE Ahead of Midterm Elections
President Donald Trump has claimed Democrats have a "death wish" that will "cost them heavily" in the upcoming November midterm elections over the growing movement calling for the U.S. Immigration and Customs Enforcement agency to be abolished.
"The Democrats have a death wish, in more ways than one," Trump wrote in an early morning tweet on Thursday. "They actually want to abolish ICE," he said, predicting: "This should cost them heavily in the Midterms."
"Yesterday, the Republicans overwhelmingly passed a bill supporting ICE!" the U.S. leader added, referring to a non-binding resolution passed by a vote of 244-35, according to Politico. Eighteen Democrats present voted in favor of the measure, while 34 voted against it.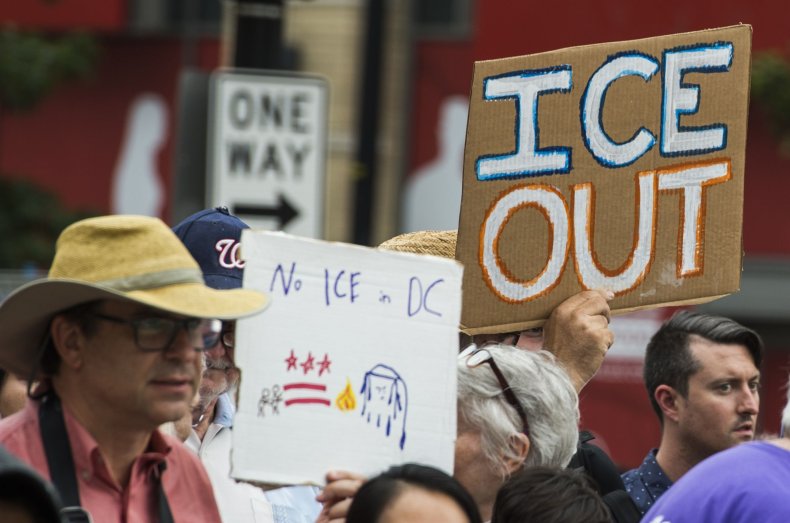 ICE has increasingly come under fire for its role in enforcing the Trump administration's immigration policies, including the "zero tolerance" family separation policy, which the president rescinded last month after facing widespread backlash.
A number of Democrats have added their voices to the chorus of politicians, activists and members of the public calling for ICE to be ablolished.
The "bill" to which Trump referred in his Thursday morning tweet was in fact a nonbinding resolution in support of ICE that passed by a vote of 244-35, with 133 Democrats voting present. Eighteen Democrats voted in favor of the measure, while 34 voted against it.
ICE Acting Director Ronald Vitiello welcomed the result, saying in a statement published on ICE's website: "I am grateful to the members of Congress who today publicly declared their support for the brave, dedicated men and women of ICE. We will continue to fulfill our sworn oaths to enforce federal immigration and customs laws.
"ICE plays a critical role in protecting public safety and our national security, from combatting the illegal drug trade to removing public safety threats from our communities," he said, adding: "Our workforce continues to carry out their important mission and we will not be deterred by threats against our agency."
Democrats calling for the abolishment of ICE, which was established in 2003 as part of the development of the Department of Homeland Security, include Senator Elizabeth Warren of Massachusetts, Senator Kirsten Gillibrand of New York, Senator Bernie Sanders of Vermont, Representative Earl Blumenauer of Oregon, Representative Pramila Jayapal of Washington, and several others.
Congressional candidates, including Alexandria Ocasio-Cortez of New York, who has been an outspoken critic of ICE, and Randy Bryce of Wisconsin, have also called for the agency to be abolished.
Read more: Ocasio-Cortez calls for occupation of airports, ICE offices: 'We have to mobilize'
On Tuesday, Democratic senators unveiled a family reunification bill seeking to "immediately" reunite the thousands of children separated from their parents at the U.S.-Mexico border under the Trump administration's "zero tolerance" policy.
The Reunite Every Unaccompanied Newborn, Infant, Toddler and Other Children Expeditiously (REUNITE) bill was introduced by Democratic Senators Kamala Harris of California, Jeff Merkley of Oregon and Catherine Cortez Masto of Nevada.
Rather than calling for ICE to be abolished, the three senators called for $50 million in appropriations from the U.S. Immigration and Customs Enforcement agency's Enforcement and Removal Operations branch to be redirected to cover the costs of enforcing the bill.
ICE agents themselves have also joined in the call to abolish part of their own agency, with 19 agents signing a letter requesting that Homeland Security dissolve branches of the agency tasked with deporting most undocumented immigrants.
The agents argued that the Enforcement and Removal Operations branch of ICE was undermining the efforts of the Homeland Security Investigations team, which fights cybercrime, drug smuggling and human trafficking.