Trump Says Democrats Should Blame 'Russia, Russia, Russia' for Iowa Caucus Disaster
The Iowa caucuses vote count debacle that occurred because of a technical glitch should be blamed on Russia, President Donald Trump said Friday—despite officials saying there's been no evidence of foreign interference.
"I think they should blame RUSSIA, RUSSIA, RUSSIA again!" he tweeted. "If they can't count votes properly, how are they going to run U.S. HealthCare?"
The president shared an Associated Press story that stated the news outlet could not declare a winner in Iowa because of a razor-thin margin between former South Bend, Indiana, Mayor Pete Buttigieg and Sen. Bernie Sanders (I-Vt.), and due to the Iowa Democratic Party saying there were "inconsistencies" in their vote tabulations that have since been corrected.
New results released Thursday night showed Buttigieg with a 0.10 percent lead over Sanders. The results are still missing from one of the state's 1,765 precincts.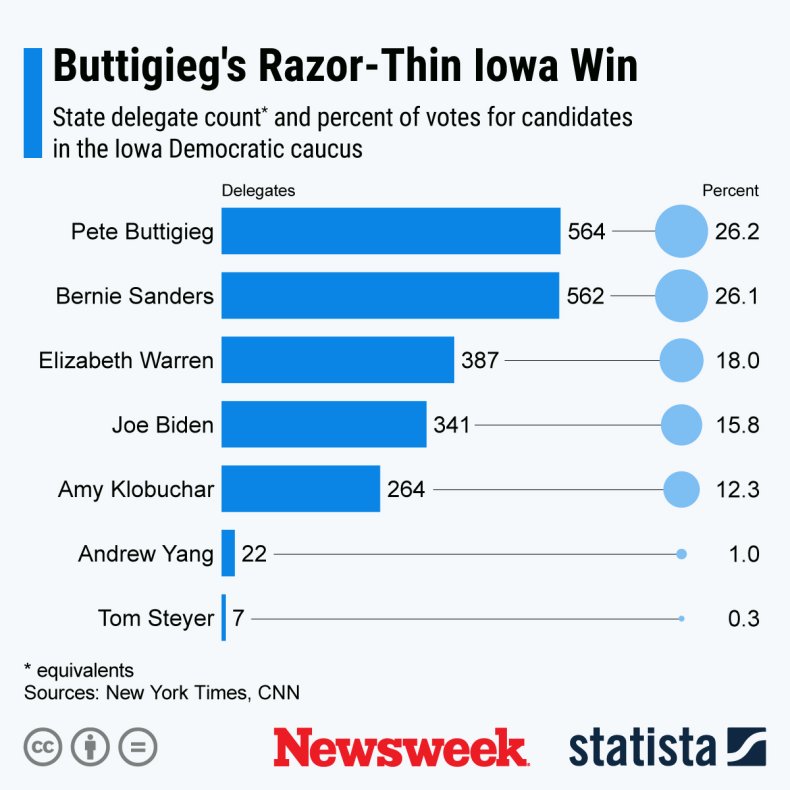 Trump's "Russia, Russia, Russia" remark was also included in an impeachment acquittal "celebration" speech he gave Thursday at the White House, where he delivered remarks for roughly 60 minutes that focused on berating his foes, such as Democrats and former FBI Director James Comey, while thanking his friends, including Republican lawmakers and his legal defense team.
"You have to understand, we first went through Russia, Russia, Russia. Total Bulls--t. We then went through the Mueller report," Trump said, referring to former special counsel Robert Mueller's probe into Russian election interference. "They kept it going forever because they wanted to inflict political pain on somebody that had just won an election."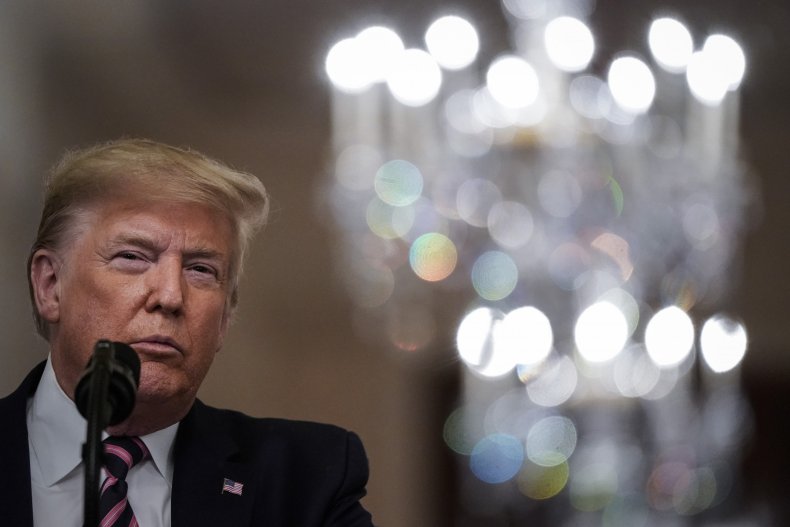 Officials in Iowa have said the irregularities in precinct captains across the state reporting their results on election night, which was Tuesday, originated from a malfunctioning app—not foreign interference.
Since then, the chair of the Democratic National Committee, Tom Perez, has called for a recanvass of the vote, which would entail an audit of the paper records.
"Enough is enough," he wrote in a tweet Thursday. "In light of the problems that have emerged in the implementation of the delegate selection plan and in order to assure public confidence in the results, I am calling on the Iowa Democratic Party to immediately begin a recanvass."
Despite expressing confidence that the results are accurate, the chair of the Iowa Democratic Party, Troy Price, said they were "prepared" to issue a recanvass.
"Should any presidential campaign in compliance with the Iowa Delegate Selection Plan request a recanvass, the IDP is prepared," he said Thursday.