Trump Says Election Fraud 'More Dire Threat' to U.S. Than Illegal Border Crossings
Former President Donald Trump continued to push his baseless election fraud theory during his first rally in support of a Republican running for office in 2022.
In his opening remarks at Saturday's Save America Rally in Ohio, Trump called alleged voter fraud in the 2020 election "the biggest threat of all" to the country.
"There is no more dire threat today than the crisis on our southern border, other than our elections," he said. "That's probably the biggest threat of all, is how that happened in the election. It's a disgrace. We'll be talking about that. Unless you'd rather not have me talk about it."
The remark prompted cheers from the audience. Then, Trump launched into a familiar talking point: the southern border.
Building a wall on the U.S.-Mexico border and curbing the flow of undocumented migrants from Central America were central pledges of Trump's 2016 and 2020 campaigns.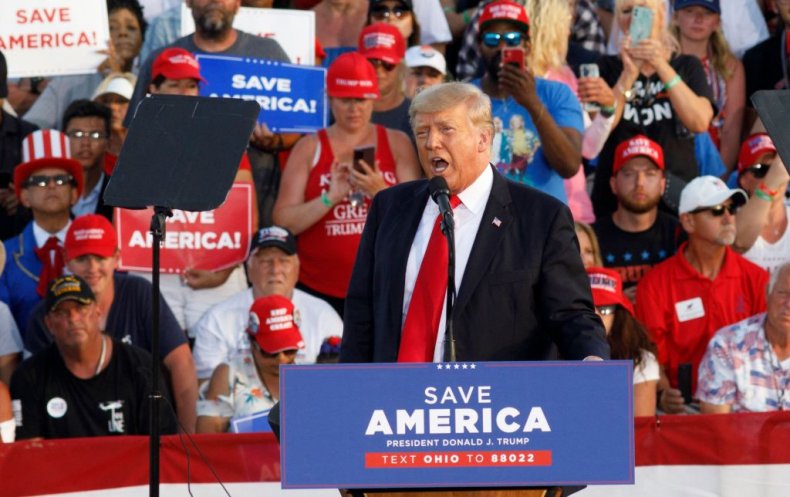 In recent months, Republicans have used an uptick in border crossings to criticize President Joe Biden and Vice President Kamala Harris. Trump piled on within the first five minutes of his address tonight.
"Joe Biden deliberately and systematically, through his people because I don't think he did it, stopped America's border defenses and incited a flood of illegal migrants," the ex-president said. "They violated our laws from every single corner of the globe, they were invited in. And we can't do that. We can't afford it. We can't have it."
He added: "When I left office, we gave the administration the most secure southern border our country had ever seen by far ... we have to defund his reckless immigration policies and restore our nation's southern border to where it was."
The rally was organized to boost support for Max Miller, a former aide to the president, in his race against Ohio Congressman Anthony Gonzalez, one of the 10 House Republicans who voted to impeach. Trump endorsed Miller in February, calling him a "wonderful person" and "fantastic" future congressman.
The former president has repeatedly vowed to support Republican primary challengers to incumbents who don't believe in his America First agenda, and the endorsement is expected to carry water in 2022.
"Max Miller, he loves our country, he loves the people of Ohio," Trump said at the rally. "Max was a trusted aide of mine in the White House. We had great people working for me and we had some real losers too, by the way."
He went on to attack Gonzalez, "a grandstanding RINO, not respected in D.C. who voted for the unhinged, unconstitutional illegal impeachment witch hunt."
Throughout his lengthy address, Trump was joined on stage by a slew of allies, including Miller, Ohio Representative Jim Jordan and Georgia Representative Marjorie Taylor Greene.
Newsweek reached out to Gonzalez's office for comment. This story will be updated with any response.