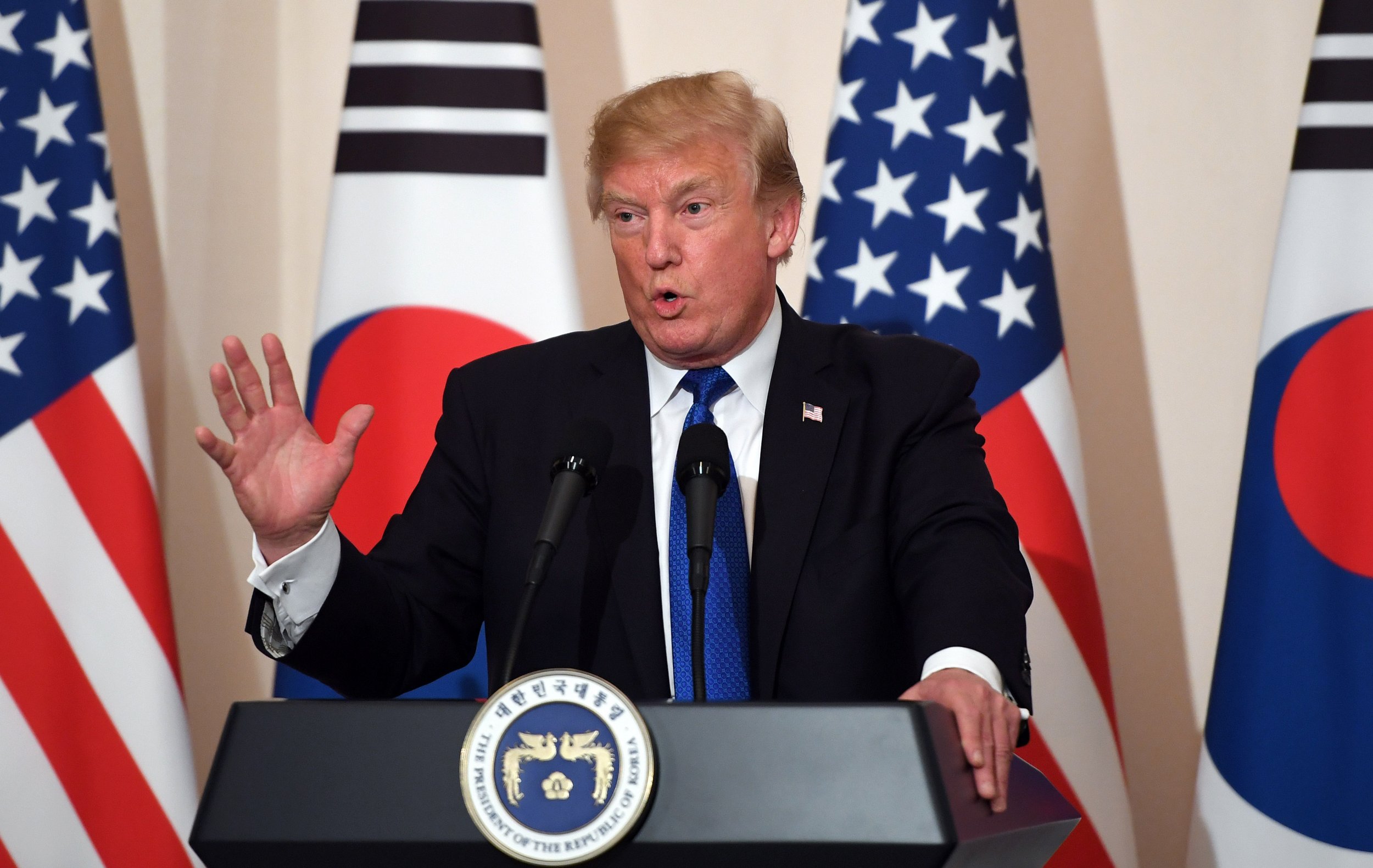 President Donald Trump said "extreme vetting" for people trying to buy a gun would make "no difference" in mass shootings across the U.S.—and noted that increased gun control might have made Sunday's massacre in Texas even worse.
Responding to a question Tuesday about whether "extreme vetting" for guns would have prevented the Sutherland Springs shooting that killed 26, Trump condemned the question about greater gun control. He told the NBC reporter that it "shouldn't be discussed too much right now," referring to the fact that he was in South Korea at a joint press conference with President Moon Jae-in.
"If you did what you're suggesting [extreme vetting], there would have been no difference three days ago, and you might not have had that very brave person who happened to have a gun or a rifle in his truck, go out and shoot him and hit him and neutralize him," Trump said. "I can only say this: If he didn't have a gun, instead of having 26 dead, you would have had hundreds more dead. So that's the way I feel about it. Not going to help."
Trump was referring to an armed citizen who reportedly shot gunman Devin Patrick Kelley in the leg and torso. Kelley ultimately died from a self-inflicted gunshot wound to the head, according to the Texas Department of Public Safety.
The president publicly pushed for stronger immigration enforcement hours after the vehicular attack in New York, but he criticized people who wanted to "politicize" mass shootings by asking about gun control.
Kelley was able to buy a gun only because the U.S. Air Force failed to enter his history of domestic violence into the federal background check database.
Trump's comments recall the debunked notion that a "good guy with a gun" often stops a "bad guy with a gun." The National Rifle Association frequently highlights stories featuring armed citizens who use guns in self-defense, claiming that guns are used 2.5 million times a year for personal protection. However, according to a Violence Policy Center analysis of FBI and National Crime Victimization Survey data, the real number is much lower—about 68,000 times a year.
Evidence from the Violence Policy Center indicates that individuals who use weapons in self-defense are more likely to cause an accidental gun death than stop someone from committing a crime—and keep police from doing their job.
Trump also evoked comments from Sunday night, when the Republican attorney general of Texas called for churchgoers to head to the pews with their Bibles in one hand and a gun in the other. Attorney General Ken Paxton said, "We need in churches...at least arming some of the parishioners or the congregation, so that they can respond if something like this, when something like this, happens again."
The U.S. has more mass shootings than any other country. On Monday, an Australian member of Parliament trolled the United States on Twitter by posting a chart showing how mass killings in Australia dropped to zero after the nation passed comprehensive gun control.
"Dear US friends: here's Australian mass shootings 1979-2016," tweeted Andrew Leigh. "See if you can figure out when we passed our gun reforms."