Trump Says Facebook, Google '100 Percent' Want Total Control of Information Americans Receive
President Donald Trump said Facebook, Twitter and other large Silicon Valley tech companies are "100 percent" trying to control every bit of information that Americans receive.
On Tuesday, Trump continued taking shots at Big Tech companies in the United States, telling Breitbart News from the Oval Office that he "100 percent" agrees companies like Google, Facebook and Twitter are trying to hold absolute control over the information Americans see each day. The conversation occurred after representatives from Breitbart claimed Google is methodically turning of search traffic to the right-wing publication—and other conservative websites—just a few months ahead of his November 3 election against presumptive Democratic nominee Joe Biden.
"The tech companies are very dishonest about that and about free speech," Trump told Breitbart News Tuesday at the White House. "It could be a big problem for them at the appropriate time."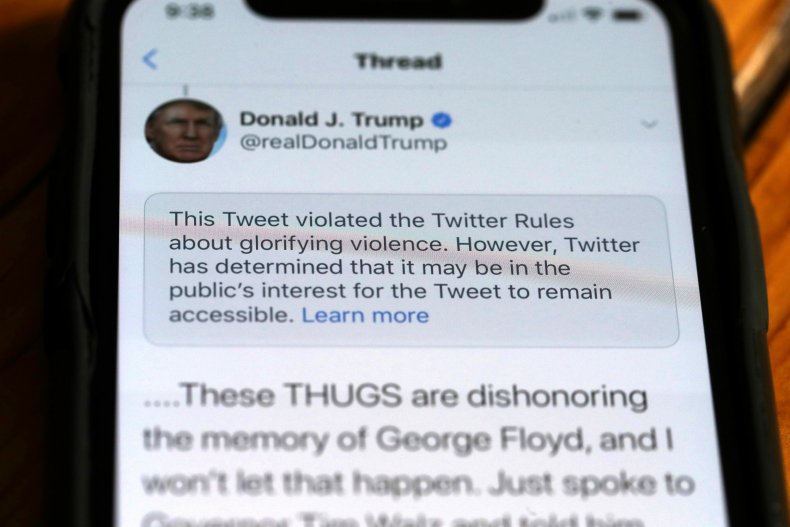 The president added he "100 percent" agrees big tech companies are working against his re-election and attempting to control and tailor the information Americans receive on their phones, computers and tablets. "Do you have a doubt?" he asked the reporter.
Trump and members of his allies in the Republican Party have long accused Big Tech companies of "bias" against conservatives on their respective platforms—even before his successful 2016 election bid against Hillary Clinton. This past May, Trump signed an executive ordered intended to weaken social media companies like Twitter and Facebook from having "unchecked power to censor, restrict, edit, shape, hide, alter" discussion online.
The president responded Tuesday to a 2018 Breitbart News report that accused Google executives of trying to diminish his November 2016 victory. The report claimed the Silicon Valley executives sought to reduce his campaign and the supporters who got him there to being a "blip" in history.
"A pretty big blip," Trump quipped to the Breitbart reporter.
Several top Republican lawmakers in Congress ranging from House Minority Leader Kevin McCarthy to Texas Senator Ted Cruz have lashed out for years against U.S. tech companies they say are staffed entirely by liberals and other critics of the president. McCarthy told Breitbart earlier this month he's concerned about the "tremendous amount of power" social media companies have over discussions online.
This sentiment echoes that of Trump, who in May made the following remarks as he announced his executive order intended to reduce Twitter and other social media companies' ability to regulate posts.
"We're here today to defend free speech from one of the gravest dangers it has faced in American history, frankly," Trump said in the Oval Office in late May. "A small handful of powerful social media monopolies control the vast portion of all private and public communications in the United States."
On Tuesday, Facebook announced it would start banning posts that contain blackface or which promote anti-Semitic conspiracy theories of any type. The expansion of its so-called hate speech policies seeks to include "implicit" posts, which could be overlooked by the network's algorithms or users at first glance. The ban on blackface begins later this month, and the ban on Jewish stereotypes begins immediately, the company said.
In June, Twitter placed a series of warning labels on several tweets from the president which were described them as abusive behavior.
Twitter and Facebook have both taken steps to ensure political ads on their platforms are fact-checked by human curators—something which landed Facebook's Trending News team under accusations of "conservative bias" in the run-up to the 2016 election.
Newsweek reached out to representatives from Facebook, Twitter and the White House Tuesday afternoon for additional remarks.