Trump Says Fauci Would Like to Close Up the U.S. for Years
In an interview with Barstool Sports president Dave Portnoy posted on social media Friday, President Donald Trump said that National Institute of Allergy and Infectious Diseases (NIAID) director Dr. Anthony Fauci would close the U.S. down again because of the coronavirus.
Many businesses were closed by state and local governments during the early days of the coronavirus pandemic. When positive cases started to drop, state and local governments began to allow those businesses to reopen their doors. However, after a new surge of coronavirus cases in some states where bars and indoor dining were allowed, the number of positive cases again began to rise. In July, Dr. Fauci said that some states had reopened too quickly.
President Trump told Portnoy that although he likes Fauci, they do not always agree on coronavirus mitigation protocols. "He liked to do things that I don't like to do," Trump said.
One of those things was reopening U.S. businesses. Trump said Fauci would like to see the U.S. "closed up for a couple of years, but that's okay because I'm the president. So I say, 'Well, I appreciate the opinion, now give me another opinion.'"
Trump has been a proponent of reopening the U.S. economy despite the surge in coronavirus cases. "We're open and we're doing well," Trump told Portnoy.
Newsweek reached out to the NIAID for comment.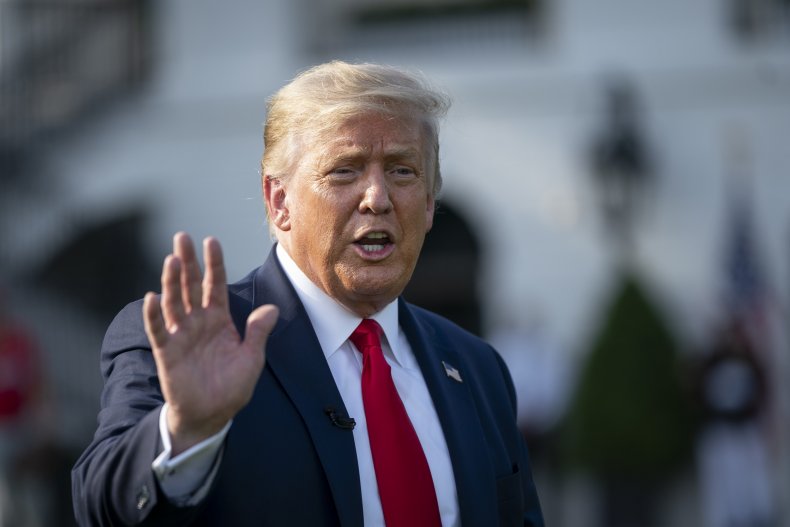 President Trump and Dr. Fauci have offered differing viewpoints on the U.S. response to the coronavirus. While Fauci has said the country is still in the grip of the first wave of the virus, President Trump said in July that the U.S. was "in a good place."
"We did not shut down entirely and that's the reason why we went up," Fauci said during a Stanford Medicine online event in July. "We started to come down and then we plateaued at a level that was really quite high, about 20,000 infections a day. Then as we started to reopen, we're seeing the surges that we're seeing today as we speak."
Trump said he disagreed with Fauci's opinion. "We've done a good job," Trump said. "I think we are going to be in very good shape."
According to President Trump, the U.S. is advancing rapidly towards finding a vaccine and a therapeutic treatment for the virus. During a Wednesday news briefing, Trump announced that his administration had entered into a deal with pharmaceutical company Pfizer to deliver 100 million doses of their vaccine following its approval by the U.S. Food and Drug Administration. After the vaccine receives approval, the White House has arranged to receive an additional 500 million doses of the vaccine.
"Hopefully, the approval process will go very quickly," Trump said. "And we think we have a winner there."
Trump has also started advising Americans to wear face masks in places where social distancing is difficult to maintain. Face coverings have been recommended by the Centers for Disease Control and Prevention (CDC) since April.
In a Thursday interview with Fox News host Sean Hannity on Thursday, Trump said he "would like to see everybody" wearing face masks in crowded areas.
"What difference does it make?" Trump said. "You're not going to lose with it, so do it."