Trump Says FBI Were 'Dirty Cops' Over Mueller Investigation, If Obama Faced the Same Situation, 'They'd Be in Jail for 50 Years'
President Donald Trump slammed "dirty cop" FBI agents involved in the investigation of Russian meddling into the 2016 election, saying they would "be in jail for 50 years" if something similar happened to former President Barack Obama.
Trump made the remarks in Phoenix, Arizona on Wednesday night, during a rally that also saw him tout his poll numbers and take credit for what he said was the best-ever U.S. economy.
"There are a lot of dishonest slimeballs out there. Dishonest scum. Dirty cops, lot of dirty cops... the FBI, those guys in that are incredible, but the ones on top, they were absolute scum," said Trump. "And what they were trying to do, if that happened to Obama, or a Democrat, or especially a liberal Democrat, they'd be in jail for 50 years and it would have taken place two years ago already."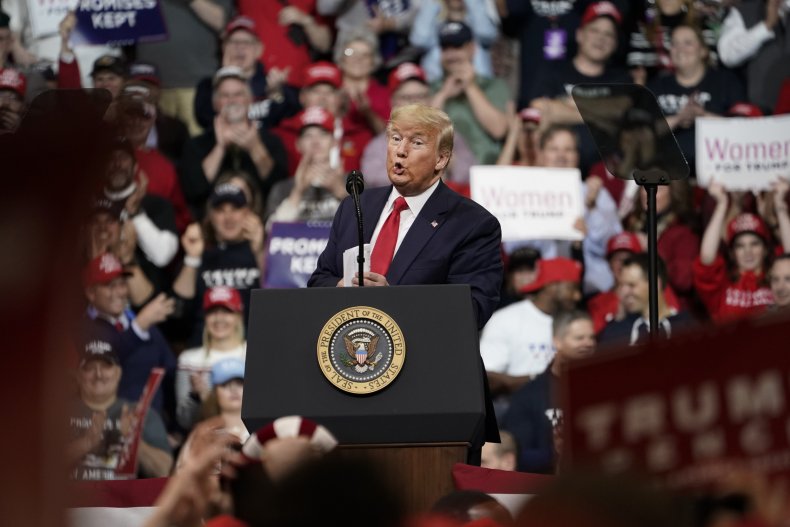 Trump has long claimed that the investigation headed by former FBI Director Robert Mueller was a "partisan witch hunt." The investigation found that Russia interfered in the election to benefit Trump, but did not find sufficient evidence to support allegations of collusion by Trump—while also not exonerating the president.
Trump insisted that the FBI had "spied" on his campaign, while suggesting the agency had a vendetta against him that he vowed to "never, ever excuse."
"They spied on our campaign, remember that," said Trump. "And after they spied, we won. And then after we won, they tried to get us out of office. It's never happened before in the history of our country, and we can't let that happen. We can never, ever excuse it. We can never let them get away with that."
The rally began with Trump singing the praises a World War II veteran who had been carried into the audience by fellow attendees. The president called the veteran "the hottest celebrity in the world." He added that the veteran "might even be hotter than Trump" after a video of the man being carried into the venue as supporters chanted "USA! USA!" was posted online before the rally.
The event happened at roughly the same time as the Democratic debate was taking place in Las Vegas, Nevada. Trump spoke about his potential rivals several times during the rally, at one point mentioning that he heard former New York City Mike Bloomberg was "getting slammed" at the debate.
The president promised the crowd he would make a return visit to Arizona before the November election. He narrowly won the swing state in 2016. Trump's next rally is set for Thursday in Colorado Springs, Colorado.