Trump Says Florida, Texas and California COVID Cases 'Coming Down Very Rapidly' Despite States Reporting Over 4,000 Daily Infections
President Donald Trump on Wednesday suggested that the number of novel coronavirus cases are "coming down very rapidly," in Florida, California and Texas, despite all three states reporting over 4,000 newly confirmed cases in the past 24 hours.
"The numbers are coming down very rapidly in Florida, they're coming down in California, they're coming down in Texas, they're coming down," Trump said while appearing on Fox News' Fox & Friends. "Those three places shot up and those numbers are coming down."
Trump's comments come as cases of the novel coronavirus continue to surge across the U.S., specifically in the three states he mentioned.
In Florida, the state's department of health reported 5,417 newly confirmed cases and 245 deaths on Tuesday, August 4. Across the state, there are now over 497,000 confirmed cases and at least 7,402 fatalities.
According to the California Department of Health, there were 4,526 newly reported cases and 113 new deaths on Tuesday. The state's department of health also shows that over the past fourteen days, there have been over 118,000 newly reported cases, marking an increase of 29.6 percent from the previous two weeks. Across California, there are over 519,000 confirmed cases, the most in any U.S. state, and at least 9,501 deaths.
Among these three states, Texas saw the largest single-day increase in cases, as the state's department of health reported 9,167 cases on Tuesday. Since July 3, Texas has seen over 8,000 new cases per day, bringing the state's total number of confirmed cases to over 451,000. There are also at least 7,261 coronavirus-related deaths in Texas.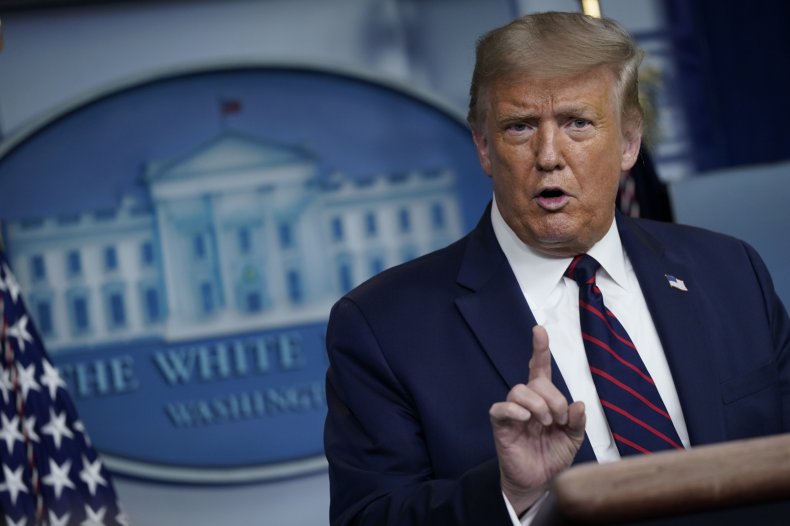 During his appearance on Fox & Friends Trump was asked about how his administration plans to protect voters during the November 3 presidential election as the coronavirus pandemic continues, specifically for elderly Americans that are at higher risk of complications from the virus.
"Remember, November 3rd is a long way, that's a long way," Trump said. "So, by the time we get there, we'll probably be in very good shape. But all of those things, cleanliness, they'll wear the mask, they'll do whatever they have to do but they want to vote."
Trump continued, "we have people that really want to get out and vote. It's going to be very safe, but by November 3, time wise, that's eternity."
The new coronavirus, which causes the respiratory disease COVID-19, continues to spread throughout the U.S. and has now infected over 4.7 million Americans and caused at least 156,839 deaths, according to a tracker from Johns Hopkins University.
Newsweek reached out to Trump's campaign team for comment but did not receive a response in time for publication.