Trump Says GOP Senator Susan Collins Isn't 'Worth the Work,' as Polls Show Her Trailing Democratic Challenger Gideon
President Donald Trump on Friday said that GOP Maine Senator Susan Collins isn't "worth the work" for opposing many of his ideals and polls show her trailing Democratic challenger Sara Gideon in the state's Senate race.
"There is a nasty rumor out there that @SenatorCollins of Maine will not be supporting our great United States Supreme Court Nominee," Trump wrote in his tweet. "Well, she didn't support Healthcare or my opening up 5000 square miles of Ocean to Maine, so why should this be any different. Not worth the work!"
While Trump's tweet suggests that it is a "rumor" Collins won't support Trump's nomination of Judge Amy Coney Barrett to the Supreme Court, the Maine Senator publicly argued last month that the Senate should not vote on a Supreme Court nominee until after the November 3 election.
"Given the proximity of the presidential election, however, I do not believe that the Senate should vote on the nominee prior to the election. In fairness to the American people, who will either be re-electing the President or selecting a new one, the decision on a lifetime appointment to the Supreme Court should be made by the President who is elected on November 3rd," Collins wrote in a statement.
As Trump's tweet notes, Collins also expressed her opposition to Trump's decision earlier this year to open 5,000 square miles of water to commercial fishing, rolling back protection at a marine conservation area near Maine.
The president's tweet comes as the Maine senator faces one of her tougher challenges against Democratic candidate Gideon, as polls show the GOP incumbent falling behind.
One poll conducted by Pan Atlantic Research shows Collins trailing Gideon by 7.1 points, as 46.9 percent of respondents said they'd vote for Gideon compared to 39.8 percent that sided with Collins.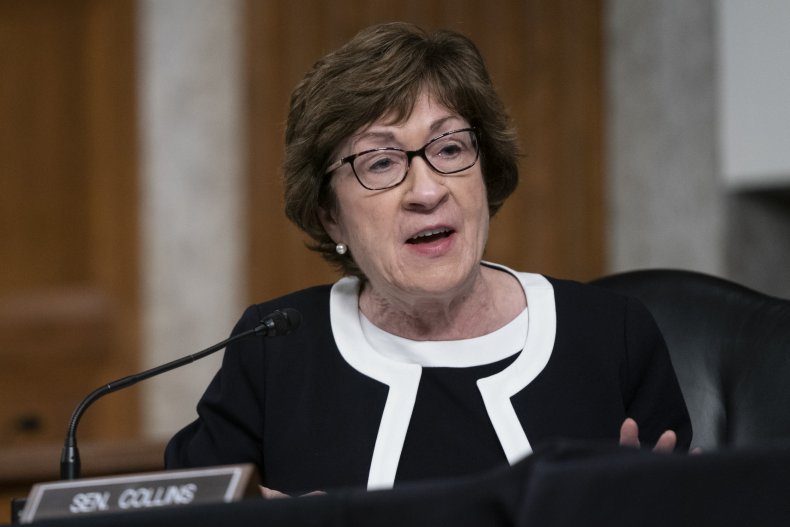 This poll surveyed 600 Maine residents from October 2 to October 6 and reported a margin of error of plus or minus 4.5 percentage points.
Another poll conducted by Data for Progress, found Gideon leading by just five points, as she received 46 percent of votes, while 41 percent chose Collins. This poll surveyed 718 likely voters in Maine from September 23 to September 28 and reported a margin of error of plus or minus 3.7 percentage points.
A third poll from Critical Insights found Collins trailing by just one point, with 44 percent saying they'd vote for Gideon, while 43 percent said Collins. This poll surveyed 466 likely voters in Maine from September 25 to October 4.
Newsweek reached out to Collins' office for comment but did not receive a response in time for publication.