Trump Says He Doesn't Take Wall Street Money After Raising At Least $13 Million From Financial Industry
President Donald Trump insisted that Democratic presidential nominee Joe Biden "takes all the money from Wall Street" while insisting he takes none during the presidential debate in Nashville, Tennessee on Thursday.
Biden mentioned a recent article from The New York Times that claimed Trump's economic advisers were sounding alarms at the same time the president was touting the strength of the stock market in February in the early stages of COVID-19 spreading throughout the country. Trump responded by accusing Biden of receiving campaign funds from Wall Street, while claiming that he does not.
"You're the one that takes all the money from Wall Street. I don't take it," Trump said to Biden during the debate.
The president's reelection effort has received at least $13 million from Wall Street donors in the current election, a majority going to PACs that support him, according to an article published Wednesday by CNBC. Trump received less than the $20 million he was given in the 2016 election over to his response to the COVID-19 pandemic and sagging poll numbers, analysts cited in the article claim.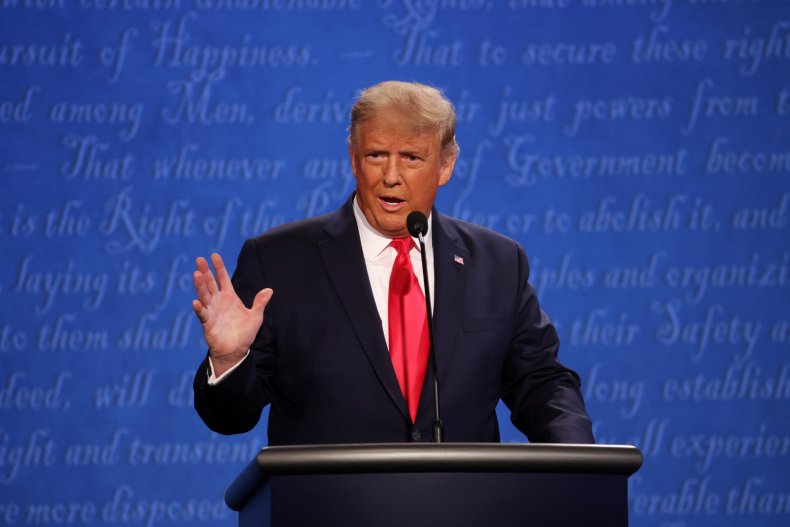 The Biden campaign has taken in significantly more funds from all sources than the Trump campaign, which cut back spending on advertising in some key battleground states only weeks before the election. Trump claimed that he did not take any Wall Street money by choice, insisting that he could easily raise more than Biden if he wanted to.
"I could raise so much more money," Trump said. "As president and as somebody who knows most of those people, I could call the heads of Wall Street, the heads of every company in America. I would blow away every record, but I don't want to do that because it puts me in a bad position."
"You shouldn't be bringing up Wall Street because you're the one that takes the money from Wall Street, not me," he added. "We don't need money. We have plenty of money."
Biden responded that his "average contribution" is $43. The CNBC article says that $50 million from the financial industry has gone to Biden's bid for the White House, although an unspecified amount also went to outside PACs that support the former vice president rather than directly to his campaign.
Thursday's debate, occurring only 12 days before Election Day, was the second and last out of three that had been scheduled between the candidates. The original second debate, which was set to take place in a town hall format in Miami, Florida on September 15, was cancelled after Trump refused to take part when it was shifted to a virtual format following his COVID-19 diagnosis.
Newsweek reached out to the Trump and Biden campaigns for comment.