Trump Says He Fired Inspector General Because He Was Appointed by Obama: We Should 'Get Rid' of Obama IGs
After Secretary of State Mike Pompeo revealed he had recommended State Department Inspector General (IG) Steve Linick's firing, President Donald Trump on Monday said he followed Pompeo's recommendation because Linick had been appointed by former President Barack Obama.
Pompeo told The Washington Post earlier today that he urged Linick's firing because the IG was "undermining" the agency's mission by failing to act in ways to improve the State Department, but declined to mention any specifics. "I went to the president and made clear to him that Inspector General Linick wasn't performing a function in a way that we had tried to get him to," he said, "that was additive for the State Department, very consistent with what the statute says he's supposed to be doing."
The Secretary of State's remarks came after Trump faced days of criticism from both sides of the aisle over his decision to dismiss Linick on Friday evening. It was the president's fourth watchdog dismissal in recent weeks. Trump told reporters on Monday that he followed Pompeo's suggestion because he has long supported firing IGs appointed by Obama.
"A lot of our people kept the Obama inspector general, and I think generally speaking that's not a good thing to do," the president said on Monday. "I told them for three years, I said anybody wants to get rid of their IGs because they're appointed by President Obama, I think you should do so."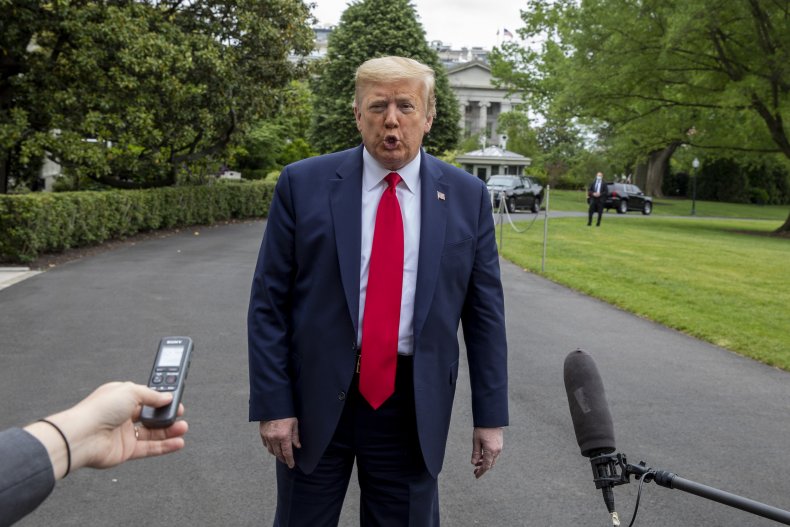 Trump admitted that he doesn't "know anything about" Linick apart from the fact that the State Department and Pompeo "weren't happy with the job he's doing." He added: "So because it's my right to do it I said, 'sure, I'll do it.' I've gotten rid of a lot of inspector generals. Every president has."
Democrats in the Senate and House have launched a probe into Linick's firing over concerns the IG had been conducting two investigations—one involving Trump and the other Pompeo—at the time of his dismissal.
Republican Senator Chuck Grassley of Iowa on Monday demanded Trump explain why he had fired two IGs—Linick and Inspector General Michael Atkinson—without notifying Congress. "Removal of IGs without explanation could create a chilling effect in the oversight community," Grassley wrote in a letter to Trump, "and risks decreasing the quantity, quality, fidelity, and veracity of their reports."
House Speaker Nancy Pelosi also sent Trump a letter demanding he justify his abrupt firing of Linick, where she said that the law requires the president to provide Congress with rationale. "You are required to notify Congress of your removal of an Inspector General," the Democrat wrote. "It is essential that you also inform Congress of the cause for the removal and your lack of confidence."
Newsweek reached out to the White House for comment. This story will be updated with any response.