President Donald Trump has expressed doubt at the prospect of Republicans continuing their control of the Senate next year and said he just cannot support some of the party's candidates.
An unnamed attendee of a private fundraiser at the Nashville Marriott in Tennessee told the Washington Post that Trump admitted to donors on Thursday that the "Senate is very tough." The source spoke on the condition of anonymity due to the private nature of the event.
"There are a couple senators I can't really get involved in," the president reportedly said. "I just can't do it. You lose your soul if you do. I can't help some of them. I don't want to help some of them."
Trump, however, also insisted that Republicans "are going to take back the House." The president would go on to share the remark with the rest of the country hours later at his final presidential debate against Democratic Nominee Joe Biden.
"I think we're going to win the House," the president restated during the debate on Thursday evening at the Curb Event Center in Nashville.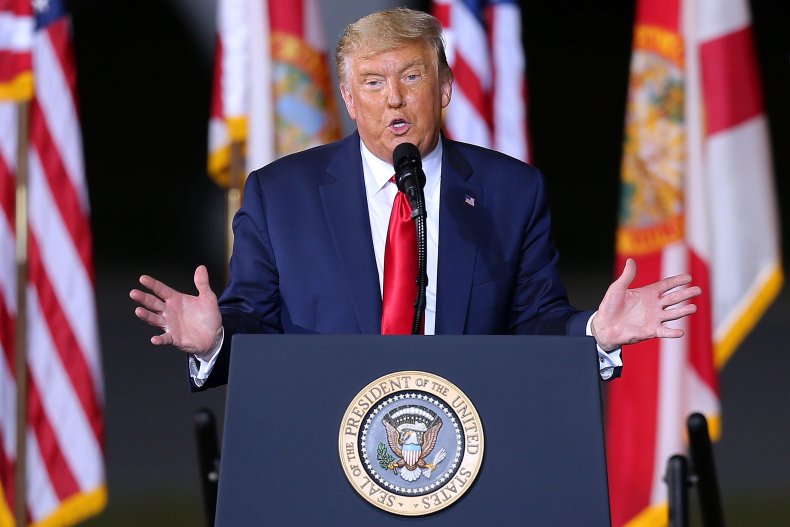 Newsweek reached out to Republican National Committee Chairwoman Ronna McDaniel for comment.
With 10 days left until Election Day, pollsters and strategists have indicated that the GOP would need a strong show of force to protect its imperiled Senate majority. And with the recent influx of small Democratic fundraising, big donors have stepped up to boost the Republican Party's chances on November 3.
In the first 14 days of October, the top Republican PAC raised almost $50 million, according to Politico. But despite their efforts, many Democratic candidates still have a funding advantage over their Republican opponents amid the crucial final stretch of the race.
About a dozen Republicans are at risk of losing their seats next month, including moderate GOP Senator Susan Collins of Maine. Before Trump entered the White House in 2017, Collins had overperformed all her challengers since 1996, when she was first elected to the Senate. But her moderate position has cracked under Trump's administration and she's now in a tough battle against her Democratic challenger, Maine state House Speaker Sara Gideon.
Collins, one of the few Republicans who have publicly spoken out against Trump's actions in office, is due to be the only member of the GOP to vote against the confirmation of Judge Amy Coney Barrett to the Supreme Court. Alaska Senator Lisa Murkowski on Saturday said she would vote "yes" after indicating earlier this week that she intended to vote "no."
Trump condemned Collins over her decision to vote against Barrett and said she was "not worth the work."
"There is a nasty rumor out there that @SenatorCollins of Maine will not be supporting our great United States Supreme Court Nominee," the president tweeted on October 16. "Well, she didn't support Healthcare or my opening up 5000 square miles of Ocean to Maine, so why should this be any different. Not worth the work!"