Trump Says He Made Up Facts in Talks with Canada's Justin Trudeau
President Donald Trump berated America's allies and said he made up facts in a conversation with Canadian Prime Minister Justin Trudeau during a 30-minute speech at a fundraiser in Missouri Wednesday.
In audio of his statements at the fundraiser obtained by The Washington Post, Trump said that during a face-to-face meeting with Trudeau he told Canada's leader that the U.S. has a trade deficit with the country.
"I didn't even know.... I had no idea. I just said, 'You're wrong,'" Trump said he told Trudeau after the prime minister insisted Canada doesn't have a trade deficit with the U.S. "You know why?" the president told the fundraisers. "Because we're so stupid.… And I thought they were smart."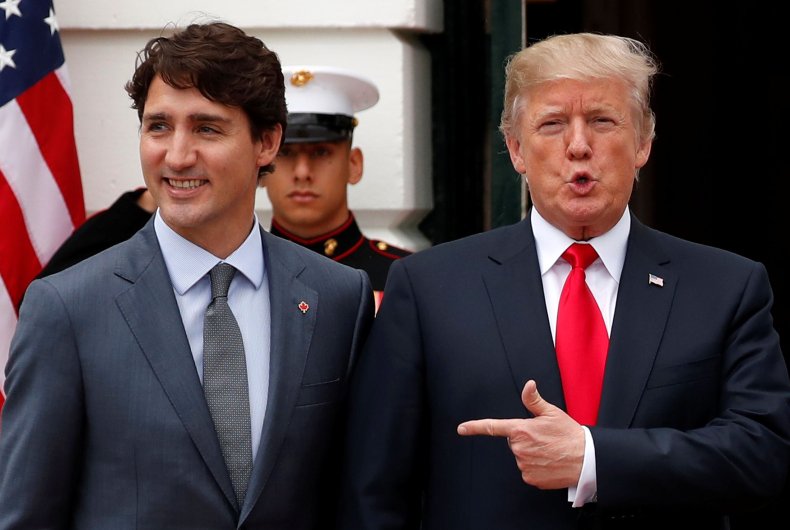 Data from the Office of the U.S. Trade Representative show that America ran a $12.5 billion trade surplus in its trade of goods and services with Canada in 2016.
Trump said Trudeau stuck to his guns: "He said, 'Nope, we have no trade deficit.' I said, 'Well, in that case, I feel differently,' I said, 'but I don't believe it.' I sent one of our guys out, his guy, my guy, they went out. I said, 'Check, because I can't believe it.'" Trump spoke to donors at a fundraiser for Republican Josh Hawley who is running for the Senate.
Trump said he was soon proved right because the assessment didn't include energy and timber. The president said he was told, "'When you do, we lose $17 billion a year.' It's incredible."
Related: Donald Trump's trade war will cause "deep" global recession, says WTO director
After wrangling with Canada, Trump recently exempted the country from steep tariffs on steel and aluminum that he is bringing in to protect those industries—even though Canada is the largest exporter of steel to the U.S.
Trump originally tied lifting of the tariffs on Canada to its renegotiation of the NAFTA trade agreement. The president has called the deal the "worst trade deal ever made" and is currently in renegotiations that include the deal's third signatory, Mexico.
During his speech, Trump suggested Canada has outsmarted the U.S. "The best deal is to terminate it and make a new deal," Trump said of NAFTA.
"Our allies care about themselves," Trump told those at the fundraiser, accusing the European Union, Japan, South Korea and China of also taking advantage of America. "They don't care about us."