Trump Says He May Declare Emergency for Wall Funding, Despite Reports of Opposition From GOP
President Donald Trump on Friday told reporters that there is a "good chance" that he will declare a national emergency to secure funding for a wall on the U.S. Mexican border.
"We will be looking at a national emergency, because I don't think anything is going to happen," President Trump said of talks to fund the project.
"I think the Democrats don't want border security."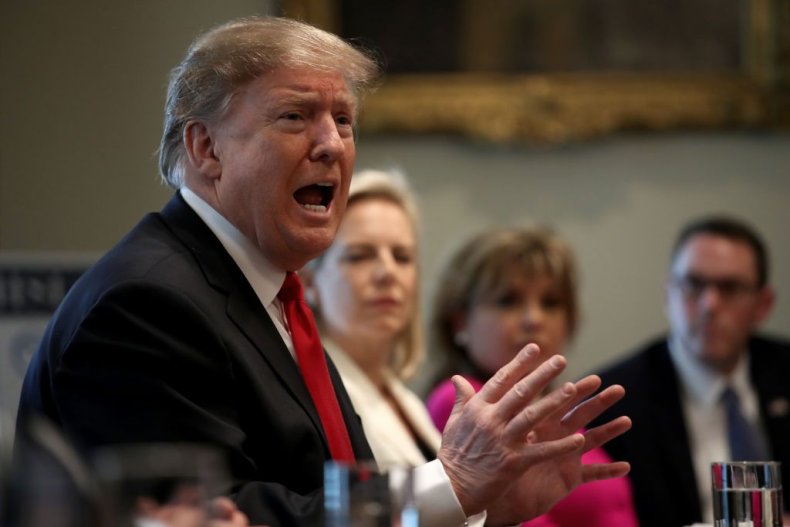 Trump last week approved a temporary funding bill that ended a 35-day government shutdown caused by a stand-off between Democrats and the White House over funding for the wall. But the temporary funding bill did not contain the money Trump had demanded, and Democrats are expected to continue to refuse to release it.
Before the shutdown ended, Trump had threatened to declare a national emergency, diverting funds from the Department of Defense to build the wall.
But on Friday The Washington Post, citing sources close to the matter, had reported that Senate Majority Leader Mitch McConnell has warned Trump against declaring an emergency.
McConnell reportedly told Trump that the decision to declare an emergency could see Congress pass a resolution disapproving the declaration, which would mean Trump may have to issue the first presidential veto of his administration to override opposition from his own party.
Democrat and Republican lawmakers have warned that declaring a national emergency would face legal challenges, and would not result in the hasty release of funds for the wall.
Trump hinted that he would make an announcement on the wall during Tuesday's State of the Union address to Congress.
"I don't want to say, you'll hear the State of the Union and then you'll see what happens right after the State of the Union," Trump said.
According to an early excerpt of his speech cited by NPR, Trump will make an appeal for bipartisan support in the speech.
"Together we can break decades of political stalemate. We can bridge old divisions, heal old wounds, build new coalitions, forge new solutions and unlock the extraordinary promise of America's future. The decision is ours to make," the president will say.
Trump had in an interview with the New York Times on Thursday also raised the possibility that a national emergency could be declared.
"I'll continue to build the wall and we'll get the wall finished," he said. "Now whether or not I declare a national emergency—that you'll see."
Trump claims that the wall is necessary to curtail undocumented migration to the U.S., and protect national security.