Trump Says He Never Saw Intelligence Community Reports on Initial Coronavirus Outbreak
President Donald Trump on Wednesday said he never saw an Intelligence Community report which in November detailed intelligence officials' concerns over a then-newly discovered coronavirus spreading among humans in Wuhan, China.
According to two intelligence officials who spoke to ABC News, the November report came from the Defense Department's National Center for Medical Intelligence, was based on communications intercepts and satellite photography, and raised significant concerns because officials believed that a new disease spreading out-of-control in Asia would pose a real threat to U.S. forces based in the region.
One source told ABC News that intelligence analysts' conclusion was that a new contagion spreading through China "could be a cataclysmic event," and that conclusion was shared with the White House on multiple occasions, culminating in a detailed description of the problem appearing in Trump's President's Daily Brief (PDB) in early January.
The appearance of the PDB item coincided with White House Director of Trade and Manufacturing Policy Peter Navarro's decision to author a memo to the president warning about the economic consequences of a pandemic.
But when asked when he learned of the Intelligence Community's concerns during Wednesday's White House daily briefing, Trump told reporters that he learned about the matter around January 31, when the he signed a presidential memorandum prohibiting foreign nationals who'd visited China from entering the United States.
"When I learned about the gravity of it was sometime just prior to closing the country to China," Trump said.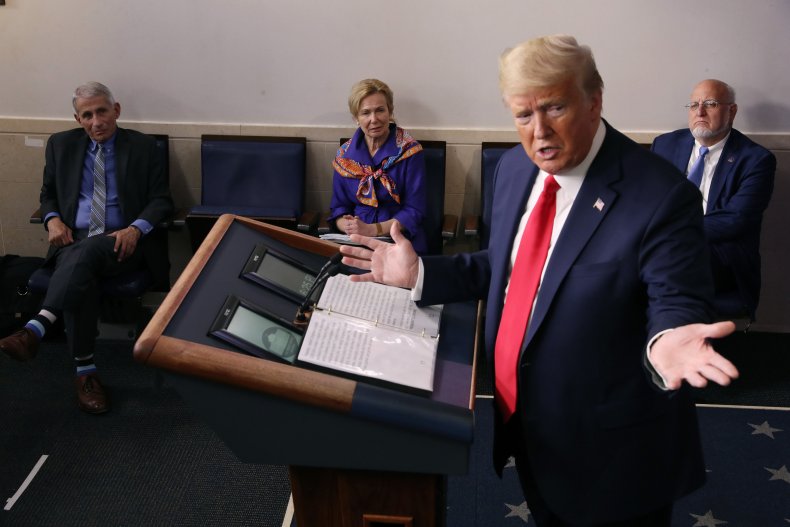 He later added that he did not know exactly when he'd seen the reports in question, but said that he'd now like to see that information "because a lot of Americans want to see businesses reopen real fast."
Trump's admission that he never saw intelligence reports that would have warned him of the consequences of ignoring the COVID-19 pandemic came one day after he admitted to reporters that he neither read nor sought to read Navarro's memos.
"I heard he wrote some memos talking about a pandemic," Trump said on Tuesday when asked about his trade advisor's warnings. "I didn't see them, I didn't look for them either."
Although Trump frequently claims that he took decisive action to stop the virus' spread early on by instituting the China travel restrictions on January 31, those restrictions contained 11 separate exemptions. On Saturday, The New York Times reported that more than 40,000 people had traveled to the U.S. from China since the restrictions took effect.
According to data from Johns Hopkins University, nearly 425,000 Americans across all 50 states have been confirmed as having COVID-19 as of the evening of April 8. The Centers for Disease Control and Prevention has reported that 12,754 Americans have died from COVID-19 as of 4:00 pm on April 8.