Trump Said He 'Sold Tens of Thousands of Tickets' to His MAGA Rally—The Tickets Are Free
President Donald Trump was met with cheers during his rally in Ohio on Thursday night when he assured the crowd that he keeps his ticket prices low. The only problem is that tickets to his events are free.
"I'll tell you what this is some crowd, some turnout," Trump said during his 2020 campaign rally at the U.S. Bank Arena in Cincinnati. The president claimed that there were so many people that he asked security if they could have supporters sit on the stairs or in the aisles.
"We've sold tens of thousands of tickets and, you know what, at the sales prices, we keep it nice and low. We keep it nice and low," Trump said.
But tickets to Thursday's rally, like almost all of the president's events, were free. In order to get into the arena, supporters just had to register online and the tickets were sent directly to their phone or email address. Tickets were given out at a first come first serve basis.
Occasionally, there are people who scalp tickets to Trump's rallies. During the 2016 election, some tickets for Trump's sold-out events were being sold online for upwards of $200.
"But there has never been a movement like this," Trump said on Thursday, referencing the support of his conservative base. "This is a movement the likes of which they've never seen before, maybe anywhere, but certainly in this country."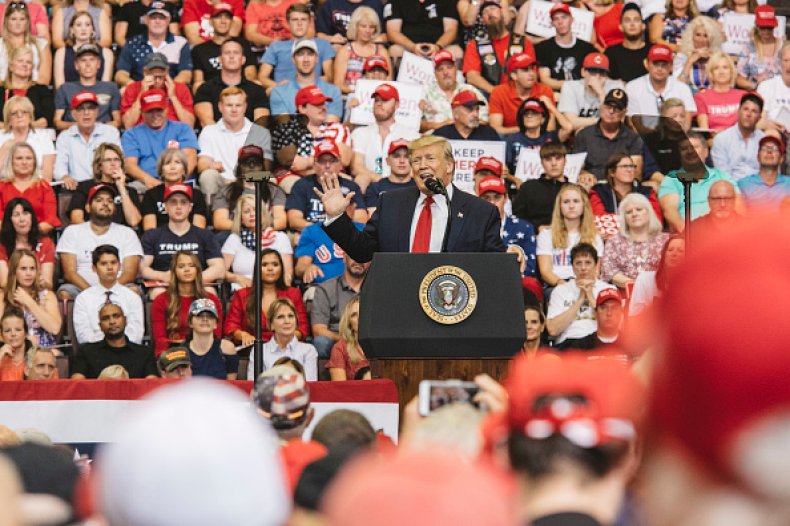 Thursday was the president's first rally since mid-July, when the audience at his event in North Carolina started the racist chant "send her back" in reference to Minnesota congresswoman Ilhan Omar. Omar is originally from Somalia but moved to the U.S. when she was young and is now an American citizen.
Trump has feuded with Omar and three other freshman Democratic lawmakers (Alexandria Ocasio-Cortez, Rashida Tlaib and Ayanna Pressley) over recent weeks, accusing the progressive group of being un-American and hating our country. After that rally, Trump said he "disagreed" with the chant and claimed he tried to stop it. Video footage, however, shows the president stayed silent for about 13 seconds while the chant went on.
In Ohio, Trump continued to call out the four progressive lawmakers as "extremists." He also pressed on with his message that all 2020 Democrats running for president want to spread socialism.
"The Democrat Party is now being led by four left-wing extremists," Trump said, in reference to Omar and the rest of the "Squad." He added that Democrats "have never been so far outside the mainstream."