President Donald Trump said he was "a little surprised" by presumptive Democratic presidential nominee Joe Biden's choice of California Senator Kamala Harris as his vice presidential candidate at his Tuesday press conference.
Harris was announced as Biden's running mate on Tuesday, ending weeks of speculation about who Biden would pick. Biden's short list reportedly included California Representative Karen Bass and former Georgia Representative Stacey Abrams. With Biden's choice, Harris becomes the first Black woman to run for vice president.
Trump said he was surprised by Biden's choice because of how disrespectfully Harris had treated Biden during the Democratic debates.
"One of the reasons it surprised me, [Harris] was probably nastier than even Pocahontas [Trump's nickname for Massachusetts Representative Elizabeth Warren] to Joe Biden," Trump said. "She was very disrespectful to Joe Biden and it's hard to pick somebody that's that disrespectful. She said things during the debates, during the primary debates that were horrible about Sleepy Joe."
Newsweek reached out to the Biden campaign for comment.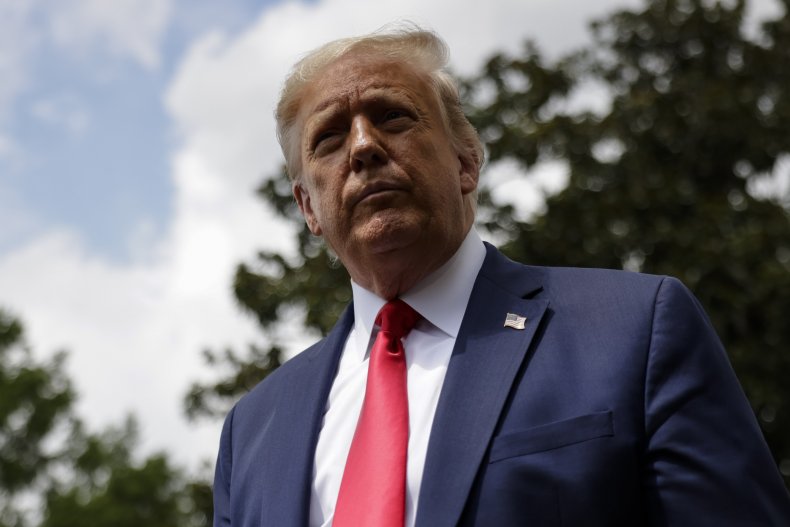 In a Tuesday tweet, Biden said Harris was "a fearless fighter for the little guy, and one of the country's finest public servants."
Biden referenced Harris' work with his late son, Beau.
"Back when Kamala was Attorney General," Biden continued, "she worked closely with Beau. I watched as they took on the big banks, lifted up working people, and protected women and kids from abuse. I was proud then, and I'm proud now to have her as my partner in this campaign."
Harris ran her own presidential campaign in 2019. During the Democratic debate in June, Harris attacked Biden for his opposition to school busing as a means to integrate classes during the 1970s.
"There was a little girl in California who was part of the second class to integrate her public schools, and she was bused to school every day," Harris said. "And that little girl was me."
Biden denied Harris' claim, saying that he only opposed busing being ordered by the Department of Education.
During the Democratic campaign, Harris made a positive impression on President Trump. In February 2019, Trump said that he thought Harris could be his most difficult opponent in the election. "I would say, the best opening so far would be Kamala Harris," Trump told The New York Times. "I would say, in terms of the opening act, I would say, would be her."
During Tuesday's press conference, Trump said Harris was his "number one draft pick" during the campaign, but she did "very poorly in the primaries, as you know."
Soon after the announcement of a Biden-Harris ticket, Trump's campaign called Harris a member of the radical left. "Voters rejected Harris," said a video posted by Trump's campaign. "They smartly spotted a phony. But not Joe Biden. He's not that smart."
"Slow Joe and phony Kamala," the ad concludes. "Perfect together. Wrong for America."